* This week began with my sister and her family visiting from Virginia. On Monday night, we hauled it over to the East Side to see Closer Than Ever at the York Theatre's home at Lexington and 54th. First of all, the whole experience reminded me of being a kid… in the sense that I used to get cast recordings, memorize them and then see the show. There was something so thrilling about finally getting to see the staging for something I had listened to again and again. Well, usually I would get the cast recording for a show, memorize it and see it within a year. In this case, I got the cast recording for Closer Than Ever on cassette tape and listened to it on my signature Walkman for a whole summer. I memorized it as usual, but instead of seeing it within a year I wound up not seeing it until 23 years later! I told you I have adult ADD.
Anyhoo, I loved it. A lot of musical revues I've seen have actors that come off looking generic because there's no dialogue to solidify their characters. Or the actors come up with a lot of shtick to make themselves unique. In Closer Than Ever everyone is so likeable without resorting to non-stop bits and each has a distinct, different energy (or "flava" as the kids say). After the show, I saw Richard Maltby, Jr., who wrote the lyrics and directed it and I complimented him on how great the staging was and how each actor was able to shine without pushing. He told me that he told the actors they each have an interesting story to tell and to remain modest. Hm...it sounds like a combination of a screenwriting class and Parochial school, but it worked. During the show, I was sitting next to my 15-year-old niece, Eliana, and my sis Nancy was sitting in back of us with her husband. Throughout the show, Eliana and I kept hearing sniffing every ten minutes because Nancy kept holding back tears. I totally was right with her, tears-wise. The tears in the eyes weren't because the songs are so sad, but because of the humanness of each one — plus the delicious harmonies!
By the end of the show, Nancy had an enormous crush on Sal Viviano, one of the actors. We went backstage and Nancy introduced herself with typical Rudetsky-no-boundaries-style. "Hi! I'm Seth's sister… and I think I totally want to marry you," she said while shaking his hand. "And, to add to the awkwardness of that comment," she remarked while gesturing the person in back of her, "this is my husband Allan." Brava. In conclusion, get thee to the York! And if you don't know the brilliant Closer Than Ever score, watch these deconstructions here and here.
On Tuesday, I took Eliana to see Bring It On and I'm completely obsessed with Ryann Redmond's voice. Sass! Plus all I want to do is become a cheerleader but because of lack of flexibility and advanced age, I'm now constantly asking Juli if she'll become one so I can live vicariously through her. Not since Mama Rose. On Wednesday, James and I saw Into The Woods and I first have to say that it's so beautiful to be sitting in the middle of Central Park watching a show. You feel like you actually are into the woods. Secondly, I was so proud of my friend Kristine Zbornik. Kris and I worked in Rose's Turn piano bar for years and we've done tons of comedy shows together. She plays Jack's mother and was such a stand-out. So funny and then so real in Act Two. Watching her I got my signature tears in ye olde eyes. Also, I'm now obsessed with Sarah Stiles. Brava on the Little Red Riding Hood comedy! P.S., if you've never seen Kristine in action, watch this. Hilarious!
Wednesday was my radio show and I brought on Chris Jackson from In the Heights. My 15-year-old niece has the biggest crush on him, which is adorable… but so does Nancy, my 51-year-old sister which then makes it creepy. Nancy told me that they life is like Grey Gardens but without the cats. During one long car trip, they changed the lyrics to a school song to be about Chris. Since they're constantly singing it, I made them perform it on my show in front of Chris! Watch the inappropriateness! On Thursday, I high-tailed it up to Provincetown to do three (sold-out!) concerts with Megan Mullally for my Broadway at the Art House series. People think of Megan as a comedy actress only, but I first met her (almost 20 years ago!) when we did Grease on Broadway. She played Marty and I was the sub pianist. Or, as she said during our interview, "Janitorial services." But before she was an actress and singer, she began as a ballet dancer! She was in a ballet company in Oklahoma City (as a soloist) and spent the summers studying at the School of American Ballet. This was during the time when ballet stars were celebrities. She remembers being in the ladies locker room and seeing Gelsey Kirkland constantly running in with smeared make-up and "crying about something Barishnikov did." There're no videos of Megan dancing, but in this clip you can see her amazing line in the first shots.
Megan's music teacher in high school discovered she had a good voice and asked her to perform for the students. She did "Don't Rain On My Parade," "People" and "Razzle Dazzle." Unfortunately, the only time everyone was assembled was for morning mass (it was an Episcopal school) so, as she said, she was "doing fan kicks inside a chapel and basically giving the principal a lap dance."
All she wanted to do was go to NYC after high school, but her mom asked her to apply to one college. If she got in, she had to go. But if not, she could go to New York. Megan remembers sitting on the floor of her bedroom and putting no effort into writing a moronic college essay for Northwestern. She was then outraged to find out that she got accepted! After college she lived in Chicago and did a lot of theatre and grew her hair all the way down to her waist. She said there were many days on the Chicago T where she'd have to turn to the person next to her and say, "Excuse me, sir… you're sitting on my hair." She wanted to move to NYC but her boyfriend asked if they could try California for a month. She wound up getting a great agent right away and stayed. Her first big film audition was for the lead in "Risky Business." "Spoiler alert," she said, "I didn't get it." But then she auditioned for her first pilot and was cast on "The Ellen Burstyn Show" (1986-87). Her mom was played by Ellen Burstyn and her grandma by….Elaine Stritch! They wound up becoming friends and staying in touch since then.
When Megan was in Young Frankenstein she got two tickets for opening night; she gave one to her husband and one to Elaine. Megan said that she was bowing onstage for an extended curtain call and when the curtain finally came down, Stritch was standing there. Megan was giddy from the thrill of opening night and standing in full costume. Stritch hugged her and said in her signature voice, "Megan you were wonderful." One second pause. "The show is horrendous." Happy opening?
Megan first came to Broadway in 1994 because she had gone to college with Jeff Calhoun (the director of Grease). He asked her to try out and Megan reminded him that Grease takes place in high school and she was 34! He didn't care and she got cast as Marty. However, a few weeks into the run, they asked her to start understudying Rizzo (played by Rosie O'Donnell). Megan completely didn't want to because her mind doesn't work that way (learning new staging, reversing dance steps etc…) but she had no choice. "Don't worry," Rosie told her, "I never get sick." Cut to: A few days later, Rosie gets laryngitis and is out for a week. The horrible part for Megan was listening to the intercom in her dressing room. She'd be getting into her Rizzo costume and hear "The role usually played by Rosie O'Donnell will be played by Megan Mullally." Megan remembers that the announcement was always followed by angry cries of "Son of a-!!!!!" and "This sucks!" and then the sound of Playbills being flung on the floor and seatbacks flying up as people stormed out and demanded their money back.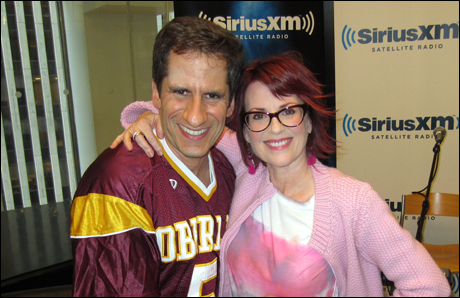 After Grease opened, our friend Paul Castree told Megan she'd be perfect for the role of Rosemary in How to Succeed in Business Without Really Trying, so Megan tried out…and got it! She starred opposite Matthew Broderick, which was fun, but the bad part was that from the very first rehearsal people kept saying, "You're going to win a Tony for this!" The producers knew that Glenn Close was probably going to get the award Sunset Boulevard and they wanted to give Megan a chance to win, so they took her out of the leading lady category and put her in "Best Featured Actress." Well, that was the year that Smokey Joe's Café opened and all those women got the featured nominations...so not only didn't Megan win, she wasn't nominated!! And if she had stayed in the Leading Actress category, perhaps she wouldn't have won, but she would have at least been nominated because that year the only nominees were Glenn Close and Rebecca Luker! Literally two. Megan said that was the year she stopped caring about awards. It was so stressful that it wasn't worth it. Cut to: Years later she's doing "Will and Grace" and she was not thinking about the Emmy Awards at all. She was on vacation at a place with no internet and her agent called on her cell phone. He excitedly told her that she was nominated for an Emmy and because it wasn't on her radar she first thought he meant an award given by Emme, the plus-sized model! Seriously! Megan was like, "Really? I mean, I'm not a size zero, but I'm being nominated for being overweight!?!?!?" She realized it was the Emmy not Emme awards and then won…twice!
She was so hilarious when I interviewed her in Provincetown and the delicious part is that it was all filmed for, you guessed it, SethTV.com. Sign up and watch the fabulousness. Speaking of P-town, this upcoming Labor Day weekend, I'm heading back to Provincetown for my final That 70's Deconstruction Show where I deconstruct the devastating/amazing "Brady Bunch Variety Hour," and I'll also be performing with Tony Award winner Alice Ripley! And now, as the song says, "See you in September!"
(Seth Rudetsky is the afternoon Broadway host on SiriusXM. He has played piano for over 15 Broadway shows, was Grammy-nominated for his concert CD of Hair and Emmy-nominated for being a comedy writer on "The Rosie O'Donnell Show." He has written two novels, "Broadway Nights" and "My Awesome/Awful Popularity Plan," which are also available at Audible.com. He recently launched SethTV.com, where you can contact him and view all of his videos and his sassy new reality show.)