Hello from a Jet Blue flight from Tampa to New York! I just did two Deconstructing Broadway shows at the Straz Center, and now I'm heading back. This week had some drama at Disaster! because the hilarious Michele Ragusa who plays Jackie (the nightclub singer with twins) in Disaster! lost her voice on opening night!
It was "places" and she could not sing! Well, she wound up doing an amazing performance using a combination of vocal manipulation, octave displacement and Rex Harrison-type Sprechstimme and, not surprisingly, people loved her. But there was no way she could go on Tuesday. Her understudy is Maggie McDowell and she had been preparing to go on that Friday for Marianne, the feminist reporter, but suddenly she had to be on for Jackie on Tuesday.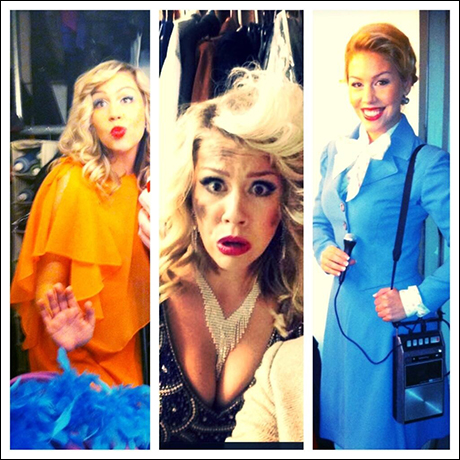 Turns out, she was amazing! Monday she played her regular role (various victims), Tuesday and Wednesday she was Jackie and Friday she was Marianne! She went on for three different roles in the same week with barely any rehearsal. Look at the photo of her in her different parts... brava! Michele came back Friday sounding perfect again and Nov. 12, we're not only doing Disaster! at night, but we're performing in a Broadway concert during the day. It's the third time I've been asked to put on an afternoon show of sassy Broadway songs and this year I'm playing for James, Michele, Tituss Burgess, Emily Skinner and Caissie Levy. Come see us on the rotating Westbury Music Fair stage! All the info is here. (Click Nov. 12th on the calendar.)
Well, all the Disaster! reviews have come out and it's been thrilling. I hate to brag but I'll force myself to tell you some quotes: The New York Times wrote about its "inspired lunacy", the New Yorker called it "high-spirited, winning-and-winking," Entertainment Weekly called it a "scrappy but irresistible new Off-Broadway musical" and Time Out New York gave us 5 stars and wrote "I can't remember the last time I laughed out loud at the theater as often as I did at Disaster!." On Friday, Perez Hilton came to the show and gave us a great review on his website.
It's a very exciting time and it's going to be even more so next week: The depressing part of the story is that John Treacy Egan is playing Mr. Bumble in Oliver! at the Paper Mill Playhouse and has to leave our show. I'm sad to see him go, because we have so many scenes together and he's hilarious onstage and in our cramped dressing room. I just did an Obsessed with him so you can see why I love him. The good thing that came of it is I convinced my co-writer and best friend Jack Plotnick to move to New York and play the role! When we ran the show in 2012, one of our actors had a family emergency and Jack had to play Tony with no rehearsal. He was so fantastic that we talked about him doing it again one day. Well, this is the time! I can't wait to be opposite him onstage as Professor Scheider, watching him ignore my warnings of an earthquake/tidal wave/killer bees, etc.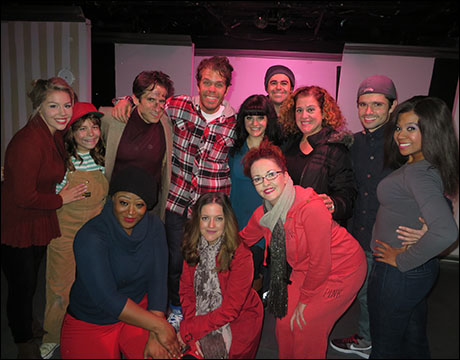 On "Seth Speaks" I interviewed Gary Blake who worked as a gopher for David Merrick back in the day. And I mean the early '60's! I asked him about Merrick's extravagance and he remembered that he once had to go into Merrick's office and noticed there was paperweight with his name on it. The paperweight was literally... a bar of gold. Merrick never actually spoke to Gary (just a lot of glaring in the elevator), but Gary was almost fired by him! Why? Because Gary was rushing through the offices and when he opened one door, he felt it bang into something. What was the something? Gower Champion's knees! Gary could see David glowering in back of Gower, but Gower smoothed things over by telling him, "Don't worry, young man. I'm fine!" And then he danced a little jig to prove it. Phew! And speaking of Gower, Gary also gophered for the producer Ed Padula during Bye Bye Birdie. Gary's parting gift to me was an original rehearsal script! It's on typewriter paper (!) and has cross-outs with new lines written in pencil! And the word "teenager" is hyphenated ("teen-ager"). It's amazing!
On Friday, I went to a recording studio in the Brill Building. Why? Because I was asked to be a voice on an animated pilot starring Susie Essman, Michael Urie and Joan Rivers! Normally, cartoon voices are all recorded separately. The exception, as far as I know, is The Simpsons. When I interviewed Yeardley Smith (Lisa), she told me that they did the shows together, like a radio play. Thankfully, we were all in the same studio and I had the best time. Everyone was so funny and Joan was regaling us with tales from her life. She mentioned she had just gone to the restaurant owned by Lady Gaga's parents!
Joan said she went with Cindy Adams and Barbara Walters. Of course, she had to comment on how old they all are and she claimed her table consisted of "the three witches from Macbeth." Lady Gaga wound up joining them and Joan said she now tries to make Melissa (Rivers) jealous by constantly mentioning,"Stephanie... Oh, I'm sorry…you know her as Lady Gaga." After the session, Joan was talking to Michael about Buyer & Cellar and she mentioned her history with Barbra Streisand. They both did a play together many years ago when Barbra was still in high school! They couldn't find a guy for one of the roles in the show, so Joan suggested that she and Barbra be lesbians instead. 'Natch. This was before Joan changed her last name and when Barbra still spelled her name "B-a-r-b-a-r-a". To this day, whenever they see each other, Barbra always greets her with "Hello, Joan Molinsky…." and Joan says, "Hello, Barbara with all the A's…"
Photo by Joseph Marzullo/WENN
I forgot to write about Jackie Hoffman's hilarious monologue last week at 54 Below. She had been contacted by the TV show Celebrity Ghost Stories. They wanted to know if she had a ghost story, and she wasn't particularly interested until she found out they pay $6,500!
"$6,500! For $6,500 I'd kill someone... and wait for their ghost to haunt me!"
She was harassing everyone she knew for a story and finally asked her mother, who began to sadly tell her a story she had never wanted to mention. Of course, as soon as it began, Jackie began to fantasize about the $6,500. Her mother reluctantly told her that a few years ago she was in the cemetery where her parents are buried. She suddenly saw them, standing at the graves, weeping. As her mother got more and more upset, Jackie said she could visualize the iPad she was going to buy. Her mother continued and told her that she asked her parents why they were so sad, but her parents wouldn't answer. "This is terrific!" Jackie thought and added that her fingers were swiping the imaginary iPad screen. Finally, her mother tearfully told her that she realized a few months later that her parents were trying to warn her that her husband was about to die. "Yes!" Jackie, thought. "Perfect!"
She left her tear-stained mother and immediately called Celebrity Ghost Story. She told them the story and turned on the schmaltz for the full effect. When she finally finished, they immediately told her "The ghost story needs to involve you, not another person," and hung up. Jackie was left holding the phone, yelling, "I meant, me! My grandparents were warning me!" To this day, no iPad.
This week I do Disaster! and this Saturday I fly to Tampa to do a show with the fabulous Patti LuPone. She's inviting a lot of folks from American Horror Story (they film down there) and she asked me if I'd start the show with deconstructing. I said YES! Very exciting! Speaking of concerts with celebs, the amazing concert I did with Sutton Foster is about to go on sale. You can watch some sassy highlights here. And on that note, peace out! (Seth Rudetsky is the afternoon Broadway host on SiriusXM. He has played piano for over 15 Broadway shows, was Grammy-nominated for his concert CD of Hair and Emmy-nominated for being a comedy writer on "The Rosie O'Donnell Show." He has written two novels, "Broadway Nights" and "My Awesome/Awful Popularity Plan," which are also available at Audible.com. He recently launched SethTV.com, where you can contact him and view all of his videos and his sassy new reality show.)