*
T-minus three weeks 'til the plays James and I wrote open. Holy S! If you don't know/remember/care, James and I wrote four different plays and we're running them in rep starting in March in a series called Midtown March Medley. The delicious news is: I got an email last Tuesday from the New York Times (!) asking if we'd be free to be interviewed for an article. If it were possible to have crawled through the computer to scream "YES," then I would have, but that kind of physical maneuvering is difficult at my current weight. Anyhoo, the reporter came the next day to my SiriusXM show, "Seth Speaks," and then I went to dinner with him and James. (On the New York Times' dime. Yes, I got an appetizer. Quite frankly, two.) Then on Saturday, we met with a Times photographer for a photo shoot! He decided to shoot us in Central Park because it's so pretty and he asked us to do a comedy pose. Since I have to play the violin in my play (The Daring Duo), I hauled out my fiddle and "serenaded" James, whose face expressed a response to the sounds emanating from the four strings — horror. Here's where the story gets "funny," if "funny" means "devastating." The photographer looked at me and said, "You know, Seth…I was researching a lot of old photos of you that are online and I have to say…" I was sure he was going to tell me "You look exactly the same! You never seem to age!" I put a humble smile on my face and prepared myself to look appreciative. Well, instead of the compliment I knew I would get — nay, deserved to get — I got: "I noticed that from certain angles, your nose looks enormous." Is it possible for words to feel like a truck hitting you? I kept the smile plastered on my face while trying to get his license plate number. He then told me he was going to photograph us from the angles that really work for me.
My question is, why couldn't he just say, "Hey, Seth, tilt your head a little." Why spell out the specific reason for the angle? In conclusion, there will be a New York Times feature on our plays. And my face will be slanted at a perfect 35 degrees, otherwise known as a "Post-nose-job angle."
Please help me pay for the massage to relieve my severe neck ache from holding my head in the position by getting tickets at MidtownMarchMedley.com. They're only $18! And, P.S., I was last week rehearsing with the hilarious Kristine Zbornik and I asked her to haul out a little Anita Lomax (our show Seth and Kristine: Together Again is one of the four Medley pieces). Anita is a character Kristine came up with: an aging, alcoholic singer with vocal damage. I'm so obsessed with Anita's denial about all of her issues. Watch the video we made!
I'm writing this column while firmly on the ground, but soon I'm going to be way up in the air. For a long time. I'm flying to Australia for the week! First, I fly to Los Angeles (six hours) and then 14 hours to Sydney. I'm sure I'll have many comments/complaints about my flight in my next column, so stay tuned! Until then, I'll tell ya about the good ol' US of A. Last Monday I was asked to perform at the Drama League salute to Audra McDonald. It was so great!
Audra and I met back in the early '90's when I was playing piano for an industrial audition. She sang from Dreamgirls and I immediately thought she had five Tony Awards in her future (I was extremely psychic that year). We've been friends ever since, so the Drama League folks asked me to "deconstruct" her. For my act, I first played a recording of her in the Dreamgirls concert I put together for the Actors Fund and I highlighted the part where Audra belted an E. That's right belted an E! Here's a little snippet.
After I played it for the crowd I told them how Audra called me really early the day after the concert. Every word she said was laden with crazy morning voice. In a bedraggled, phlegmy voice she thanked me for putting together the benefit and I immediately interrupted and said, "Audra! You belted an E last night! Why don't you belt that high more often?" In the same, bedraggled, phlegmy voice she replied, "Because I sound like this the next day." Point taken. I ended my deconstruction by showing a video of the two us in Mexico's Club Med where she was singing (and I was playing) "I Could Have Danced All Night." During the performance, I decided to spontaneously modulate up a half step (for fun!) and she was then forced to end the song on a high C sharp, a note she claims she never sings in public. Of course, she sounds amazing. But she still has that Audra sass and when I surprise her with the modulation she surprises me — giving me the finger. Actually, it wasn't that much of a surprise. Watch!
There were so many stars saluting her at the Drama League event. It was thrilling. Marcia Milgrom Dodge directed the whole show and one of the numbers featured all of Audra's leading men…singing her song from the shows they did together! Norm Lewis came onstage at the end and started singing "I Loves You, Porgy." He was super-serious and really emotionally moving…until he started the bridge up the octave in Audra's range. Turns out he has a beautiful soprano voice! Black Mary Sunshine? Anybody? Then Norm started singing, "Bess, You Is My Woman Now" and suddenly I heard, "Stop! Stop!" I looked into the audience and saw Will Swenson (Audra's husband) holding a mic he had hidden in his suit jacket pocket. He told Norm, "You sang that song to Audra eight shows a week all last year and frankly I'm jealous. Now, it's my turn!" Then he started singing "Audra!!!! You're my woman now!" It was fabulous.
Lonny Price talked about directing Audra in various projects and mentioned the time he looked at a piano on the set and said, "It would be funny if you sat down and suddenly played a segment of some piano concerto." Audra simply nodded and said, "Which concerto?" He thought she was kidding 'til she explained that she studied piano for many years. He was mind-boggled by her talent level and joked, "Next you're gonna tell me you dance on pointe." Audra responded, "Well, it's been a couple of years since I have…" Lonny then realized she can do anything. I loved his quote about her: "If you're Audra's director, the only limit to what she can do, is your imagination." Brava!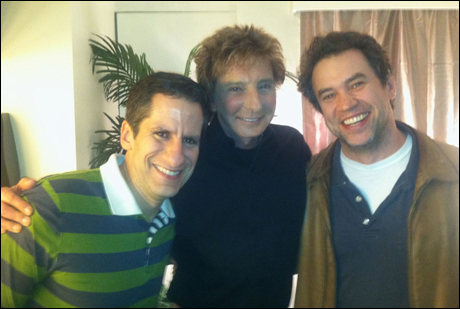 James and I went to see the fantastic Barry Manilow on Broadway. First of all, peace out to "The taking of photographs is strictly prohibited." I've haven't seen so many cameras taping at one time since I filmed my episode of "Bunheads." He did so many hits and sang non-stop. His voice is in such great shape. At one point, he showed a video of himself from the '70s being introduced by Clive Davis (the head of Arista) on (what I think was) "The Mac Davis Show." In the video, Barry starts singing "Could It Be Magic" and as the tape rolled, Barry came onstage and played the piano and sang along with himself…in the same key. After the show he told me that he never warms up. Hmm…neither did Dorian Gray?
The audience was full of "Fanilows" and those ladies were in hysterics for most of the show. At one point, Barry did four pelvic thrusts and they screamed louder than Drew Barrymore in "E.T." Barry smiled and literally said, "I still got it!" Yay! He took the words out of my mouth. After the show, James and I went up to his dressing room at the St. James, which I remembered being Nathan Lane's when we were doing The Producers. We all started talking about dogs because he's an obsessed dog lover, like we are. He has two dogs now, but he also lost his lab a year ago (just like my sweet Maggie) and of course we started tearing up and then two seconds later, someone took our picture. Instead of my eyes "smizing" as Tyra Banks says, change the "smi" to "cry."
Today on SethTV.com, I'm adding episode one of "Broadway Game Night." I had some Broadway pals come over and we played three rounds of "Salad Bowl" (which is like Celebrity) and we had such a great time! I'm so excited it finally got it filmed/edited (by my friend Greg Roderick) and put on the site. In one of the upcoming episodes, Jackie Hoffman makes an appearance and after she takes a bathroom break, she tells me that my scale said she weighed 20 pounds in 45 seconds. Huh? I couldn't understand what she meant: it took 45 seconds for the scale to register 20 pounds? Why so little? Why 45 seconds? My head was hurting from trying to understand, and then I realized what happened; my scale has to be tapped to start working. If it isn't, it's a clock. And it's on military time. In other words, when Jackie stepped on the scale, it didn't say she weighed 20 pounds in 45 seconds, it read 20:45 because it was 8:45 PM! We laughed up a storm. I don't want to say she's an idjit…mainly, because she said it herself.
Peace out and prepare for the next column with an Australian theme! (Seth Rudetsky is the afternoon Broadway host on SiriusXM. He has played piano for over 15 Broadway shows, was Grammy-nominated for his concert CD of Hair and Emmy-nominated for being a comedy writer on "The Rosie O'Donnell Show." He has written two novels, "Broadway Nights" and "My Awesome/Awful Popularity Plan," which are also available at Audible.com. He recently launched SethTV.com, where you can contact him and view all of his videos and his sassy new reality show.)