Holy cow. Last week was so amazing that I haven't really taken in everything that happened. The thing that has made me disassociate is the fact that Barbra Streisand came to see me perform. While you allow the image to sink in of Barbra leaving her house in Malibu and actually arriving to see my show, I will give you the week's recap. Last Monday, James, Juli and I flew to L.A. We stayed at the stunning house of Sean Hayes and his husband Scotty Icenogle. First of all, you must watch all the wonderful videos they've filmed and posted. Here's one of my faves, "Trouble" with Iggy Azalea and Jennifer Hudson. I told Sean I'm obsessed that he uses a phone prop and he said he loves that it has an actual cord, old-school. Watch! 
And here's my favorite: right after the Supreme Court legalized marriage equality they filmed a joyous celebration performed to "Fit As A Fiddle" from "Singin' In The Rain." The two things to know are: A) It was in a small green screen studio that was boiling hot and they're dressed in wool. Horrific. B) Scotty had just gone to the doctor with two herniated discs and his back was killing him. Yet he was still able to sell it! PS Notice famed and possible gay couple Bert and Ernie in the corner near the end of the video! Adorable!
Sean and Scotty are basically the best hosts ever, and we had such a great time chitty-chatting and watching TV. The next day was my book reading at Barnes and Noble at the Grove and it went great! The book being read was my new release ("The Rise And Fall Of A Theater Geek") and I played Justin Goldblatt, the 16-year-old theatre fanatic with love handles and a jewfro. I had an amazing cast read with me; Kevin Chamberlin played my know-it-all boyfriend Spencer, Dan Bucatinsky played my possible new boyfriend Devon; Nia Vardalos was my cranky-ass Grandma Sally; Barrett Foa was Chase, the cute TV star making his Broadway debut whom I intern for; and Roger Bart played Hubert, Chase's personal assistant who tries to thwart my teenage Broadway dreams with his evilness. Look at the pic of Roger and I, caught in mid-mug.
I love it! Also, between each chapter reading we had song breaks; First, Barrett gave us a delish rendition of "She Loves Me" (Hmm... possible Gavin Creel replacement for the upcoming revival? Roundabout, get back to me.) Then Kevin and Roger sang "Henchmen Are Forgotten," the fantastic song I saw them do years ago in Triumph Of Love which also happened to be the first time I saw either of them on Broadway. They were so great back then, and they still got it! Check out the photo of them singing it, also in mid-mug photo. Nia looked so fantastic and got full applause when she told everyone that her next film is the sequel to "My Big Fat Greek Wedding." So exciting! PS. Just cause you missed the Barnes and Noble reading, doesn't mean you can't get a book. Get thee! Then we all hightailed it to Largo for Deconstructing Broadway. Earlier that day, Judd Apatow emailed me to tell me he was coming and asked if I wanted him to be my opening. YES!!!!!!! He came out at the beginning of the show and did a hilarious set ending with a segment on Bill Cosby, whom he's been calling out on Twitter for quite some time. He told the audience that Bill Cosby is still touring and asked, "Don't you wonder what his act is now?" He then proceeded to do a great imitation of Bill Cosby putting a "comedic" spin on the horrific things he's been accused of: "Ya ever get in trouble with the wife? Has the wife ever put you in the dog house?" It's so not comparable to "be in the dog house" for having 35 women accuse you of rape. Hilarious and horrifying.
Let me save my recap of the show/Barbra til the end of the column. I want to first write about the adorable duo of Brandon Uranowitz and Max Von Essen who did my "Chatterbox" and are currently starring in An American In Paris on Broadway. I asked if they did musical theatre when they were younger, and instead of talking about himself, Max revealed the tidbit that Brandon would perform The Phantom of the Opera. By himself. Brandon wouldn't sing the entire score; he would perform "Think Of Me," the song sung by Christine Daae. Brandon then admitted that the main aspect of his private performance was his recreation of the onstage quick change. If you recall, Christine begins the song as a simple chorus girl rehearsing and then during the instrumental break, she's suddenly in a full gown, starring in the opera. Brandon would wrap a sheet and various clothes around himself to give the appearance of a bustle and then do a so-called quick change. Suddenly he'd be in a flimsy ballet outfit! It's actually the opposite of what happens during the show, but it was easier for him to be underdressed in a flimsy negligee rather than a gown. I am, naturally, completely obsessed with seeing him perform this again and we've made plans to recreate it for an "Obsessed." Stay tuned!
Max told us that his first performing job was singing back-up… for Liza Minnelli! He auditioned and then had four call-backs. Not because they needed to hear him four times, but because Liza didn't show up for the first three. I guess the fourth time's the charm? Regardless, he wound up loving the job. They toured all through Europe and Liza housed her backup singers in stunning four-star hotels, which he said spoiled him for every job since. He then did an amazing imitation of how Liza would come alive before the show; appaprently, she'd sort of drag herself to the wings right at "places" and then the overture would begin. Within seconds she'd start snapping, then jamming and soon she was throwing her whole body into it, hitting the accents with various poses and grabbing her backup boys yelling "Yeah!" coupled with "Can't you feel it?" PS, Liza is so fantastic in "Arrested Development." If you've never seen it, watch every single season. Here's a quick scene where she and her "best friend" have a passive/aggressive discussion where Liza "sympathizes" with Jessica Walter because Jessica's husband is in jail and Jessica counteracts by busting Liza because Liza's husband is dead. Look!
Over the weekend I performed two shows in Provincetown with Norm Lewis, whose voice is unbelievably good. It's such a combo of operatic and gospel. PS, I love hearing about supremely talented people who start out having a hard time getting gigs. Norm told us that he auditioned to perform in Disney parks seven times and never got cast. Speaking of people who did Porgy and Bess but weren't cast by Disney... someone else I know was called back for the chorus of Beauty and The Beast and didn't get cast either: Audra McDonald! PS, The same season Beauty and the Beast opened on Broadway, Audra wound up winning the Tony Award for Carousel. So, I guess it worked out. Norm and I wound talking about things we've done together. His first job in New York (Joseph… when I music directed, right out of college), My Fair Lady (summer stock in the early 90's), A New Brain, Actors Fund concerts: Dreamgirls, Chess, Hair, many hospital shows in the AIDS prison ward, the Playbill cruise to Russia, a really depressing gig in San Francisco at a Beer convention, a TV show on the Metro channel where he was the host and I was the Broadway correspondent and a lot more including this performance at Barnes and Noble I just saw on YouTube. I don't remember what it was for…maybe the release of his amazing CD? It's Norm singing what he calls his favorite song, "We Live On Borrowed Time" by David Friedman. I taught him the song when I put together a benefit for Beth Simchat Torah, the Gay/Lesbian Synagogue. Henry Krieger was the other composer honored and he brought in Norm for Side Show which led to Norm's first original leading role on Broadway. Listen how amazing he sounds on the song! FYI, he's a so-called baritone but hits (and vibratos!) the A on "And WE may have a lifetime." Amazing! 
Speaking of Provincetown, I had a rehearsal with Sarah Jessica Parker, who's going to be doing a show with Matthew Broderick on Monday, Aug. 17 at Town Hall. We were discussing our mutual love for a certain show. When she was around 10 years old, she was auditioning for a show in NYC and across the street was a new musical in previews. Her parents got everyone tix, but they couldn't afford seats for all the kids, so half of them did standing room. The show was A Chorus Line and Sarah became completely obsessed. When she went back to her hometown of Cincinatti, she would constantly ask the owner of the local record store if the album had come in yet. Every week she went back and nothing. Finally, she arrived one day and he had a record where the corner was cut off. It was the advance copy and wasn't for resale but, because of non-stop visits, he gave it to her! Sarah said that she listened to it so much, the record eventually completely wore out. However, she did get her first audition song from that show and therefore our Provincetown show will feature her singing "Nothing"! Finally, a Jewish Morales! Get tix at PtownArtHouse.com.
All right, now to Deconstructing and Barbra. So, right before I went on, I knew Barbra was in the house and was, not surprisingly, on the nervous side. But James told me to take my time and enjoy the show, and for some reason, that's all it took to totally relax me. I really wasn't nervous throughout, even though I was deconstructing Barbra's song in front of Barbra. I opened with "Any Place I Hang My Hat Is Home," did a section in the middle on two different versions of "He Touched Me" and ended by pointing out how she takes the word "apart" and changes the last T to a D and in "Cornet Man," she puts an L at the end of the word "mute." If you've never seen that deconstruction, here it is! 
The Largo audience was really fantastic (thankfully) and right after the show, I ran offstage and saw Flanny, the Irish guy who runs Largo. He immediately brought me to my dressing room and said, "Let me introduce you to my relatives from Ireland." James and I had gone to Dublin a few years and had the best time so I shook the man's hand and said, "I love Ireland!" Then I approached the woman and as I was asking, "Where in Ireland are you from?" I realized that Flanny had been joking and the man was James Brolin and the woman was Barbra! AH! I hope this confirms the fact I always say: I cannot recognize faces! So for all the people who approach me and sass me with "We've met many times" just remember this story. Both Brolins were incredibly nice. Basically, Barbra also could not believe she sang "Mule" and "Apard"! She was hilarious and posited that perhaps a record engineer took the "D" from "Parade" and put it at the end of "apart."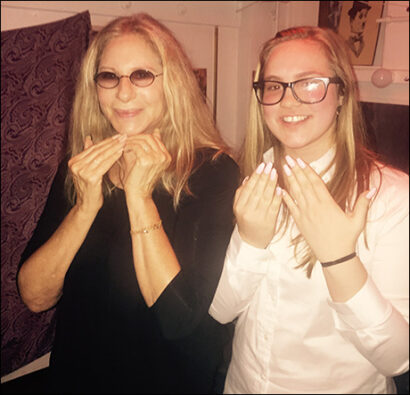 Speaking of engineers, she recalled that when she first listened to "You Are Woman" from the Funny Girl soundtrack, she thought she sounded inhuman. She didn't know why it sounded so robot-like until the engineer proudly explained that he made the bold choice of deleting all of her breaths in between phrases! She said it sounded crazy and thankfully, they were all put back in! We talked about the Central Park concert where she sang "He Touched Me" (turns out she was actually hoarse that night!), and she also mentioned two upcoming things she's doing for which I'm sworn to secrecy but her fans will be very, very excited about! All in all, she could not have been nicer and took photos with me, Judd Apatow and Juli where they both showed off their nails! I haven't really taken in the whole experience yet. I never imagined when my friend Whitney Malin introduced me to "The Second Barbra Streisand Album" when I was 15 that I would one day discuss it with Barbra. And when I would lipsynch "Any Place I Hang My Hat Is Home" for my friend Ben during my freshman year at Oberlin that I would one day lipsynch that same song in front of her! We were chatting in the dressing room for like 20 minutes! AH! I want to go back in time and get one of those policemen body cameras so I could film the entire time I spoke with her and watch it obsessively. We finally said goodbye and afterwards, I chatted with everyone in the Largo courtyard; Jeff Marx, Kevin Chamberlin, Roger Bart, Barrett Foa, Spencer Kayden (yes! Little Sally) Andy Dick and more. James, Juli and I finally got back to Sean and Scotty's house around midnight and Sean immediately said, "That was the funniest show I have ever seen!" I started to thank him and he cut me off with "Let me finish!" Then added, "Since…". Hilarious! And now, go YouTube some Barbra performances and peace out!
(Seth Rudetsky is the afternoon Broadway host on SiriusXM. He has played piano for over 15 Broadway shows, was Grammy-nominated for his concert CD of Hair and Emmy-nominated for being a comedy writer on "The Rosie O'Donnell Show." He has written two novels, "Broadway Nights" and "My Awesome/Awful Popularity Plan," which are also available at Audible.com. He recently launched SethTV.com, where you can contact him and view all of his videos and his sassy new reality show.)