*
Hello from seat 5C on Jet Blue flight 701. This is a week of non-stop flying. First, a flight from Newark to Ft. Lauderdale to do a show with Megan Hilty at the Parker Playhouse, then a flight from Florida to L.A. to do a show with Megan Mullally at the Broad in Santa Monica, then a flight back to Florida (this time Tampa) to announce the upcoming season at the Straz!
On the flight to Ft. Lauderdale, I brought the Gavin MacLeod autobiography I had just started reading. I'm a big fan of "The Mary Tyler Moore Show" and I already read Valerie Harper's great book and "Mary and Rhoda and Ted and Murray." I had just started reading the Gavin book that day and loved his opening chapter because it has a great example of the ups and downs of show business. Back in the '50's, Gavin was hired to do a new TV show. They had a read-through in the morning which went fine, but during lunch he was told he had been fired! He was devastated/ashamed, especially while having tell his wife and agent. A few hours after he got home, his agent called to tell him that, because Gavin had the afternoon free, he had an appointment to meet with Blake Edwards for a new TV show.
Gavin was feeling insecure and bad about himself and insecure. Turns out, he wound up getting the Blake Edwards TV show and then working with him for years on different projects! And the TV pilot he was fired from never made it past the first episode! If Gavin hadn't been fired, he would have had a job that faded out after a week and he never would have been able to meet with Blake and get all of those gigs!
It reminded me of an audition I went to back in the '90's. A big touring show needed a piano player (me) who could also be funny (me!). I had to play a classical piece and read from the script. I knew I'd be perfect for the gig and was summarily very upset when I didn't get it. However, a few months later, Rosie O'Donnell called me and asked me to write for her new TV show, which turned out to be a job that lasted for years! After she called me, I looked up the touring schedule of the show I didn't get and figured out I would have been in Vancouver when Rosie called, unable to get out of my contract. And, PS, I wasn't even up for the role. I would have been the understudy! It's so similar to the Gavin story because it made me realize that a rejection could pay off later on. So, after I read Gavin's story, I told it on my SiriusXM radio show that afternoon. That night, I sat down on my flight to Florida and took out the book which, tip o' the hat to "The Love Boat," is called "This Is Your Captain Speaking." Right before I took off, I checked my email and saw the subject line: "This is Gavin MacLeod Speaking." It was so surreal! I was getting an email from the person whose book I was reading. And what an email! Look:
We LOVE YOU and listen to you all the time on Sirius radio...
This afternoon we were driving in our car, and were listening to you as usual. We were headed to do some shopping, as my wife wanted to buy me a birthday gift, and I start talking to my assistant. My wife says..."BE QUIET SETH IS ON!" So I shut up and at that very moment you said you were reading my book, 'This Is Your Captain Speaking'!!! IT BLEW US AWAY, and we are still pinching each other. We are such fans of yours and to think that you are reading my book and remember the tale of me being fired and working for Blake Edwards touches my heart. If there is one theme that I wanted to achieve by writing the book, it is to NEVER GIVE UP, the best is yet to come!
You are the best my friend, you lighten our load in life with your stories, your humor, and your zest for life and your talent. Just color the three of us your fans!!
Speaking of SiriusXM, I had the hilarious Judy Gold on "Seth Speaks." She just joined the cast of Disaster! and the cast loves her! I took a photo of everyone lined up in the wings listening to her do "Still The One" with Tom Riis Farrell who plays her husband, Maury. If you don't know, Judy is 6'2' (see the photo evidence) and recently during intermission she was asking for a different mic belt. The stage manager asked if it was too big for her and she stared and said, "Do you honestly think something is too big for me?" Good point. The character she's playing is named Shirley (based on the Shelly Winters character from "The Poseidon Adventure"), and Judy is obviously channeling a lot of her mother into the role.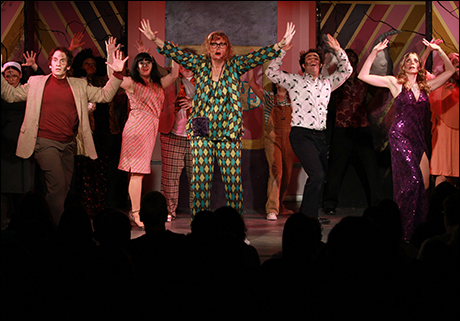 photo by Drew Geraci
If you don't know, she's constantly featuring her Mom in her stand up show. On "Seth Speaks" she told us she had a new voice message to play and whipped out her iPhone. Judy said her Mom is in the Hebrew Home For The Aged and is constantly complaining about the food. Of course, whenever Judy brings it up in front of any staff member, her Mom immediately claims she's never, ever complained about the food. Regardless, Judy played us recorded proof of one her Mother's signature messages; It was simply, "Judith. (Pause) I have nothing. (Pause) Could you bring me a hunk of cheese? (click)." Brava on the clear, concise instructions.
On "Seth's Broadway Chatterbox," I had on and offstage couple Terrence Mann and Charlotte d'Amboise. They got married in the '90's, but have been friends since the early '80's. In Gavin MacLeod's book, he talks about taking risks and being outspoken as opposed to keeping quiet in order to appear polite. For instance, when he was living in NYC, a director mentioned a Broadway show he was doing and told Gavin he was right for a certain role. The show opened, Gavin heard an actor was leaving and then he saw the director again. He wanted to remind the guy of what he said but was nervous it would appear rude to be so upfront. Finally, though, he got up his courage, approached the director about what was said months ago, and it led to an audition and Gavin's Broadway debut!
photo by Michael Le Poer Trench
Terry (as he's known) Mann has very similar stories. Back in the early '80's, he was told by a friend that he'd be right for a role in Cats. He tried to get an audition but could not. His wife (before Charlotte) was British and knew someone involved with the West End production. Through that person, Terry found out there was going to be a rehearsal coming up that Gillian Lynne (the choreographer) and some of the staff would be at. Terry flew to London (!) and, on the day of the rehearsal went to the stage door. He told the stage doorman that he was there to audition. He got to choreographer Gillian Lynne, who told him that they weren't having auditions because didn't need any new actors. He told her that he wanted to be in the American production. She considered it but then told him the pianist was at lunch. Terry told her he could accompany himself. She agreed and then made an announcement to the others around her ("Everyone! An American is going to entertain us!") and Terry sang and played Elton John's "Take Me To the Pilot."
Cut to, he was asked to come to a call back in NYC and got the role of Rum Tum Tugger! After not being able to get an audition at all! A few years later, another friend told him that he was right for the role of Javert in the upcoming Les Misérables. Yet again, Terry tried to get an audition but the casting people felt he had the wrong look for Javert and would only bring him in for Enjolras. He figured that being seen for any role was better than nothing so he went to the audition for Enjolras. However, he showed up as Javert. He wore black, slicked his hair back and instead of singing an inspiring student revolutionary song, he sang a dark, serious song. While he was doing his song, he kept one eye on the reaction of the people behind the table and noticed the writers talking to each other. He was actually able to read their lips as one whispered, "Enjolras?" and shook his head. Then the same man whispered, "Javert!" and everyone nodded. Terry got called back and was waiting to hear while touring with Rags.
Photo by Joan Marcus
Charlotte at the time was doing Song and Dance on Broadway, which was being produced by the Shuberts, like Les Misérables. Gerry Schoenfeld came backstage on night, and Charlotte asked him for the latest casting scoop. When he told her Terry got the role of Javert, she immediately ran to a phone. She knew Terry was on tour in Boston and happened to have the backstage number because she had also toured through the same theatre (this was 1986... way before cell phones!). She left him a message to call her back and he called late that night from a pay phone in a parking lot. It was on that pay phone that Terry found out the news he was cast as Javert! Not from his agent.. but from his future wife! Here he is as Javert on the Tony Awards. You can watch this entire Chatterbox and many more on SethTV.com!
Now I'm on the United Flight to Tampa (with a stop in Houston) and the Straz center. The Megan Mullally concert went great and you can watch us in action here! I'll write more about it next week, but suffice it to say I'm devastated I had to leave the stunning Casa Del Mar where I stayed with James and Juli. It's right on the water, and the bathtub in our room could have slept two.
Since it is the end of February, it's time for me to officially begin my birthday week. Friday is my so-called actual birthday, but as I mentioned in my last column, I treat my birthday like Ramadan and celebrate it for a month. This whole week we'll be giving out prizes at Disaster! and it's also Off-Broadway week, meaning if you buy one ticket, you get a second one free! Plus, Thursday night at 7 PM is our "Gay and Lesbian Night" where you can get a ticket for $46.50, and then meet up with cast members after the show for a free drink at nearby/fabulous Southern Hospitality. We're getting some fun celebs to come that night, too, so if you're there you'll see Jonathan Groff, John Tartaglia and Norbert Leo Butz (honorary gay/lesbian). Speaking of Disaster!, this week's "Obsessed" video features some of the fantastic singers in the show and highlights the riffs they've added that I'm in love with! They're all such great singers and have such fluidity to their voices. Let's just say Judy and I have the comedy roles in the show and leave the riffing to those under 30. Watch here, then peace out!
(Seth Rudetsky is the afternoon Broadway host on SiriusXM. He has played piano for over 15 Broadway shows, was Grammy-nominated for his concert CD of Hair and Emmy-nominated for being a comedy writer on "The Rosie O'Donnell Show." He has written two novels, "Broadway Nights" and "My Awesome/Awful Popularity Plan," which are also available at Audible.com. He recently launched SethTV.com, where you can contact him and view all of his videos and his sassy new reality show.)