Hi, everyone! This is part two of my column about my 10-day stint in London doing a show with Patti LuPone (written on the plane home). Since we didn't want Patti to sing all seven shows with no breaks, we wound up having two nights off. I saw both Merrily We Roll Along and Charlie and the Chocolate Factory. I'll refrain from "reviewing" and/or giving anything away about the show, but suffice it to say it got a big, fat standing ovation from the London crowd!
I also saw Christopher Fitzgerald in the audience and we chatted about him playing the title role in the upcoming Cameron Mackintosh production of Barnum. He's in rehearsal and learning all of these circus tricks that he does throughout the show. I told him how in shape he looked and he had me pat his stomach, which pretty much felt like he was wearing cement Spanx. Literally rock hard. This is his first lead in England and he told me he still hasn't gotten used to everyone around him having an English accent. It reminds him of Americans who will randomly haul out an English accent just to get a laugh. He'll ask something like, "Where do you live?" and a fellow cast member will answer (in a singsong British accent), "I live in Kensington," and he'll instinctively respond with the same accent and say, "Oh, do you?!" They'll stare blank-faced and simply say, "Yes, I do." Silence.
As for Merrily, I'm devastated this production won't be recorded because they just made a CD of the Encores! production. I'd love to be able to listen to this cast again, especially Jenna Russell (who was hilarious and belted everything) and Damian Humbley, whose vocal placement I'm obsessed with.



photo by Joan Marcus
During the week, I met up with Gavin Creel and Jared Gertner who are both starring in The Book of Mormon. I went backstage at their theatre and they were telling me the differences between American and British theatre. First of all, you don't have to be in Equity to do a West End show! Also, everyone gets four weeks of vacation a year! And you can divide it however you want. Like two days one week, ten days another. Jared and his husband are flying to France and Barcelona on his next break! I also heard from other British actors that maternity laws are incredibly strong in England. If you're pregnant, you can stay in a show playing your role for however long you want and the show has to modify whatever you need. You can say, "I can't do that tap number any more," and you'll be taken out of it. Or, "I don't feel safe walking up those stairs," and they'll change the blocking for you! I'd totally try to get dual citizenship if I weren't almost past my prime pregnancy years.
Jared also said that there are constant announcements backstage during the show like "The song 'Man Up' is coming up. Get ready for 'Man Up.'" Jared told his cast that it's not done that way in America and they asked, "But, how do you know when a song is coming?" On a related note, you only hear what song is coming up if you have your "squawk box" on (the speaker in your dressing room). Patti has a story that happened to her during Act Two of the original London Les Miserables, and it involves her turning off her squawk box. After silencing the show, she lit a cigarette and read the Madonna issue of Vogue. Suddenly, Roger Allam (who played Javert) was at her door yelling, "LuPone! You're on!" It was the scene where Valjean is on his death bed and Fantine and Eponine appear. She fled down the stairs while throwing on her wig and costume and found out she had left Colm Wilkinson onstage for eight measures, dying. She finally entered from the opposite side of the stage but couldn't figure out where to come in musically because the beginning of her solo had past and she only knew her lyrics in order. That night, when she took her bow, she got hissed onstage by her fellow actors! And she's never missed a cue again. P.S. Roger Allam came to the show. Check out the pic!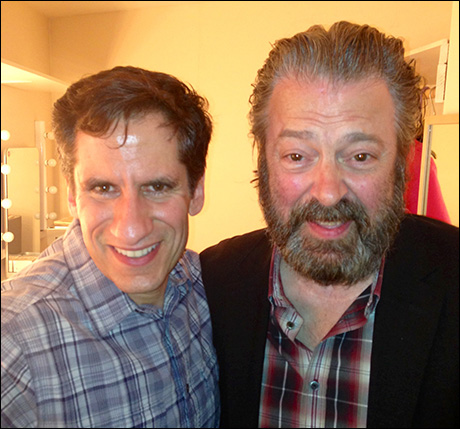 Speaking of Patti, Jack and I went out to breakfast with Gavin (Creel) and he told me how obsessed he's always been with her. When he was going to Michigan University, he drove across the country just to see her in Patti LuPone: Live. It took many, many hours because there was snowstorm but, even after driving for so long, he still had the energy to love the show. Why? Because right before the show, he said he drank the one and only cup of coffee he's ever had! I never found out why he's never drunk coffee before or since (foreshadowing his starring in The Book of Mormon?), but I did keep his Patti obsession in mind. He and Jared came to the final performance and when we got to, "Come to Me (Fantine's Death)", I asked Gavin to come to the stage to sing Valjean's part. Turns out, he doesn't really know Les Miserables at all, but Jared told him to get onstage and he did. Gavin sat next to me at the piano and sightread the Valjean part. He sounded amazing and, at one point, because he didn't quite know the amount of notes between two pitches, he connected them with a variety of notes that turned it into an amazing riff! After he sang, Patti hugged him and he was so overwhelmed that he said, "I'm dead!" and fell to the floor. P.S. I found the video of the first we pulled from the audience to sing "Come to Me." Watch his brazen closing of Patti's eyes at the end of the song. Hilarious!
Gavin's not the only actor we pulled from the audience that weekend. Patti found out that the actor who played Artful Dodger opposite her Nancy in the 80's revival of Oliver was in the house on Saturday night, and she asked him to come onstage and we did an impromptu version of, "Consider Yourself." His cockney accent was amazing because it was the real deal. Patti told us that she had a terrible cockney accent. There was a dialect coach on the show but Patti didn't show up for many of the sessions because, "It was the 80's in New York…and I had better things to do." 'Nuff said. On that same night, she pointed out Jonathan Pryce in the audience and asked him to come onstage. He walked up and she immediately asked him to sing something. He first responded by saying, "But...I paid for my ticket." Eventually, she convinced him to sing "Fly Me To The Moon" and he sounded great!
Saturday was an early show for Patti, because immediately following it was my solo show! I wasn't that nervous because I had been getting such great responses all week. I was so amazed at how many people know me in England because of my deconstructing videos on SethTV.com! As a matter of fact, James (who flew to England right after the Unbroken Circle opening) and I were walking around Leicester Square when we heard a group of kids yelling. I realized they were pointing/yelling at me. I went over and found out they were high school theatre students who were coming to Patti's show and my solo show. Turns out, they were in England on a trip from South Africa! I couldn't believe theatre kids watch my videos in South Africa! They all came to my show wearing their homemade "Obsessed" shirts. Look at the photo!



Photo by Michael Le Poer Trench
My show went fantastically and, yet again, I tried not to read reviews, but the publicist kept sending me e-mails with the subject line, "Five star review for Seth Rudetsky," and "Another five star review for Seth" and "Third five star review for Deconstructing Broadway." How could I resist? One night at Patti's show, I asked her about auditioning and she said she hasn't done it in years, except recently. She went in for the Dianne Wiest part in the new Woody Allen musical, Bullets Over Broadway. She had always wanted to do one of his films but heard that his casting director didn't like her. She went this month and read for him, and a few hours later she heard from her agent that she didn't get it. She told us, "Maybe it wasn't the casting director all this time. Maybe he doesn't like me!" Hmph.
Speaking of not liking, Patti was not having it when she was told during Les Miserables rehearsal that all the leads in the show would join the chorus once their part was over. She successfully avoided doing any scenes after Fantine's death by feigning she couldn't rehearse because she needed to save her voice for the production of The Cradle Will Rock that she was doing at night. However, once that show was over, she showed up at rehearsal and before she could duck, someone in the show spotted her and pointed her out to Trevor Nunn. He immediately put her in the barricade scene. She was so annoyed, she decided to be a man in the scene. That is, until Enjolras announced, "All women and children leave the barricade." Then, she said, she immediately became a 10-year-old boy and fled. She also decided her onstage character was a smelter, which is someone who makes bullets. One night after she came offstage, Roger Allam told her that she was melting the iron for bullets on top of a haystack. She told him to watch her the next night. She pretended to put the iron down as usual and then pretended to heat it up. Soon, she started hopping around the haystack and putting out the "fire" she had caused.
I accused her of doing it in back of Frances Ruffelle in order to upstage "On My Own" but she claimed it was during a big barricade scene. She then seriously told us that the main reason she's happy she did the barricade scene is because she got to be onstage every night and hear Colm Wilkinson sing, "Bring Him Home," saying it was, "one of the best theatrical moments" she's ever had.
Sadly, one of the best theatrical moments I could have had won't be happening. Patti let it slip that after Elena Roger left the revival of Evita, she got a phone call asking if she'd be interested in doing Evita. As Eva! It didn't work out, but I'm investigating doing it for one night on Broadway for the Actors Fund. How amazing would that be? We shall see…
The big event at Patti's show happened towards the end of the week. It's similar to the show I did in Provincetown, which was recorded and is available on SethTV. Here's a link to a promo video. The first time we did it, I convinced her to do "Rainbow High," which she hasn't sung since the show closed. This time, we got an e-mail from a guy playing Magaldi on the tour in the UK. He asked if he could get up out of the audience to sing with Patti. She said yes, but first let's see a video of him. We liked him and she re-learned, "Eva and Magaldi." He's off this week, so he comes onstage every night and they do it. She had to compeltely relearn it...watch!



photo by Donald Cooper
I kept getting tweets asking if Patti had sung anything from Sunset Boulevard. She had discussed it...and how upsetting it was to be fired etc...but she never sang it. I began to realize how much people wanted it. After all, this is London where people saw her do it and loved it! And the dresser for our show is her dresser from Sunset Boulevard. He told me how amazing she was, and how, on her final performance, when she sang "As If We Never Said Goodbye," she sang one line from the song to each and every person on stage. I decided to ask her if she'd be willing to sing something. She wrote that she would try but she doesn't remember the music. So I took that as a yes and got the music e-mailed to me from my trusty friend Michael Lavine.
We sound checked as usual ("I have to run the high notes to see if they're there") and at the end I asked if we could try a song. As soon as I mentioned Sunset Boulevard, her husband Matt beamed and said it would be so wonderful if she would sing something from the show. I opted for "With One Look" because I'm obsessed with how she doesn't breathe before the final high note. Also, I'm obsessed with the original key which they had to transpose to Glenn Close. We ran it in rehearsal and Patti's husband was so moved, he was crying by the end.
Patti "didn't remember the music," meaning she sang it perfectly. She got a second encore last night and turned to me in the wings and asked what she should sing. I said, "I think you have to try Sunset." She got onstage and said she was going to sing it from in back of the piano because she felt more protected there. It was very emotional for her to sing it again. She started singing and stopped after four beats to collect herself...she started again and NAILED IT. So beautiful, so moving and the final D was AMAZING! And here's the video!
OK, I'm traveling again this weekend! Come up to Provincetown this Friday or Saturday and see me and Joanna Gleason at the Art House. And on July 4th, see me and Sutton Foster! Get thee to PtownArtHouse.com. And on that note, peace out!
(Seth Rudetsky is the afternoon Broadway host on SiriusXM. He has played piano for over 15 Broadway shows, was Grammy-nominated for his concert CD of Hair and Emmy-nominated for being a comedy writer on "The Rosie O'Donnell Show." He has written two novels, "Broadway Nights" and "My Awesome/Awful Popularity Plan," which are also available at Audible.com. He recently launched SethTV.com, where you can contact him and view all of his videos and his sassy new reality show.)