*
AH! I just got an email from one of the Disaster! investors congratulating me on the Daily News shout-out. I get that paper every day but, for some reason, didn't get the Sunday edition. Turns out, Joe Dziemianowicz, the theatre critic, picked the ten best shows of 2013, and he put Disaster! in the top 10! It's so amazing to see Disaster! be listed with major shows like Pippin and Twelfth Night! Speaking of Pippin, Andrea Martin came to see Disaster! with her good friend Debra Monk. See the sassy photo they took with Drew Geraci (who emailed after seeing it that it looks like he just "had some work done").
Drew and I just did an Obsessed video that I think is hi-lar. Take a gander:
I'm writing this during a beautiful spring day. Sadly, it's the beginning of winter. WTF? We went to brunch this morning, and James actually wore shorts! Yes, I appreciate seeing the great calf muscles, but I don't appreciate nor look forward to the rise of the ocean and the eventual flooding of our coastline. If anyone is freaking out as I am, make a donation to www.Greenpeace.org to try to curtail global warming.
Anyhoo, back to more important matters—what kind of food I ordered. I decided to be "healthy" and get an egg white omlette but offset it by eating non-stop bread from the bread basket. Delish! We met newlyweds Megan Hilty and Brian Gallagher at Isabella's and had a great time. They just got married after an engagement period of zero (0) days. Megan said she was never one of those girls who fantasized about having a big wedding. She told us she was more like, "Um, I can't think about that right now. I have play practice." So, a few months ago, they were in their L.A. home and decided they wanted to get married but without the long engagement period or the stressful planning of the wedding. They invited their immediate family to Vegas, and nine days later became Mr. and Mrs. Gallagher. Then they did a national tour of their reception; one in L.A., one in Megan's hometown of Seattle and one in New York City. Sadly, their NYC reception was on Monday, which used to be a "dark night" in theatre, but I couldn't come because I have Disaster! on Monday nights. So, we met for brunch instead. Megan and Brian didn't want gifts for themselves, so they had all their guests bring toys for tots! And, if you want to help out some tots, James, Juli and I always get a kick out of giving gifts to random kids who write letters to Santa. Info is here.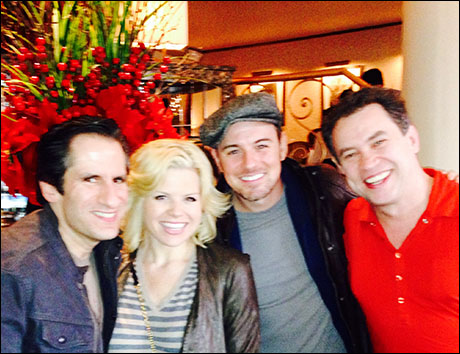 Speaking of kids, we had Sondheim's recent child star, Lilla Crawford, come see Disaster! on Friday night. While she was doing Annie, she read one of my Playbill articles where I mentioned a benefit I did and how I chatted with Rob Marshall. Lilla was having a hard time getting an audition for the role of Little Red Riding Hood in the Into the Woods film, so she asked me to put in a good word. I texted Rob about how funny she was as an actress, but never heard back. Then, I heard that another girl was cast in the part. Sad face. Then, I heard Lilla was flying to London to replace her! I still got it! My texting has delayed reactions, but it works! (Maybe he was on London time?)
Lilla had a great time doing the film, but did not love being tutored on set—because she had to literally be on set, which was not where she was living. So, if she had days off from filming, she still had to take a long trip from London to the set to be tutored. When I was a kid, I always thought if I got a big film I could finally escape horrible school, but turns out it ruins everything. Not surprised. I got some scoop from Lilla, who told me that halfway through filming, she lost a tooth! No, not because she was in England and trying to fit in with the signature "British teeth" look that the Simpsons did an amazing homage to…rather, because she's 12 and still losing her baby teeth! The problem was she had already filmed scenes with her baby tooth intact, so the continuity was compromised. They had to make her a fake baby tooth that she wore for the rest of filming. Not since Ryan Lochte's grill. Then, there was a scene where she had to stuff her face with muffins because Little Red Riding Hood is a bit of a food addict. Suddenly, she said what only a film director can say. Yes, Lilla yelled, "Cut!" That's right, an actor yelled cut while filming. I've heard an actor never does that on a film set. Ever. Unless they're Meryl Streep (who happened to be on the set, PS). So, why did Lilla call cut? Because her fake tooth fell out. And, she didn't realize until she was actually eating it! They made her spit out the muffin she was chewing, and then a production assistant had to look for the tooth…by sifting through the chewed muffin. Seriously. Moral: a job that begins with "I'm in show business!" sometimes ends by sifting through masticated food.
Last week, I had Christine Andreas and Leslie Uggams on Seth Speaks, my weekly SiriusXM talk show. I asked Christine about doing Oklahoma!, which I got to see on a seventh grade class trip back in the day. No one in the cast had body mics, and they all had to sing over the full orchestra. Old school! Turns out, one of my favorite moments was also the favorite of the director, William Hammerstein; it happens during "Out of my Dreams," and it's when Christine sings, "..then out of my dreams I'll go-o-o-o-o, into a dream…". She decrescendos on "go-o-o-o," and then instead of breathing before "into a dream," she connects it. He called it the "elision" and would watch it from the wings. It's so beautiful! Watch and listen at 3:00.
I made Leslie tell the background story on "June Is Bustin' Out All Over," and even though, at this point, she's probably heard herself sing that hilarious version 100 times, she was still laughing hysterically hearing it played back. If you've never heard what really happened, then watch this tell-all video ASAP! Hi-lar.
Photo by Joseph Marzullo/WENN
On Thursday, I had Benj Pasek and Justin Paul, who wrote the score to A Christmas Story and Dogfight. Turns out, they both began as performers. Benj lived near Philly and used to take trains up to NYC with his relatives and, trickster-style, audition for shows when he was here. The first show he tried out for was A Christmas Carol by Flaherty and Ahrens, which was playing at Madison Square Garden. He got called back…and got the role of Tiny Tim! He told his mom…but she wouldn't let him take the role. Yowtch! The story reminds me of Laura Benanti, who snuck into the city to audition for The Sound of Music when she was still in high school and got cast! But that story ends with her mom allowing her to do it and her taking over the role of Maria when she was 18. His ends with his mom not allowing him to do it. Period. However, he kept performing, and he and Justin (who grew up in Connecticut) got into Michigan as performance majors. In their sophomore year they were cast in City of Angels. Both roles were shockingly tiny and Benj's (literally "man with camera") got a passive/aggressive shout out from the director. On the first day of rehearsal, he told everyone that it was an ensemble show (meaning all roles were equal…PS, not true) and that every role was important. He then paused, smiled and said, "Even the man with camera." If your role gets cited in a sentence beginning with "Even…," then you know you have a walk-on.
Since he and Justin had so much free time (they weren't called for many rehearsals), they decided to do something with their time and wrote a song cycle, which they performed in an on-campus theatre. They called it Edges and posted videos of it on YouTube. This was before there was a lot of musical theatre on YouTube, and suddenly students across the country were asking to do it in their schools. Stephen Schwartz came to campus and right before he left, they slipped him a CD with the old, "Hi! We're also writers, and we'd love if you'd listen to this." Months passed…and then suddenly they got a letter. Not only had Stephen Schwartz listened, he had written a full description for each song about what worked and what didn't work. So helpful! As a matter of fact, both Benj and Justin said that other composer/lyricists have been incredibly supportive since the beginning of their collaboration. The best story involves Jeff Marx, who co-wrote the score to Avenue Q. He told me an amazing story about his connection with Pasek and Paul, and I asked him to write it to me in an email so I could put it in my column. Here 'tis!
I met them both 8 years ago when they were freshmen in college. Benj emailed me through Friendster, saying he was in the same college acting program I had attended, and asked if he could be my assistant for the summer. I said sure — he worked for me that summer, and we became great friends. He never played me his songs until the end of the summer because he was afraid I wouldn't like them. They were fantastic and I told him he and his writing partner could really do this and have shows on Broadway. He didn't believe it yet (they were only 21 years old!), but I did.
He went back to school and completed his sophomore year. At the end of the school year, he wanted to come back out to NYC for the summer and I encouraged him to encourage his collaborator, Justin, to come, too, so they could write songs all summer, get better at it, and start writing a show.
Justin said he couldn't come to NY for the summer because he had to work. His deal with his parents was that they would pay for college but during the summers, he had to work and make his own spending money. I asked him how much he would realistically earn over the summer, "seriously - give me a number," and he said he would ideally probably make $7,000.
I told him I would give him the $7,000 so he could come work with his collaborator in New York for the summer, but he didn't feel right about accepting such a gift. I said, "OK, we'll call it a loan. You can pay me back when you have your first show open on Broadway. I really believe you're going to do it and my money is safe. And just to make it interesting and give you a deadline, let's say you'll pay me back only if you have a show open on Broadway before you're 30. Otherwise, you'll just keep the money."
He accepted the loan and they continued writing.
Seven years later, their show opened on Broadway and, on opening night, he gave me a check for $7,000.
They beat the deadline by 3 years... they were only 27 years old.
Isn't that amazing!!! And, now I'm off to my holiday schedule of Disaster! We have a Monday matinee, Friday matinees and a New Year's Eve show! But, thankfully, no on-set tutoring. Get tix at www.DisasterMusical.com; peace out and have a great holiday!
(Seth Rudetsky is the afternoon Broadway host on SiriusXM. He has played piano for over 15 Broadway shows, was Grammy-nominated for his concert CD of Hair and Emmy-nominated for being a comedy writer on "The Rosie O'Donnell Show." He has written two novels, "Broadway Nights" and "My Awesome/Awful Popularity Plan," which are also available at Audible.com. He recently launched SethTV.com, where you can contact him and view all of his videos and his sassy new reality show.)