*
Hello from London! Or should I say "hallo"? You'll be happy to know I've been hauling out my self-described British accent since I've been here; I insist on pronouncing London as "Loondon" and every sentence I utter sounds like a question whether it is or not. And, of course, I call any person I meet "love." Pronounced "loove."
Instead of being thought a British native, the only result I've gotten so far is James wondering if the UK gives quickie divorces. Regardless, let me begin this column pre-London. On "Seth Speaks," my SiriusXM radio talk show, I had Stephanie J. Block and Kevin Ryan, who's the head of Covenant House. Covenant House is for kids who don't have anywhere to live. There are many reasons for kids not having a home: being kicked out, parents disappearing, escaping abuse as well as the fact that the foster care system ends at 18. Imagine being 18 and trying to afford a place to live with no job/education/savings. Covenant House (now in 21 cities throughout the US, Canada and Latin America) takes in these kids and makes a "covenant" with them; that includes them paying "rent" which is put into escrow and then given back to them when they leave in order to pay rent on their actual apartments.
Kids there learn life skills: how to interview for a job, how to balance a checkbook, how to cook and sometimes truly basic things like learning how to read. Stephanie came up with an idea last year (BroadwaySleepOut.org) that has become an annual event. Broadway folk spend a night sleeping on the sidewalk to get a sense, no matter how small, of what it feels like to not have a home. Each Broadway person raises money that goes to Covenant House. So many great people are doing it, including my SiriusXM co-host Christine Pedi (donations can be made on her website ChristinePedi.com) and more info can be found at CovenantHouse.org.
Stephanie came on the show to talk about the Sleep Out and mentioned that her husband Sebastian Arcelus is joining her. She then whispered "It's not the first time we've slept together." Speaking of which, when she walked into the studio, I immediately noticed what has now become an overused term in every celebrity rag: a so-called "baby bump." I was too scared to ask if she was pregnant, especially after reading Ellen DeGeneres' hilarious book where she re-enacts her side of an awkward conversation. It basically has her trying to save face with, "Oh! You're not pregnant? Sorry, sir. So... men can't get pregnant? Oh... I thought I read somewhere they could." Anyhoo, Stephanie is indeed pregnant. Five months! I did have the chutzpah to ask her who the father is. She immediately responded "Possibly the Beibs." Brava on the quick wit! On Wednesday night we left for London! We had some signature sass from the flight attendants. When the coffee cart went by, James and I noticed only two percent milk. We were both filled with dread and incredulousness. Surely they had delicious half and half with their coffee and not gross 2% milk. Or at least the option of whole milk.
Flight attendant: Coffee?
James: Do you have half and half?
Flight attendant: We have milk.
James: (nervously) 2 %?
Flight attendant: (exact same line reading) We have milk.
Those of us obsessed with light coffee know that 2% versus milk versus half and half is vastly different. Suffice it to say, the "milk" was indeed 2% and tasted like white-colored water. Anyhoo, the plane left an hour late because it needed a mechanical fix (always a fun thing to hear before you fly 30,000 feet in the air) but we landed on time. We had planned to go right to Oxford for three days before London, but we found out that our British friends, James Thompson and John Reid, were free for lunch at 1 PM. We thought it would be a headache to travel 90 minutes to Oxford and then 90 minutes back for lunch, so we decided to wait it out in London. Unshowered and carrying our luggage. John and James are staying at the Dorchester Hotel while their home is being renovated so I thought we should ask if the hotel would watch our luggage while we had breakfast. I thought there was a chance they'd smile and say "indubitately" or they'd glare and say, "We're very sorry. We cannot be responsible for watching any of your parcels." Then ending with a "Now go!" a la Patti LuPone in Sunset Boulevard.
We arrived at the Dorchester, which is fancy shmancy, with an extra dose of shmancy and, turns out, they were so nice! They told us we could leave whatever bags we wanted while we went to breakfast and then, when we mentioned we wanted to change our t-shirts because we just flew for seven hours, they offered us use of their full spa and shower services! It was so fantastic! We got showered, dressed, went to breakfast and then met John and James for lunch. They told us that Joan Collins does her show at the same theatre I'm performing at. Naturally. I've always thought of myself and Joan as peers. They also added that at one point in the show, she mentions how she used to do "the splits" and then literally does the splits! Not cool. How can I top that?
After a delightful lunch at Nobu, James and I got on the London to Oxford bus. We got our hotel on Priceline.com but after it chose one for us, we read the reviews on TripAdviser.com. They all talked about how the rooms had no air conditioning (!) and how hot they were. Some of the rooms didn't have windows that opened! We immediately called Priceline and told them that the hotel was listed as having three stars but the recent comments on TripAdvisor made it seem decidedly not three stars. We wanted to get our money back and find another hotel. They emailed us back saying that they spoke to the hotel and were assured that it met the strict Priceline guidelines for three stars. OK. So, we traveled 90 minutes to the hotel in Oxford, walked into our room, and immediately started sweating profusely. We found the fan provided for us in the room that was supposed to help cool it down. The so-called fan was around five inches and couldn't circulate any air from outside because there was no outlet near the window! Since we didn't want to live in a real-live steam room, we got another hotel, checked out and took the 90 minute bus back to London. So, to recap, seven hours flight to London, an hour to the Dorchester Hotel, 90 minutes by bus to Oxford, 30-minute stay in Oxford and 90 minutes back to London. I'm writing a sequel to "Planes, Trains and Automobiles" and calling it "Planes, Trains, Buses and Buses."
The good news is, because we got to London early, we've been able to schedule lots of shows to see! First we saw the new Miss Saigon. Let me just say I am obsessed with Eva Noblezada. She was performing in NYC at the "Jimmy Awards" which is for excellence in high school theatre. She was seen there by casting director Tara Rubin, who got her an audition for Kim and she got the gig! She's now living in London, starring in the show and she's fantastic. And she's 18! I chatted with her after the show and told her how impressed I was with her high belt but that I felt bad for the little kid playing Tam because she's constantly hugging him while belting a D. She told me that as she's hugging him she also often covers his ears. Brava on preventing his head from exploding! I was the most riveted by her blank-facedness. She plays so much of the beginning of the show completely expressionless which is so real. I asked her about that after the show and she said she's trying to be a young girl who just lost her family and has suddenly been thrust into a totally new and terrifying environment. During the whole opening, she looks like someone who doesn't have the luxury of reacting. She just "is." After the show, I asked her to take a photo with me where we're both in total blank-face. Take a look!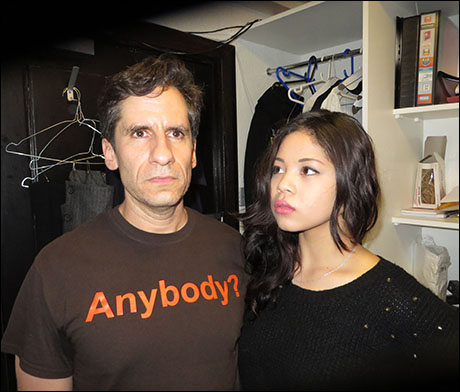 I also saw Forbidden Broadway at the Menier Chocolate Factory which is about to transfer to the West End (and bring in the brilliant Christina Bianco from New York). One of the stars is Damian Humbley, whom I first saw when he played Charlie in the West End's Merrily We Roll Along (for which he won the Olivier). He was great in Forbidden and I chatted with him after the show. He's such a phenomenal singer but he told me when he first auditioned he knew nothing. He was 16 and going in for the Australian company of Miss Saigon. He came with his own accompaniment pre-recorded (!) and played it while he sang. They had asked people to prepare two songs but after his first they immediately gave him the "thank you" and he left. Instead of being devastated because he wasn't asked to sing again, he was excited. Why? Because he was so naïve, he thought "Wow! I was so good they only needed to hear one song!" Amazing version of turning lemons into lemonade.
I also asked him about onstage mishaps and he told me about the time he was doing the musical version of Lend Me A Tenor. He played the role originated by Victor Garber in the Broadway play and at one point he was supposed to catch a bottle that was thrown to him. The cork had disintegrated so the liquid spilled out when it was thrown and Damian dropped it. And it wasn't a prop bottle. It was made of glass! He never left the stage for the rest of the act and had to continue while picking glass out of his hands. When he got offstage, he saw that his shirt was drenched with blood because his triceps got gashed as well! The whole set was lavender and gold, but that night there were big spots of red because of his blood! He sent me a pic of his bloody arm. Look!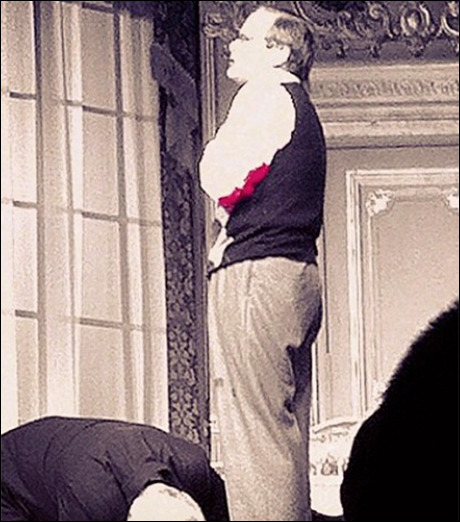 All right, I've still got more days in London so in next week's column I'll write about seeing Shakespeare In Love, the opening night of Dogfight and my show! Speaking of my show, don't forget I've got a big benefit coming up Aug. 24 that features Broadway stars like Christine Ebersole, Mario Cantone, Sierra Boggess and many more singing a song from the role that put them on the map in high school! Get tix here and peace out!
(Seth Rudetsky is the afternoon Broadway host on SiriusXM. He has played piano for over 15 Broadway shows, was Grammy-nominated for his concert CD of Hair and Emmy-nominated for being a comedy writer on "The Rosie O'Donnell Show." He has written two novels, "Broadway Nights" and "My Awesome/Awful Popularity Plan," which are also available at Audible.com. He recently launched SethTV.com, where you can contact him and view all of his videos and his sassy new reality show.)