It's September! I spent the last 10 days of August in Provincetown doing "Broadway at the Art House," and next weekend is the last in the series. Sad face. However, I'm very happy it will star Chita Rivera, because it will be the first time I've done a full show with her. My obsession with her began when I was a little kid (age eight, when my sister went to see Chicago and bought the cast album, as opposed to Patti LuPone, who I became obsessed with when my friend Allen Hahn bought me the Evita cast album for my Bar Mitzvah).
It's still so cool to me that the people I grew up obsessed with are now the people I get to perform with, and this weekend and last weekend were extra amazing. During my senior year of college, I had a boyfriend named Tod, and 50 percent of our relationship was spent obsessing over Betty Buckley and Patti LuPone. I was the first to introduce him to the Evita cast album, and he became as obsessed as I was. When we visited New York in the spring of 1988, we saw Anything Goes together, which we taped from the audience on a walkman and then listened to non-stop. (We were devastated when Tod's car was broken into and the bootleg was stolen.) Well, these many years later, we're still friends and our obsessions haven't waned. I told Tod to come up to P-town to see Patti's show because I knew he'd flip out... and then I got an idea. When Patti was in London, she sang the "Eva and Magaldi" duet with the guy who was playing Magaldi on the British tour. Since Tod sings, I asked him to learn the Magaldi part so when he got here we could run it and I could "practice my piano part."
photo by Paul Kolnik
I didn't want to put pressure on him, but I thought if he knew the part, I could surprise him by bringing him onstage. On Friday, we met at the Art House, went through it and he asked me if I was going to surprise him and bring him up onstage. Busted. I admitted my plan, and he promptly had an anxiety attack. After I gave him a talk about "taking chances" and "living in the now" and anything else I could plagiarize from Drs. Phil and/or Oz, he agreed to do it. Patti did a brilliant show and after her final song, came out for an encore. I told the audience the story about how Tod and I obsessed about Patti in college and then told everyone I had a clear memory of sitting in my off-campus house and fantasizing with him about how cool it would be if one day I'd be getting phone calls from Patti. I started crying, because I couldn't believe the fantasy came true a million times better than I ever dreamed! Here I was playing for Patti LuPone, and he was singing with her! It was really amazing. And the audience loved it!
The whole Patti show was so much fun, because I asked the audience to write down questions for her and I'd ask them. Someone asked her favorite moment from Sweeney Todd, and she said she loved doing "Not While I'm Around" with Manoel Felciano because she felt she left the stage as an actress and was simply in the experience with him. Well, it was a super-appropriate question, because we planned on doing that song! Well-Strung, the singing string quartet, also performs at the Art House, and Edmund Bagnell played Tobias in the Sweeney Todd national tour. He came up to the stage with his violin, and they did a gorgeous version of the song, including the scene. So great!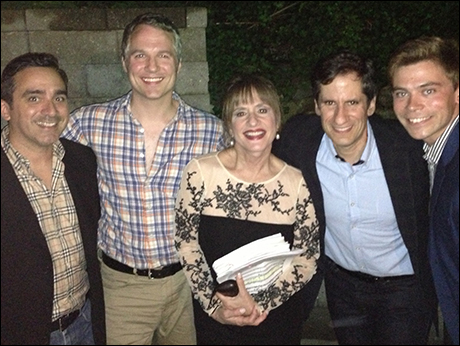 Speaking of Sweeney, someone asked the succinct question, "Why the tuba?" (Patti played tuba in Sweeney.) Patti told us that in high school she wanted to go to band camp, because the boys were "sexy," so she learned the tuba. She definitely had a sassy streak, and she wound up being in a bunk where the girls made an "obscene" mobile! Most of them were sent home, but Patti was spared being fully evicted. Instead, she was "quarantined" to an isolated cabin away from everyone else. Later on, when the female head of the camp came to check on Patti's isolation, Patti was in trouble yet again because her cabin was filled with boys.
Before my weekend of Patti shows, I had three shows with Megan Mullally, who was fantastic. She brought her singing partner, Stephanie Hunt, to do a few songs from their girl group called Nancy and Beth. She claims the name of their group is completely arbitrary, but it happens to be the names of my two sisters. Hmm... see you in court? Megan and Stephanie sing in such cool harmony, and all their songs have really interesting choreography. I took a photo of us in one of their final poses. Look! They also love to dress in vintage outfits, but Stephanie had bought something in Provincetown during the day that Megan convinced her to wear in the show that night because Stephanie is incredibly young, with an amazing body: a tiny bikini made out of scuba diving material. Anybody? Everybody. After their first song, Megan said the reason they're so close is because they were both born the same year. 1988. Everyone laughed up a storm, and then Stephanie interrupted and gave her real birth year: 1989. Silence.
I asked Megan about doing Young Frankenstein and she remembered one time when Mel Brooks came to a tech rehearsal after being gone for a few days. He beckoned Megan to the edge of the stage. Uh-oh. She didn't know what was up. Was she in trouble? Was a song being cut? She got to the edge of the stage, knelt down and Mel said, full volume; "Your t*ts look great!" Megan then thought, "You know what? They do look great!"
Photo by Rex Bonomelli
I saw Varla Jean Merman's show called Twice Upon a Mattress. The show had a fairy tale theme and at one point, Varla went into the audience and chatted with a male audience member whom Varla insisted wanted to be a fairy princess. She handed him a long red wig and then took a photo of him with the wig on. Afterwards she promised to put the photo on Facebook she asked, "Have you ever run for office?" He answered, "No," and she added, "Well, now you can't." Varla came back to the stage and began acting sincere, asking him, "Were you moved? Did I touch you?" When he answered yes, she did indeed touch him, Varla immediately said, "I thought so," and slathered anti-bacterial gel on her hands. Hilarious. At one point in the show, Varla told the audience that she opted out of making a brand new video and instead was going to show a bunch of old clips in a montage. She then explained, "Montage is a French word... for lazy." Varla (real name Jeffrey Roberson) and I will do two shows at 54 Below Sept. 29-30. Details at varlaonline.com.
I also saw Coco Peru's show and thought it was great! It began with her singing "I Don't Know Why I Go To Extremes" and walking down the aisle. We were in the front row and the theatre where she performed doesn't have a stage so she was right, and I mean right, in front of us. During the opening song, Miss Coco walked right up to someone sitting next to me in the front row, pointed to herself and said, "Not so pretty close up, huh?" Brava! In one part of her show she was raging about Facebook and was talking about how annoying/bizarre it is to see a status that says, "Mother died peacefully five minutes ago." "Five minutes ago? And you're on Facebook?" Then she talked about the quandary you get in when you see a status like that. Do you press "like"? Then she talked about how you spend a half hour reading everyone's expressions of sympathy so you can seem original. Exactly!
Coco also talked about Bea Arthur, because they were friends in real life. She said she called Bea once and when Coco asked how she was, Bea said her stomach was upset. Bea then said, "That's right, Coco. Even big stars get... the diarrhea." Coco now uses that as a way to deal with pretentious people. When she's with someone who's acting snobby, she thinks, "Oh, please. Even you get... the diarrhea."
This week begins 20at20 where you can see any Off-Broadway show, like Unbroken Circle, by showing up 20 minutes before curtain time and then get tickets for $20! The discount goes Sept. 3-20. Brava! Peace out and Happy Rosh Hashana!
(Seth Rudetsky is the afternoon Broadway host on SiriusXM. He has played piano for over 15 Broadway shows, was Grammy-nominated for his concert CD of Hair and Emmy-nominated for being a comedy writer on "The Rosie O'Donnell Show." He has written two novels, "Broadway Nights" and "My Awesome/Awful Popularity Plan," which are also available at Audible.com. He recently launched SethTV.com, where you can contact him and view all of his videos and his sassy new reality show.)