Happy 2014! So many fun things happened this week! On New Year's Eve, we had a Disaster! performance where we added a two special events. First we had a drawing during intermission for the audience where they received prizes like posters, t-shirts or free tickets to the show. The audience was so crazily into it that we're now doing it during every intermission! Apparently, people love giveaways.
Part Two: We wanted to do a special encore to celebrate the New Year, so after the bows I brought forward Jennifer Simard, who plays the guitar-strumming, gambling-addicted Sister Mary. Not only was Jennifer just chosen by Playbill's Andrew Gans as one of his top "divas" of 2013 (alongside ladies like Bernadette Peters and Patti LuPone), but when critic David Noh chose Disaster! as one of the best shows of 2013, he also wrote that Jennifer Simard gave "the single funniest performance" he saw this year. Yay! Anyhoo, I've been friends with Jen since the early '90's and coached her a lot. Weirdly enough, the song that people have been asking us to add to Disaster! was also her audition song back in the day. Yes, in the mid-90's, she used to belt out a sassy version of "The Morning After," the theme song from The Poseidon Adventure.
I also wanted to do something special with Mary Birdsong because it was her final performance as Jackie. So, I had Jen begin the song and then halfway through had Mary come out doing her signature Judy Garland impression (which she did amazingly in Martin Short's Fame Becomes Me). I videotaped it and the two things to watch are how Jennifer begins the same way Sister Mary begins singing in Disaster! — basically inaudible (as Gans said in his column). Then by the end she hauls out a crazily high-belted A flat. (Sister Mary actually winds up belting a high A in "Signed, Sealed, Delivered" but I thought Jen should take it easy during the encore.) The other thing to watch is how "in the moment" Mary is. At one point she sings about reaching out our hands, and she happened to notice a prop that was still lying on stage from the beginning of Act Two — a severed hand. Watch what she does with it!
Right after the show, James, Juli and I got over to 10th Avenue and took a cab because the cops were letting people into the subway one by one. We got back to our place and had a New Year's Eve party for the cast and friends. So fun! Anika Larsen came by right before midnight and we all gabbed until 3 AM. She told us about her crazy medical experience that happened while she was in rehearsals for Beautiful (she plays Cynthia Weil). She had stomach pains for a while and finally, after feeling a lump (!) decided to go the hospital. But, being a cheapskate actor, she didn't want to spend money on a cab so she walked. It was only around eight blocks from her house, but when she got there, she was exhausted and in a lot of pain. Because she wasn't bleeding or missing a limb, the admitting nurse was going to make her wait a long time to see a doctor. And that's when Anika fainted.
Suddenly, she was on a gurney, mask over her face, etc. She was in so much pain, and they made her drink her a gross-tasting liquid so they could see what was going on inside her. Of course, all she wanted to do throw it up, but she knew if she did, they'd have to start the whole process over again. Finally, they told her what was wrong. She had been born with a twisted colon, and it finally turned so much that it was completely blocked! She had to have surgery and was told that if she had waited five more hours, she would have died! She's so thankful she walked there because that's what made her faint and get seen right away. And she's been on so many cruises with me, and if this had happened at sea she probably couldn't have gotten to shore in time and it could have been fatal. YOWTCH! Of course, she wanted to tell her family, but she couldn't get reception on her cell phone in the hospital. The nurses would tell her they were going to get her a land line and then never come back. Finally, she got a phone call out, and everyone in her family showed up right before surgery. Anika had written me an email detailing what happened, and I'm going to copy and paste it because I love the way she writes:
When they were wheeling me off into the operating room, my mom and sisters were there, and my dad had just arrived in time to wave goodbye, and he and my mom and I are all crying, and my dad puts his arm around my mom and I haven't seen that in 20 years, and I think, "Stop crying, say something funny. You may not come out the other side on this one, Larsen, what are your last words gonna have been?" And I said, "Hey, guys, when this is over, I'll have a semi-colon." Not bad under pressure (and morphine). And that is why I will now be signing my name, An;ka
How creative is that?! And, because she told her cast that story, the stage manager had the nameplate for her dressing room at Beautiful altered.
Brava! Speaking of dressing rooms, the last show Anika did in New York was Unbroken Circle, which is playing at St. Luke's on 46th Street (where Disaster! now is). The dressing rooms are basically as small as my role was in The Ritz... and that's pretty small. Anika gave us a tour of her Beautiful dressing room and the fact that I would love her bathroom stall as my actual dressing room shows how amazing it is.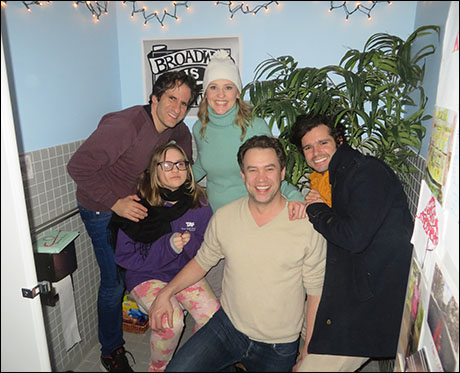 On New Year's Day, we went to Julia Murney's annual pancake all-day breakfast. Every Jan 1 (for more than 20 years) Julia stands in the parents' kitchen and makes pancakes and bacon, along with orange juice and coffee, starting at noon. This year, we were the first to arrive! But we were also the first to leave, because we wanted to go to Christine Ebersole's party at her house in New Jersey. We knew we'd have to catch the 1 PM train if we wanted to get there with enough time to enjoy ourselves. Julia told us that instead of taking the train, we could borrow her car. So nice! Since she does the pancake breakfasts at her parents' apartment, I needed to go to her apartment to get the keys. She told me it was in the next building over so I hightailed it there. The front door to the building was unlocked, but it was taking me forever to get her apartment door open. I thought I had the wrong apartment number, but I double-checked and it was correct.
I finally called Julia after much frustration, and she explained that she meant the next building to the left of her parents, not the right. So, first of all, I spent 15 minutes aggressively trying to unlock a stranger's apartment. That would have been fun if the door had opened or the police had been called. And when I was asked by everyone why I simply didn't check the name listed downstairs, I told them that I had, and when I saw a completely different name attached to Julia's apartment number, I assumed it's because she's a Broadway actress and hoped to discourage people from stalking her by confusing them with the name "Peter Fong."
Part Two of the pancake debacle is that a few days into Juli's winter vacation I commented about how amazing it is that she gets two full weeks off. When I was growing up on Long Island we only got 10 days. James told me that he always got two weeks off when he was a kid and he was happy Juli was getting to enjoy two weeks as well. But, truth be told, she wasn't entirely enjoying it. We kept promising her we were going to do exciting and special family things: Go to a movie in a theatre we haven't been, ice skating etc. We put it off for the first week and a half, but decided that we'd begin all of our fun stuff the day after New Year's Day.
So... at the New Year's Day party, James asked Julia where he should park her car on the way back. She told him that anywhere was fine, but not in front of the local school because it would have to be moved since school was about to start back up. Huh? James told her that school actually started back up on Monday. She told him it began Thursday. He looked it up online... and then had to break the news to Juli. That's right — not only were there no fun family adventures in the future, but all the homework she had been saving for the last few nights was suddenly due the next day. Yay?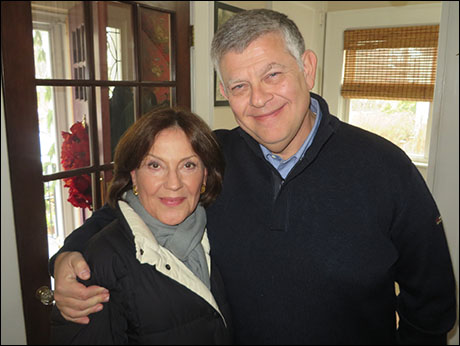 Regardless, we still went to Christine's (after Juli's devastation) and had a great time. I saw the lovely Kelly Bishop there! If you don't know, not only did she win a Tony Award for playing Shelia in A Chorus Line but I had recently "worked" with her on "Bunheads." I put "work" in quotes because we had no scenes together and by the time I got on set, her season had wrapped. But I was excited to tell her that one of her castmates was about to join Disaster! Yes, Stacey Oristano who played "Truly" and also played Mindy Riggins on "Friday Night Lights" is going to play Jackie, the nightclub singer with twin children starting next Monday. I first met Stacey through James because they starred opposite each other in The Wild Party back in Dallas. I found this clip of them where they both sound great. But I'm obsessed with the editing; the camera only goes to Stacey after she's sung. And, PS, it's not like it was one camera and the guy kept getting there there late... No, it was a two camera shoot and it seems that the editor made the "artistic" choice not to focus on the actual person singing. Wonderful. Watch!
Anyhoo, Kelly looked amazing, and right after I saw her, the Marvin Hamlisch website happened to post my deconstruction of her amazing performance in "At The Ballet." Watch!
Also, joining the Disaster! cast is Annie Golden, recently from "Orange is the New Black," who'll be playing Shirley. And Feb 10, the hilarious Judy Gold will take over the role! So you only have two more weeks to see the great Mary Testa! Here's the Obsessed I did with her. Take a gander.
There have been so many fun celebs coming to Disaster!, too! Adam Lambert came by, and Juli was devastated she couldn't be there so he took the picture on the side for her.
And then we had three great Broadway faves: Elizabeth Stanley, Brad Oscar and Max Von Essen came to the same show! Speaking of celebrities, I have two-time Tony Award winner Norbert Leo Butz coming on "Seth's Broadway Chatterbox" this Thursday at 5 PM at Don't Tell Mama. It goes until 6 PM and then at 7 PM, you can cross the street and see our first Thursday night performance of Disaster! Both shows are on 46th Street! Or if you want a whole Playbill-style evening, you can come to the show Jan. 28. The evening is being sponsored by the Playbill Club and it starts with dinner at a sassy restaurant, then Disaster!, then a talk back with the cast, then Playbill's Blake Ross and I will be hosting an after-party at Sardi's! You can make a reservation for that by calling the Playbill office and asking for Wanda: (212) 557-5757. And on that note, Happy New Year!
(Seth Rudetsky is the afternoon Broadway host on SiriusXM. He has played piano for over 15 Broadway shows, was Grammy-nominated for his concert CD of Hair and Emmy-nominated for being a comedy writer on "The Rosie O'Donnell Show." He has written two novels, "Broadway Nights" and "My Awesome/Awful Popularity Plan," which are also available at Audible.com. He recently launched SethTV.com, where you can contact him and view all of his videos and his sassy new reality show.)
Kelli O'Hara, Steven Pasquale, Hunter Foster and Cast Offer Sneak Peek at The Bridges of Madison County