*
Apparently August is for traveling. Over the weekend I flew to San Antonio; this Wednesday I fly to England; and the day after I get back I fly to Provincetown for shows with Megan Hilty! Do the words swollen ankles mean anything to you? James and Juli came on the Texas trip, which happened because of Sherry and Kurt Wehner, who run San Antonio's Woodlawn Theatre. We met them on the Playbill cruise to Russia and again on the Tahiti cruise, and they wanted their theatre to do the first regional production of James' play, Unbroken Circle. Sherry and Kurt also asked me to do Deconstructing Broadway and a master class and we timed that to coincide with the same weekend as Unbroken Circle call backs. I sat in on some of the auditions, and it was so cool to hear the lines of the play, which takes place in Galveston, spoken with real Texan accents. Howdy! And, PS, I was so impressed with the talent in San Antonio! I was, however, not impressed with the heat. Of course, everyone there told me that it actually wasn't that hot. As a matter of fact, one of them proudly showed me that she was wearing a sweater. Ok…I guess if I lived year round in an oven that was set on broil and one day it went down to bake, I would also layer on a sweater. James, Juli and I spent Friday at Six Flags going on tons of rides. Let me rephrase that: I spent Friday at Six Flags watching James and Juli go on tons of rides. The most fun part was when I got sunburned. But they had a great time. We especially loved the River Walk, which is beautiful, and I got to eat twice (!) at my favorite Texan restaurant "Black Eyed Pea." Obsessed!
The week began with an email from "Entertainment Tonight" asking me to cover the trailer for the "Into the Woods" film on their show. We filmed it in the New York office, which is in a great location, but has central air that turns off arbitrarily and often. It would stay off just long enough for sweat to form on my upper lip and t-zone so I had to constantly keep wiping my face with blotting paper. The producer also asked me to demonstrate some music from the film and gave me a keyboard to play it on. I'm not saying the keyboard was crazily small/only suitable for a newborn, but let's just say it basically fit in my palm. I had to play it while balancing it on my lap and trying to read the sheet music I copied at the last minute. After every song, I had to make way for the next one and threw the sheet music on the floor. The producer is hilarious and sent me a picture of the aftermath of my shoot. The photo simply consists of random Into the Woods sheet music strewn amongst used blotting paper. I love the way they edited the piece…especially the part where Meryl Streep glares at the end of my so-called rapping. Watch!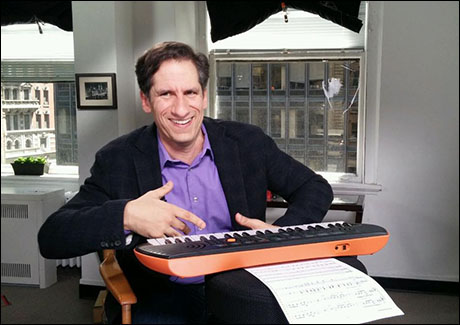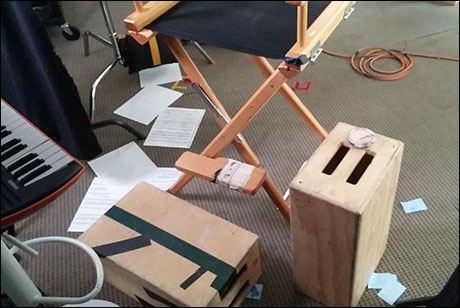 Bryce Pinkham


Photo by Monica Simoes
At my Chatterbox, I had Bryce Pinkham, one of the stars of A Gentleman's Guide to Love and Murder. His first Broadway show was Bloody Bloody Andrew Jackson, which was a big hit Off-Broadway. They opened on Broadway in the fall and Bryce told us that he's the type of person who tries to keep his expectations low, so he told himself he'd be really satisfied if the show made it to the holidays. Sadly, though, the show closed in the fall. I tried to make him feel better by telling him that the show at least made it to the Jewish holidays. Bryce then got the Tony Goldwyn role in Ghost. When he was cast in the Broadway show, the producers flew him to London to see the production on the West End. He was enjoying it until he saw the moment when the guy playing his role completely took off his shirt. Ah! Bryce had no idea he had to be shirtless in the show and told us that he immediately thought "Wow. Daddy has to get to the gym." I asked him about all the technical magic that happened during Ghost, and he said it always went without a hitch…until a few weeks into previews. It was so broken that they had to completely stop the show! It happened to be right before Bryce's scene where the ghost beats him up. That scene takes place in his office, with only Bryce onstage, and it's really cool because first he's knocked all over the room and then, since he's in a harness, it was able to look like he was being grabbed by the throat and slowly pushed up a wall. Well, after the show was stopped for a while, the stage manager came to his dressing room and told him that because the walls weren't secured, they couldn't do any of the technical tricks in his scene. But they were still going to keep the scene in the show. And they were starting in five minutes. What the-? Was any help offered in how to fill all that musical underscoring that accompanies the beatdown? No. Basically "places" and good luck. Bryce said he knew he had to do something so just raised his shoulders up and made it look like he was being pushed against a wall. I guess that was thrilling for the audience. The really "fun" part was the fact that it all happened on the night the New York Times came to review the show. Well, that show made it past Passover, but not by much.
Bryce told us that he was offered a chance to audition for Gentleman's Guide when it was being done in Connecticut, but didn't want to leave town. He then got an audition for the Broadway transfer. Bryce had to take a red eye from L.A., where was living at the time, and decided he'd spend the plane ride reviewing the script, even though it was late at night. He opened it up and saw the first line, which is a diary entry. "October 16th…" He was so surprised because October 16th is his birthday. He decided that it was a sign everything would be fine, and he put away the script and tried to sleep instead. He came to the audition the next day fairly exhausted from the plane ride and when he showed up, the casting director asked if he had the first scene prepared. Turns out, he never got it! He looked at it quickly and immediately went in to audition…opposite Jefferson Mays! Bryce, however, thought it was good he didn't have the scene to really work on because it made him very "in the moment" at the audition. The casting director also asked him if he had the song "Sibella" prepared. He never got that either! They told him not to worry and they'd contact him if he needed to learn it. Sure enough, they called later on and asked him to learn it for the next day. It's a really high song to sing, and Bryce thinks that was another mystical thing working in his favor. If he had gotten the music in advance and had to sing it after taking a red eye flight, he would have sounded awful! Spoiler alert: he got the part. And, yet again, he hoped the show would hopefully run til the holidays. Well, not only did it run til the holidays, he wound up being nominated for his first Tony Award, the show won Best Musical, and now it's basically sold out 'til next Shavous! You can watch the whole interview on SethTV.com but here's a highlight!
This week I saw If/Then, and it was so great to see a show that was totally original. Original story, original score. The next day, I had Idina Menzel, LaChanze, Anthony Rapp and James Snyder on my SiriusXM show, "Seth Speaks," and I played a version of "Name That Tune" with them. My interns, Ross, Travis and I took little snippets of them singing from the various CD's they've done and they had to guess who amongst them was singing and what song it was. It was super fun and you can listen to it here.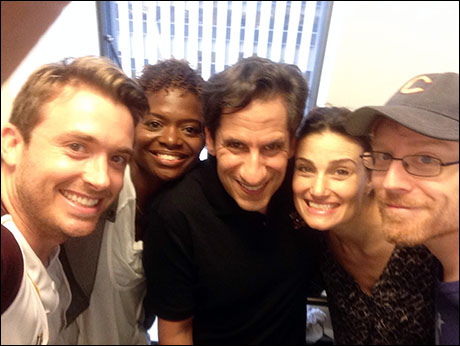 I just booked more people for my Not Since High School fundraiser! I'm raising money for my kid's public middle school to help their after school music program. Ever since I was in elementary school, my public school on Long Island had an enormous band, orchestra and chorus and Juli's school only has music offered after school… and there's not much to choose from. I wrote last week that I'm having my Broadway pals come and sing a song from one of their signature high school roles and I just added more people to the show! Tony Award winner LaChanze is going to haul out her high school leading role, plus Anthony Rapp is doing one of his childhood parts and Mario Cantone is going to give us the part that brought down the house when he was just past puberty: Nicely Nicely! Speaking of Mario, I saw his husband, Jerry Dixon, after If/Then (in which he was great!) and immediately had to cast him because of his school's amazing color blind casting. Jerry played Rolf in his school's production of Sound of Music but instead of letting the audience imagine a black man as an Australian Nazi, they decided to make it clear by putting him in a blond wig. These are a few of my favorite things. Both his song and wig will be recreated on Aug. 24 at 42West amongst many others! Get tix here.
Speaking of tickets, my next Deconstructing Broadway will be in Jolly Olde England and you can get tix here. I was asked to provide some video interviews to promote the show on British websites and I made them extra sassy by adding performance footage in them. Here's one and here's one I just did with an Idina deconstruction included!
OK, mates, next week I'll be writing this from across the pond, so until then, peace out!
(Seth Rudetsky is the afternoon Broadway host on SiriusXM. He has played piano for over 15 Broadway shows, was Grammy-nominated for his concert CD of Hair and Emmy-nominated for being a comedy writer on "The Rosie O'Donnell Show." He has written two novels, "Broadway Nights" and "My Awesome/Awful Popularity Plan," which are also available at Audible.com. He recently launched SethTV.com, where you can contact him and view all of his videos and his sassy new reality show.)