Greetings from Provincetown! ….is how I thought I'd be beginning this week's column. Instead it's "Greetings from my apartment." That's right. The Christmas Blizzard of 2010 curtailed my travel plans. We were supposed to leave Sunday morning on an Amtrak to Boston. Then we'd hop over to Logan airport and take the delicious 26-minute flight to Provincetown on Cape Air and, by that evening, be firmly ensconced in front of the fireplace in our lovely room at the White Wind Inn. Well, on Saturday night we read that a blizzard was coming and debated whether we should postpone our trip a day or so. [AUDIO-LEFT]The decision was made for us on Monday morning when I got a call from a Cape Air representative. I'm obsessed with how long he took to get to the depressing part of the conversation:
HIM: Seth Rudetsky?
ME: Yes?
HIM: I'm calling about your Cape Air flight to Provincetown.
ME: Yes?
HIM: It's been canceled.
Why couldn't he have just said, "Your Cape Air flight to Provincetown has been canceled." Why the preparatory sentence?
So, instead of spending Sunday and Monday on vacation in P-town, we did a "stay-cation." It actually has been fun. We went to the gym together Sunday morning, then breakfast, then tried to organize our new apartment (AKA, James working and me choosing the right music to play in the background). In the afternoon, we took Maggie to Riverside Park to frolic in the snow. I took her to a big baseball field instead of a dog run and let her run around there. It seemed like all the rules were suspended because the park was so empty. Unfortunately, it wasn't empty of park rangers. That's right, in the middle of the blizzard, they pulled up to us in their official car and slapped me with a ticket. Hmph. If Maggie had any pockets, I would have made her pay. That mutt cost me $100! But it was worth it because she loved it. Afterwards, James and I went shopping for DVDs at the soon-to-be-closing Barnes and Noble on 66th and Broadway and ended the night by lighting a fire and watching our new DVD…. "Family." Remember that show? Kristy McNichol? Quinn Cummings? Ah…the 70s tomboy. Anyhoo, the travel is a headache today as well, so we're not going to Provincetown til Tuesday. I have to be there for my shows on New Year's Eve and New Year's Day! PS, if you wanna come, get thee to https://www.ovationtix.com/trs/cal/1861/
Since we're still here today, we're spending our extra night in New York by going to a Broadway show! The Roundabout Theatre Company has a blizzard special and you can get 50 percent off tickets for Brief Encounter or The Importance of Being Ernest by using the code "BEBLIZZARD" or "IEBLIZZARD," respectively, at the box office or by calling (212) 719-1300.
I started the week by doing my new-style talk show with Andrea Martin at The Triad. One of the greatest things about Andrea is what a good mom she is. She was the original Cat in the Hat in the workshop of Seussical and was then cast in the Broadway production. However, it was scheduled to go to Broadway right when her son would be a senior in high school. She was living in LA at the time and didn't want to take her son out of his regular school for his final year. So, that would mean she'd experience it all from 3,000 miles away from him. She'd called her agent at the time (Richie Jackson, now executive producer of "Nurse Jackie") and told him her predicament. She knew that Richie'd be making a good commission from her taking the role and assumed he'd encourage her to do the gig. Instead, he said to her, "Would you rather be remembered as a good Cat in the Hat or as a good mother?" She, of course, started weeping and turned down the gig and spent that year with her son. At the Triad show, I brought up her two good friends, Deb Monk and Victor Garber. Victor and Andrea met during the before-they-were-stars cast of Godspell in Toronto alongside Martin Short, Eugene Levy and Gilda Radner. What I didn't know is that they were casting the Godspell film at the time by looking at all the various companies around the world, and Victor got the role of Jesus right before opening night in Toronto. So, because he had to start filming, he only did the role onstage for five weeks! He was replaced by Don Scardino who is now the executive producer of "30 Rock"! Check out the film: New York in the early 70's and Victor Garber with a Rosanne Rosanadana perm - http://www.youtube.com/watch?v=UFD4Q7fodK8&feature=related
I'm working with Andrea on her hilarious show Andrea Martin: Final Days! Everything Must Go, and she's tricked me again! If you recall, she recently asked me to go with her to London to do the show, and I re-arranged my schedule to make it happen. It wasn't until I agreed to do it that she finished the sentence and told me we were booked in London…Ontario. Well, yet again, she asked if I was free in February to do the show in Palm Springs at the McCallum Theater. My dad lives in Palm Desert, so I was super-excited to go. I agreed to the gig and was about to fire off an email to my dad asking him to keep that week free so we could hang and, yet again, she finished the sentence with a shocker: We are booked in Palm Springs for Feb. 22…2012! Who the hell makes plans that far in advance!?!?



photo by Joseph Marzullo/WENN
Christine Pedi and I had John Treacy Egan on our Sirius/XM radio show, and he was talking about having a costume/hair meeting for a new Broadway show he's about to do. The hair people looked at his hair and said, with no affect, "Don't do any more highlights." He was like, "How dare you imply I highlight my hair?!?!"…and then promptly cancelled his next highlighting session. He was telling us about doing the tour of Cats in the early 90's. He came on the tour to play Old Deuteronomy and was rooming with the new Rum Tum Tugger. On their first night, a guy and a girl came to their room, looked at John and said, "We're going to dinner if you guys wanna come." After they left, the new Rum Tum Tugger told John, "That girl that just invited you to dinner hates me." John looked at him and said, "They weren't really inviting me. They were here to invite you. That girl likes you and that was her way of asking you to hang out without being obvious." Of course, the Rum Tum Tugger was Hunter Foster and the girl who "hated" him is now his wife, Jen Cody. Brava John's psychic abilities! John is a great performer and is doing his annual Christmas show at the Triad this Wednesday. It's called Rudolph Unplugged, and it features all the great characters from the old 1960's and 70's TV specials…40 years later. Go to www.triadNYC.com for tix for this Wednesday night. He also told me about Hunter getting reprimanded when Cats was in Memphis because, at the end of Rum Tum Tugger's song, he added, "Thank you very much," Elvis-style. What I love is how people get reprimanded in Cats. Instead of just being called to the stage manager's office over the PA after the show, the announcement was "Hunter Foster! Come immediately to the stage manager's office. Do not take off your wig." Speaking of wigs, I saw the delightful Divine Sister this week starring the brilliant Charles Busch. He is literally a theatrical institution and legend, and I feel so lucky to see him perform his work. The show is even better than when I saw it Off Off-Broadway and, as a matter of fact, I listed Julie Halston's hilarious exit as one of my favorite theatrical moments from 2010 here: http://www.playbill.com/features/article/146124-The-Memory-of-All-That-Playbillcom-Contributors-Choose-Unforgettable-Experiences-of-2010/pg2
Speaking of great theatre, I was so happy hearing Patti LuPone sing in Women on the Verge of a Nervous Breakdown. She has such an incredible voice, and it literally still sounds the same as her Evita days. I had heard Sherie Rene Scott and Laura Benanti were great in the show, and of course they were, but I was so impressed by Justin Guarini. I thought his acting was great, and I loved how easy and high his voice is. After the show, he told me that, on a whim, he decided to double one of the women in the big group number in Act Two so he was singing crazy high E flats. Bravo! Hmm…brava??? I loved the singing from everyone so much that I am obsessing that they make a CD.
And on that note, it's time to take Maggie to Central Park and hopefully avoid a $100 ticket. Peace out!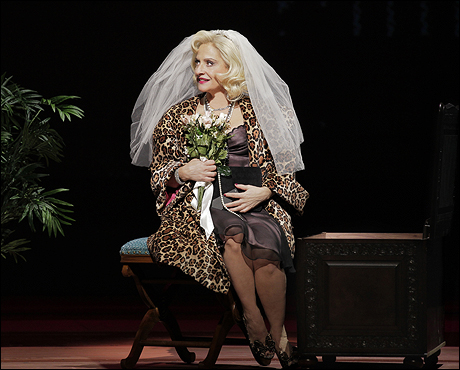 photo by Paul Kolnik
*
Seth Rudetsky has played piano in the pits of many Broadway shows including Ragtime, Grease and The Phantom of the Opera. He was the artistic producer/conductor for the first five Actors Fund concerts including Dreamgirls and Hair, which were both recorded. As a performer, he appeared on Broadway in The Ritz and on TV in "All My Children," "Law and Order C.I." and on MTV's "Made" and "Legally Blonde: The Search for the Next Elle Woods." He has written the books "The Q Guide to Broadway" and "Broadway Nights," which was recorded as an audio book on Audible.com. He is currently the afternoon Broadway host on Sirius/XM radio and tours the country doing his comedy show, "Deconstructing Broadway." He can be contacted at his website SethRudetsky.com, where he has posted many video deconstructions.)