*
First of all, I'm exhausted. Is anyone else thrown by losing the Daylight Saving Time hour? The only thingI'm happy about is that it gave me a chance to use this picture of me from Disaster! to promote the show. It's during a scene where I'm forced to rescue victims by crossing a beam that's suspended 50 feet above the ground. This is the moment where I'm told my shoe is on fire and I do a frantic scissor leap to put it out. The whole time I'm crossing the beam, "Nadia's Theme" is playing. Anyhoo, I used the picture and captioned it "Spring Forward with Disaster! So perf!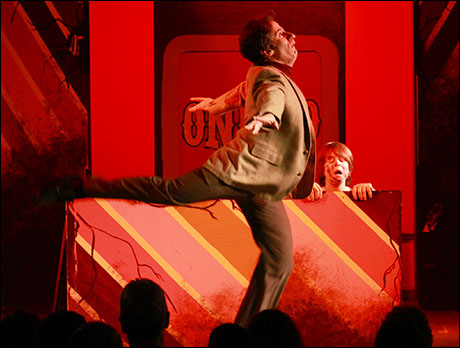 Right now, I'm counting down to the Playbill Cruise on March 21 where we're going to sail around Tahiti! I've already met with Lillias White and Brian Stokes Mitchell to rehearse their shows, and this week I'm meeting with everyone else! This cruise has the most entertainers of any of the Playbill cruises, and James and I have accepted that we're only going to see each other when we go to sleep/wake up, at meals and when I wave to him from the stage.
Before I leave on the cruise, however, I'm going to the Poconos with Patti LuPone! We have a show March 16 at the Stroudsmoor Country Inn. It's only 90 minutes from Manhattan, and I'm excited that a car is taking me there and back. I fly all the time, and it'll be nice not to have to go through airport security and have that creepy nude x-ray. The one thing I love about flying, however, is having uninterrupted reading time. I've read so many books on my many flights and my only problem is my vocal reactions.
Tina Fey


Photo by Joseph Marzullo/WENN
Last year, I was reading Tina Fey's "Bossypants" while flying somewhere in the Midwest. It was the kind of "intimate" plane where there was one seat on the right side aisle and two on the left. I was on the left, crammed next to someone, and I could not stop laughing throughout the entire book. I was obsessed with the section where she warns you to never, ever let someone at a modeling shoot hook up your iPod to a speaker because the music choices will be devastatingly uncool. She writes that your iPod will be put on shuffle, and no matter how much Beastie Boys or Velvet Underground you have on there, the following four tracks will play in a row: "We'd Like to Thank You, Herbert Hoover" from Annie, "Hold On" by Wilson Phillips, "That's What Friends Are For," various artists, and "We'd Like to Thank You Herbert Hoover" from Annie. I was laughing so hard while reading itthe entire flight and the person next to me must have thought I was crazy. How do I know? Because he never, ever said, "Wow! What are you reading?" He just did that thing where you try to pretend the thing happening next to you isn't happening, because if you acknowledge it in the least, you will encouraging the crazy person. A few weeks ago, however, I was on a flight to Florida to do my Broadway @ series at the Parker Playhouse in Ft. Lauderdale, and I was reading Liane Moriarity's "What Alice Forgot." It's about a woman who hits her head and winds up forgetting what happened over the last ten years of her life. She remembers being pregnant and in love with her husband, but in actuality she now has two children and is divorcing her husband! Her marriage is so acrimonious but she has no idea why. All she feels is love for him. By the end of the book, I was sobbing. So, my question for all of you travelers: Would you rather sit next to someone who is outwardly laughing every two minutes, or turning towards the window at regular intervals to weep uncontrollably. Neither, you say? I should instead be like those ample-bottomed people who buy two seats on a plane? Excellent.



Photo by Joan Marcus
On my SiriusXM show, "Seth Speaks," I had two hunks: Steven Pasquale and Will Swenson. I want to make some kind of joke about their hunkiness and say that instead of calling the station W-K-R-P it should be called W-E-R-K, but I can't quite get it to make sense. But please know that I made the effort. I just saw Steve in The Bridges of Madison County and he and Kelli O'Hara were fantastic. I was super impressed with Kelli for finding so much humor in the role. The two of them sound great together, and my mother was in a state of lust for Steven throughout the show. I mentioned that he had been on the show "Rescue Me," and she said, "I guess I'll have to watch it... now that we're engaged." Will Swenson is playing Javert in Les Miserables and I asked him about the first preview. He said that there were hundreds of people at the stage door... and while they were waiting, the crowd broke into a rousing rendition of "Do You Hear The People Sing?" Sometimes when there are lots of people expected at a stage door, a show will set up barricades. I remember the hilarious Don Richard and Jennifer Cody doing Officer Lockstock and Little Sally from Urinetown at an Easter Bonnet Competion years ago where they spoke about the decidedly not well-received Good Vibrations:
Officer Lockstock: I hear Good Vibrations has barricades set up outside the theatre.
Little Sally: That's to keep the audience in.
Speaking of Easter Bonnet, Broadway Cares/Equity Fights AIDS just announced the dates of this years show as April 21-22. The shows are always so great, and I've had so much fun writing opening numbers for both Easter Bonnet and Gypsy of the Year. Here's the opening number I wrote for the most recent Gypsy of the Year.
There are some things that happened over the last few weeks I've forgotten to write about. First of all, when I was in Santa Monica doing a show with Megan Mullally, I went out to brunch with some fun peeps. Marissa Jaret Winokur drove down and not only brought an adorable bathing suit for Juli, but also regaled us with hilarious stories. I don't know how we got on the subject, but she mentioned that she did a benefit years ago and wound up sharing a dressing room with a big movie star. When they were getting ready, Marissa went into a panic trying to find something to talk about. She just had her son so she was trying to connect on a mother-to-mother basis. She decided to haul out the ol' "Isn't it exhausting being a mom" chestnut just to have some common ground. Marissa was babbling that it was so hard having a baby around the house because they wear you out, and it's so much work and thank goodness she has a night nurse to help out. Suddenly, the star looked up and told her she mustn't ever use a night nurse. As a matter of fact, the star told her she must raise the baby with no outside help.
Huh? Marissa was devastated. She was just trying to find something banal to talk about that most people would nod and go "I know! Tell me about it!" but instead she wound up becoming completely depressed and feeling like a horrible mother. That night she was in a tizzy and telling her husband, Judah, that she they needed to get rid of their night nurse because ye olde movie star doesn't have any outside help whatsoever. Judah googled said star and told Marissa that she had just done three movies in a row and there was no way she didn't have outside help. Marissa relaxed, kept her night nurse and now her son calls the night nurse "Mommy" and cries when Marissa picks him up. (That part's a lie.)
Andrea Martin


Photo by Monica Simoes
Over at Disaster!, Euan Morton's son came to see the show and also reviewed it! His name is Iain Morton and he's 50 years old. Without the zero. That's right, he's five! So cute! He informs his viewing audience that Disaster! is based on those "old-fashioned movies... in the long time ago." His Mom, Lee Armitage, wrote that his statement was an improvement from his first take where he recounted that Disaster! is based on disaster movies from the 1700's. Watch this. The hilarious Andrea Martin is not only in tech for the new Lincoln Center play Act One, but she's also finishing up her first book! It's so great... filled with essays about her life and career and the last one she wanted to write was about SCTV. But she wanted some help remembering. "SCTV" went off the air in the mid-'80's and she wasn't like me in high school who obsessively watched it every weekend and taped it on a new-fangled VCR so her sketches could be memorized and acted out. I told Andrea I'd help jog her memory and I wanted to make sure the chapter was filled with "SCTV" info that fans would eat up. I emailed two of my close friends, Anne Martin and Tim Cross, because while we were at Oberlin we would go to the library (the only place with VCRs) and watch "SCTV" episodes non-stop. I thought they could help me come up with some questions to make Andrea remember all those years ago. Here's what I wrote:
Hello, fellow SCTV fans!
Andrea Martin is writing a book and the only chapter she hasn't written is the SCTV one. I'm going over there on Monday to help jog her memory.
I want the chapter to be interesting to fans.
Would you guys send me some questions you have about SCTV? What you'd be interested in knowing if you were reading her book???
This is the reply I got from Tim: Why are you writing A) as if you don't really know us and B) as if human communication is unfamiliar to you?
Regardless, I went over there and had the best time. Andrea was devastated that her coffee pot broke and she had to use a French Press instead. We were both complaining that it's impossible to keep the coffee hot. She said that after you drink the first cup, you go back for the second and the French press is so cold "you might as well have a lovely snowman in there." We sat and watched sketches I had loved when I was younger and they are still so funny! I mentioned "High Q," and she told me that Catherine O'Hara had written the entire sketch herself. Watch! To this day, Tim and I still say "The Beatles"? Then, I came across the original Brenda Vaccaro Tampax ad that Andrea does a hysterical parody of. This is the actual commercial, and here's Andrea's parody.
All right, I have to get to Disaster! understudy rehearsal. But! I forgot to mention last week that I had a great profile artice printed in The New York Times, Wall Street Journal, Huffington Post, San Francisco Chronicle and basically everywhere. Why? Because it was AP. I had no idea AP articles are picked up everywhere! So thrilling!!! Here's the article. Peace out! (Seth Rudetsky is the afternoon Broadway host on SiriusXM. He has played piano for over 15 Broadway shows, was Grammy-nominated for his concert CD of Hair and Emmy-nominated for being a comedy writer on "The Rosie O'Donnell Show." He has written two novels, "Broadway Nights" and "My Awesome/Awful Popularity Plan," which are also available at Audible.com. He recently launched SethTV.com, where you can contact him and view all of his videos and his sassy new reality show.)