*



Photo by Joseph Marzullo/WENN
Happy Valentine's Day Week! This is a busy week! Thursday night (Feb. 13) I have a "Chatterbox" at 5 PM (Charlotte d'Amboise and Terrence Mann from Pippin), then Disaster! at 7 PM and then the whole cast is heading over to the Laurie Beechman Theatre on 42nd Street to do Broadway Sessions, which is billed on their Facebook page as "NYC's ultimate post theatre extravaganza."
We're all going to be singing as well as doing some of their signature games with the audience. If you want to spend seven straight hours with me, then come by Thursday night starting at 5 PM! If you prefer a non-stalker amount of time, perhaps just pick two out of the three. If you're an everyday Broadway fan, then maybe just one to sample my style. And if you've wandered upon this column by mistake, I'm sorry that at this point you've now vowed never to read it again.



photo by Joseph Marzullo/WENN
I had some great interviews this week! First on "Seth Speaks," I did a '70's hour. First up I had Billy Hayes, the guy who wrote "Midnight Express"... the book about a young guy being thrown into a Turkish prison. Why did he write that book? Because he was the young guy thrown into a Turkish prison! Right now, he's starring in Riding the Midnight Express, a live show all about his experience which features a lot more details than the book and clarifies the false things portrayed in the film. It turns out, he had made three trips from Turkey to America with no problem prior to the time he was busted. Right before his fourth trip, someone brought a bomb on a plane so the Turkish authorities suddenly starting frisking people before they got on outgoing flights. I asked him about getting tortured and he clarified that he wasn't tortured. He explained that torture is what the prison guards did to people whom they needed information from. No, he said, he wasn't tortured; instead he was hung upside down and beaten repeatedly on the soles of his feet. I hear the difference and my response is "tomato, tomahto."
What's even more horrifying about his story is that at first he was sentenced to a few years in jail... but then he had a re-trial, and it was changed to life! The whole story of his escape is detailed in his play, but I did ask him what food he obsessed about while he spent those five years in jail. He told me it was cold applesauce (!) and then he told me that the first amazing meal he had after his escape was peach pancakes and a strawberry soda. It was so good that when the waitress came back and asked how everything was, he ordered it again! I was secretly mortified, thinking about how it doesn't take five years in jail for me to order two meals in a row. It simply takes a salad for lunch (AKA "I was so healthy... I deserve a treat").
Along with the '70's theme, I also had Andrea McArdle, who's doing an act at 54 Below this week. She's also having Lea DeLaria come on the show so they can sing "Bosom Buddies" and recreate the time they spent doing Mame. The reason I put Andrea on a '70's-themed show is because she came to Broadway in 1977 and has so many amazing stories that all feature a non-stop roster of 70's names. "Do you know who has Liberace's furs? Rip Taylor!" (And she did an act called 70s and Sunny at 54 Below last year!)
Andrea was discussing the difference between being on Merv Griffin versus Mike Douglas, and she said that Merv would ask a question and then often answer it himself, while Mike liked to have every question pre-planned. Andrea's parents told her that she was always so well-spoken on "The Mike Douglas Show," and she told them it was because she'd see all the questions on the teleprompter before they were asked, so she had plenty of time to prepare her answers. Speaking of Merv, I found this great clip of her performing "Tomorrow" on his show when she was 14 years old, after her Tony nomination. She sounds SO GOOD!
To finish out the '70's theme, I had the newest cast member from Disaster! on "Seth Speaks." Max Crumm is taking over the role of Scott because Robb Sapp is leaving to do The Lion King. Of course, I was upset that Robb was leaving until I heard that he begins his tour in Hawaii. After I found that out, I immediately sent my pic and resume to Julie Taymor. Regardless, Max is starting on Friday, and after the interview, he, Juli and I took a photo. I was the only one without glasses so I added my own.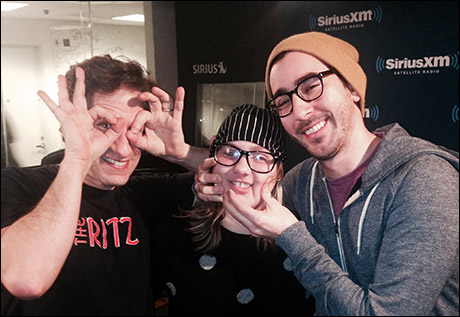 I first heard of Max from my initial job at Playbill.com: Writing a weekly (passive-aggressive) synopsis of the Grease reality show back in 2007. I decided to re-read those columns, and I'm obsessed with my focus on minutae. Here's a sample: On a side note, I cannot tell host Billy Bush's height. He's as tall as Laura Osnes, but Ashley Spencer is taller than he is. Is Ashley 5'6", and he's 5'5"? Is he 6'7", and she's 6'8"? They're always standing together on a blank stage. Why can't they stand next to something whose height is known by all? Like Tommy Tune or Baayork Lee?
Anyhoo, Max won the competition and played the role of Danny in the revival of Grease and now he's starting in Disaster! playing Scott, the (nerdy) best friend of the romantic lead, Matt Farcher. Speaking of Matt, there was a great article written about him last week where they called him Disaster!'s Disco Hunk. Here 'tis.
Matt also featured heavily in a conversation I had after Friday's show. Patti LuPone came to the show and I was so excited! As many people know, I've been obsessed with her ever since I got the album of Evita for my Bar Mitzvah. Knowing that she was in the audience watching was thrilling... and terrifying. I was nervous that the show would be too comedic and not "Juilliard Acting Company" enough for her. Before curtain, James asked if she could come backstage afterwards, but she told him that she had to rush back home to Connecticut after the bows because she had to get up early the next day. Well, I really wanted to see her after the show, so right after bows, I went into the audience to head her off at the pass. Turns out, by the time I walked to her seat, she was gone. Wah. Turns out, she hightailed it out of her seat... to backstage where she was waiting for me!
She loved the show! I was so relieved. She wouldn't stop praising it and especially the actors. "Where did you find this cast? And those voices!?" She told me she couldn't believe I could dance (!) and demanded I add it to the concerts we do together. I guess I could accompany her while in a full split... if I could do a full split. Regardless, she then asked me where we found the nun. I told her that Jack and I have been friends with Jennifer Simard for 20 years and we both thought she'd be great in the role. She told me to tell everyone that she's going to go home and read their bios, which she "never does!" Then she saw Matt Farcher and told him how great he was. He was in a slight state of shock and she went on... telling him that he needs to play Marius in the Les Misérables revival. He explained that he went in but wasn't cast. She asked, in full Evita rage, "Who's the casting director?" Before Matt and I were responsible for a phone call that would begin with, "I am the original Fantine and I demand an explanation," I asked Patti for a pic. Take a gander and ignore the crazy makeup from the show I was still wearing.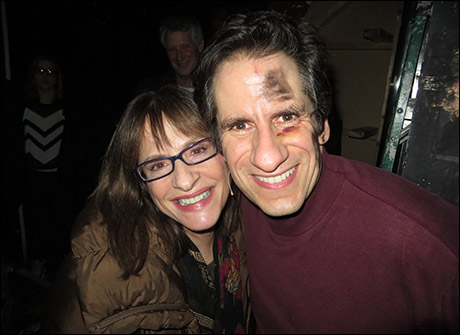 It was a big night for the show because it was our first one selling standing room tickets! We were super crowded because Playbill's Phil Birsh dedicated the night to passengers who have been on the Playbill cruises. It began with dinner at Frankie and Johnny's restaurant, followed by the show, a talkback with the cast and then an open bar at Sardi's! So fun! Speaking of fun, the brilliant comic Judy Gold is starting this week in the role of Shirley! If you've never seen her hi-larity, watch this video of the two of us.
Come see us Valentine's Day week... prizes are given out every performance! And you'll get to see Judy in the pants suit I took a picture of during her costume fitting. Our costume designer said he made it with fabric he bought at Mood! As a Project Runway fan, I immediately said "Thank you, Mood!" Anybody? In that case, peace out!
(Seth Rudetsky is the afternoon Broadway host on SiriusXM. He has played piano for over 15 Broadway shows, was Grammy-nominated for his concert CD of Hair and Emmy-nominated for being a comedy writer on "The Rosie O'Donnell Show." He has written two novels, "Broadway Nights" and "My Awesome/Awful Popularity Plan," which are also available at Audible.com. He recently launched SethTV.com, where you can contact him and view all of his videos and his sassy new reality show.)