*
Happy post-Tony Awards! I started the week by interviewing Amy Sherman-Palladino and her husband Dan on my SiriusXM show, "Seth Speaks." They come from the land of TV ("Gilmore Girls" and "Bunheads") but they were both responsible for getting Violet to Broadway!
Let me go back: Amy grew up in California and both of her parents wanted her to be a dancer on Broadway like her Mom had been. However, they neglected to tell her that, perhaps, she'd need to leave the West Coast to be on Broadway. So, she was naturally trying to make it in New York via California. Anybody? Nobody. She would go to dance auditions and was also trying to be a TV writer. Finally, she and her writing partner had an interview to be on the writing staff for a TV show and near the end of it, the man interviewing them pointed to the cork-like ceiling. He told them if they could throw their pencils in the air, and have them both stick to the ceiling, they could have the job. Seriously. Not since "Saw."
Well, the two of them threw their pencils in the air over and over again. No matter what, they weren't able to get them to stick. Well, after they were there for an hour , he wound up giving them the job anyway. After that, Amy was still auditioning as a dancer, and during a call back for Cats (for real) she found out that she got a staff writing job on "Roseanne."
I asked for at least one "Roseanne" story and here's what I got: Right after she got hired, Roseanne and her then husband, Tom Arnold, had the staff over at their house for barbeque. It also happened to be one week after Roseanne sang the National Anthem. If you remember back then, Roseanne was asked to sing the National Anthem even though she's not a singer at all. She therefore tried to make it funny and, since it was a baseball game, she acted like a baseball player by grabbing her crotch and spitting. Of course, the media couldn't show enough outrage at her disrespect. Why was she asked to sing in the first place!?!?
Well, when Amy and the writers entered Roseanne and Tom's house, they noticed a wall of TV sets, all set on different channels. Each channel featured someone raging about the national anthem debacle. Roseanne told everyone there was food outside and the staff fled. After avoiding going in for quite some time, they realized they had better enter the house or else it would look too weird. When they walked in, they saw that Tom and Roseanne were watching all the TV's and laughing hysterically. The writers (many of which were brand knew) didn't know what to do so they chuckled along. Then Roseanne and Tom continued laughing while hugging affectionately. The writers smiled. Then Roseanne and Tom turned closer to each other and began making out. Everyone's smile remained frozen. Then Roseanne and Tom started putting their hands down each other's respective pants and that's the moment everyone said a quick farewell.



Photo by ABC Family/Andrew Eccles
Amy told me about the casting of "Gilmore Girls." When Amy was casting the show, she saw tons of amazing older women to play the mother of Lauren Graham, however she didn't feel any of them were right. The network started to get irritated because she was rejecting so many brilliant actresses. Amy told them that when the right one walked in, she'd know. One day, Kelly Bishop walked in, and she knew! She immediately told them that Kelly was perfect for the part and she was cast. If you don't know, Kelly was the original Sheila in A Chorus Line and here's a clip I love of her doing "At the Ballet."
When Amy developed "Bunheads" she didn't write it initially for Sutton Foster. But after she saw Anything Goes, she thought Sutton would be right for the lead role. She met her for lunch "to see if she was crazy" and decided she should wasn't and she should be cast. The network gave her the OK. But Amy wanted them to see Anything Goes to see if they agreed that Sutton would be great. Weeks passed and they didn't. The network felt Sutton should just be hired. But Amy then asked the network to bring Sutton in for a screen test. I asked why she was pushing for them to see Sutton since they obviously gave Amy carte blanche. Amy revealed that networks often have "buyer's remorse" and once they sign on for a show or a star they immediately second guess themselves and start regretting the decision. She wanted them to be behind Sutton just like she was so they would be united. So, Sutton flew to LA and tested. Amy asked what the network thought, and they were like "Yes! We said we'd sign her weeks ago! Sign her!" And that's how Sutton got the gig.
Amy and her husband are big listeners to my SiriusXM show so when the final episode of the second season was being written and they knew they needed someone to play Sutton's audition pianist, they decided they had to have me. Just to confirm their intention, they also named the character "Seth." Delish! Sutton called me before we filmed and asked me to arrange a 30-second version of "If My Friends Could See Me Now" to be her audition song. I made it uptempo, stripper-ish and then added a great belted C for her to do at the end. Watch the scene and, just to add to your enjoyment, you should know there was never any lipsynching on this show. All the singing was filmed live!
As for Violet, Sutton invited Amy and Dan to the dress rehearsal when she did it at Encores! Off-Center. They flipped out and decided the show had to be on Broadway. They approached the Roundabout Theatre Company, who wanted to do it but needed more enhancement money. Amy and Dan raised the money, and now the show is up and running! I asked them how they felt working on a Broadway show and they said that everyone realized how Broadway-obsessed they were because they were the only ones who were giddy with excitement... for tech rehearsal.
As for the Tony Awards, I got hired by "Entertainment Tonight" to do their coverage, and it was super fun. First, I went to Radio City Music Hall on Thursday to talk to Hugh Jackman. You can watch it here but, you should know it was cut down a bit. At one point I asked him how Wolverine would react if he won a Tony Award. I announced "And the winner is... Wolverine!" and he glared at the camera and said, "Go f--- yourself." For some reason, they cut that. But they did keep the moment at the end when Hugh started demonstrating his opening number hopping and I joined in. I then grabbed my chest and mentioned that in order for me to continue I needed a sports bra. Take a gander here.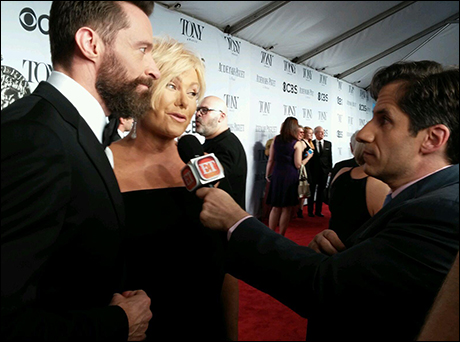 For Tony Awards day I was very excited and got my haircut so I'd look sassy. I assumed everyone was psyched for the awards that night and realized that not everyone is obsessed with Broadway. Or any aspect of entertainement. When I was telling my haircutter what I was doing that day, I got these three comments: "What's the Tony Awards?" which was then followed by "What's 'Entertainment Tonight?'" and, once he realized it all had to with Broadway, he topped the conversation with "I heard Spiderman was good." And I'm out.
Anyhoo, I first covered the red carpet which was so cool because I got to speak with so many stars, but it was also literally "not cool" because we were all incredibly crowded, under a tent, and it was in the 80's. I haven't seen the footage yet but the entire time we filmed consisted of the producer telling me to wipe my upper lip. Yay? Speaking of lips, I made some joke about Neil Patrick Harris kissing people in the audience during Hedwig and it all ended with us smooching. Hopefully, that will make it onto the air. Or as video evidence submitted by James in divorce court.
"Entertainment Tonight" gave me a black hat filled with random questions so celebs could take one out and answer. Zach Braff got "Who has hosted the Tony Awards the most times?" First he thought it was Neil Patrick Harris. I told him that it wasn't and gave him a hint by singing an Angela Lansbury-sounding version of "Beauty and the Beast" and the title song from Mame. He nodded knowingly and answered, "Oh! Sean P. Diddy Puff Daddy."
After the red carpet, "Entertainment Tonight" had a special room. It was so great because as soon as someone won, they came to us first before they went to the big press room because "Entertainment Tonight" is on CBS. Delish! I not only chatted with the performers, but also with design winners, and I loved that Linda Cho, who won for A Gentleman's Guide To Love and Murder costumes, was able to keep up with my sass. I loved her green dress and she told me it was a re-do of her wedding dress. I thought maybe she dyed it green and I asked if her wedding dress was white. She responded, "I had no right to wear a white wedding dress." Brava! Then I mentioned how quickly Jefferson Mays changed costumes and asked how quick his changes were. She said that sometimes he has to get out of some costumes in seconds. I asked how quickly she could get out of the dress she was wearing and she told me to ask her husband later that night. Werk!
My hours of interviews will be edited and air tonight on "Entertainment Tonight"... for a solid two minutes. So tune in! It was really amazing to be there and get photos with so many of my pals who were nominated and/or won! Take a gander at me and Anika Larsen on the red carpet and then me and Audra, James Monroe Iglehart and Lena Hall after their wins. Peace out and brava to them!
(Seth Rudetsky is the afternoon Broadway host on SiriusXM. He has played piano for over 15 Broadway shows, was Grammy-nominated for his concert CD of Hair and Emmy-nominated for being a comedy writer on "The Rosie O'Donnell Show." He has written two novels, "Broadway Nights" and "My Awesome/Awful Popularity Plan," which are also available at Audible.com. He recently launched SethTV.com, where you can contact him and view all of his videos and his sassy new reality show.)