Playbill.com recently posed the same question to each of the multitalented cast members of the original Broadway production, Michael Rupert, Stephen Bogardus, Barbara Walsh, Chip Zien, Jonathan Kaplan, Heather Mac Rae and Carolee Carmello: Other than yourself, is there an actor you would cast in your role in the upcoming Broadway revival?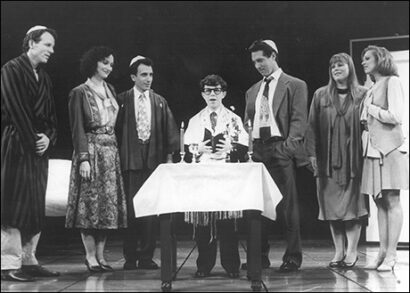 Read their thoughtful and humorous responses below:
Michael Rupert, Marvin: Christian Borle. I think he'd be great!
Barbara Walsh, Trina: There are so many amazing young women who could do Trina justice! But, for me, Leslie Kritzer would be astonishing!
Carolee Carmello, Cordelia: No! I still want to play the part! I hate getting too old for roles that I love. Jonathan Kaplan, Jason: I wouldn't cast myself in that role unless we were doing it at a senior living facility. The kid who comes to mind currently is Jack Broderick, from the recent Into the Woods, done in the Park.
Chip Zien, Mendel: I don't know. A big tall blonde guy.
Heather Mac Rae, Dr. Charlotte: Who would I cast as Dr. Charlotte today? Well, I love Lisa Howard. I think she would be wonderful. And my friend, Anne Nathan. (I think both of them have played it before.) I saw a production at the Sharon Playhouse in Connecticut last summer. And the girl who played my part [Jane Bruce] was wonderful! She was so good, and to think she hadn't even been born when I did it in 1992!
Stephen Bogardus, Whizzer: I regret I must 'punt' on this question...whoever it is, is in for one helluva ride!
Read more about these acclaimed actors' Falsettos memories and their current projects here.
Part intimate family drama, part neurotic urban comedy, and part keenly observed meditation on a shifting definition of the American family, Falsettos is described as such: "As Marvin struggles to create a 'tight knit family' out of his eclectic array of core relationships (including his ex-wife, his new boyfriend, his adolescent son, his psychiatrist, and his neighbors) amidst a series of monumental life changes, he is forced to reckon with his own views on love, responsibility, and what it means to be a man."
After being produced separately Off-Broadway, March of the Falsettos and Falsettoland — featuring March as the first act and Falsettoland as the second — were first presented together as a single show at Hartford Stage in 1991, then in a separate production on Broadway in 1992 at the John Golden Theatre. The musical won Tony Awards for Best Book of a Musical and Best Original Score.