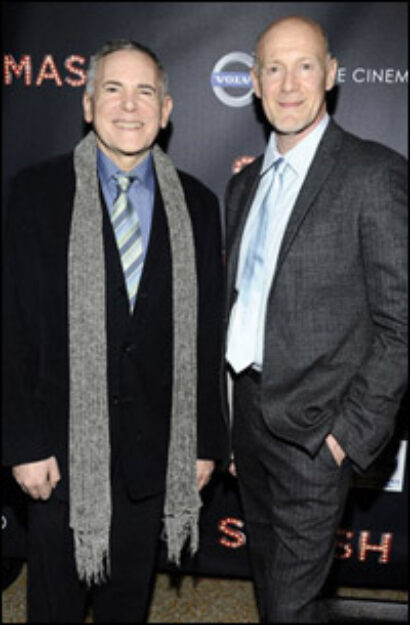 Zadan posted on Twitter March 7, "Hoping that whoever produces the #Oscars next year will retain our innovations: #TeamOscar program & reading all 24 nom on Oscar nom morning."
But today, March 26, in an interview with Deadline Hollywood, Zadan confirmed that he and his partner will definitely not be returning to produce the 2016 Oscar telecast. The story added, "Simultaneous with their agreement with the Academy expiring, Zadan said they have signed a new three-year deal with the Shubert Organization to develop Broadway shows...as well as a new three-year deal with NBCUniversal Television to do series and continue with their live events musicals such as The Sound Of Music and Peter Pan..."
An email to the Shubert Organization from Playbill.com seeking confirmation was not immediately returned.
In the story, Zadan said that they would produce a third live musical on NBC for the 2015 holiday season, but no title was confirmed.
Hosted by Neil Patrick Harris, the 87th Annual Academy Awards saw viewership fall 16 percent from the previous year, to a six-year low. The previous Oscar telecast, hosted by Ellen DeGeneres, brought in 43.74 million viewers, a 10-year high. Zadan and Meron served as executive producers for the 2002 Best Picture winner "Chicago," which won Oscars in six of the 13 categories in which it was nominated. Their credits also include the features "Footloose" (2011), "Hairspray" and "The Bucket List." Zadan also produced the original "Footloose" (1984).
Zadan and Meron's work in television includes the series "Smash" and such movies as "A Raisin in the Sun" and "Steel Magnolias" as well as the live TV musicals of Peter Pan and The Sound of Music.
For Broadway, they recently produced the Tony Award-winning revivals of How to Succeed in Business Without Really Trying and Promises, Promises.
Zadan began his producing career on Broadway with the 1973 salute to Stephen Sondheim, Sondheim: A Musical Tribute as an associate to Kurt Peterson. He also wrote the book Sondheim & Co. about the creation of the composer's musicals.