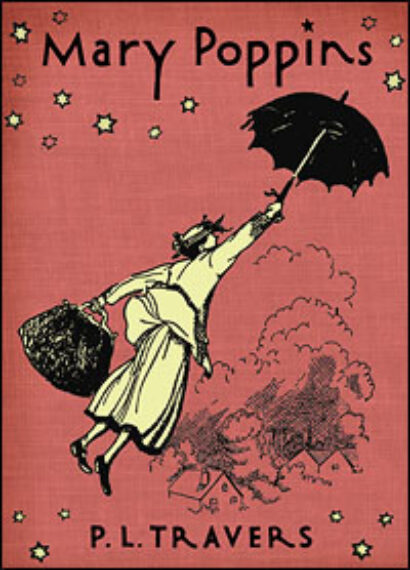 ****
"Did you ever know anyone who was like Mary Poppins?" I once asked P. L. Travers. Even as the words left my lips I knew that it was a fruitless question. A moment's pause and she answered, as indeed her heroine might have done, with another question: "Did you ever know anyone like Mary Poppins? Did you know anyone who could ever slide up the banister?" I replied that I hadn't, but that I rather wished I had. "Well," she said with a conclusive finality, "There you are then."
When Jane and Michael Banks secretly wish that they might always remember Mary Poppins, the author tells us that mundane, obvious questions like "Where and How and When and Why" are totally beside the point because "as far as she was concerned those questions had no answers.'"
And those of us who knew Travers and repeatedly quizzed her about the enigma of Mary Poppins received the same answer. "I don't know anything about Mary Poppins," she told me on one occasion, "except what is in the books. All I know is that I share what I know; but I don't know it all. I wait to be told, but perhaps I never will be."
Even when working with her on the film script for "Mary Poppins Comes Back," a sequel to the Disney movie, I got no nearer to discovering where Mary Poppins comes back from! "I don't want to know where she comes from," she told me, "it isn't as though I secretly knew and wouldn't tell anyone. I simply do not know." On one occasion, committing herself to paper, Travers wrote: "What is the book about? Its chief character is a young woman who arrives, apparently from nowhere, and proceeds to impose upon a small, modest, chaotic household her own ideas of order. Having achieved this, and in the process introduced the children to a world of magic, she takes off again apparently for nowhere, by means of a parrot-headed umbrella. It is as simple as that."
Of course, it isn't nearly as simple as that! She may seem to have arrived out of "nowhere," but the truth is that she came, at first, from the fertile imagination of 35-year-old Pamela Travers; from her passion for poetry, myth, and fairy tale; from her love of music and dance; from her fascination with the stars and with the mystery of what she called the "connectedness" of all living things. Mary Poppins began arriving in 1934, illuminating the lives of a London family in the dull inter-war years and she continued to come and go until 1989, although neither she nor her charges ever got any older.
Thirty years after her first adventures were published, "Mary Poppins" came to us again: this time via that popular peddler of tales, Walt Disney, a man with an unerring instinct for a good story and sufficient determination and persistence to pursue his vision across the 20 years that it took to secure the film rights.
Her coming on that occasion was not without incident, since the original author was engaged as "consultant" — a hitherto unheard-of arrangement on a Disney picture. Undaunted by the ways of Hollywood, she brought to the consultation process numerous requirements and many objections that were to test the patience of Walt and his team.
For a while, the clash of two equally strong-willed individuals was sufficiently tempestuous to jeopardize "Mary Poppins"'s arrival; indeed, a great deal of diplomacy and no small measure of compromise was required before, in 1964, "Mary Poppins" was able to fly into the cinemas of the world.
With permission from the author, the character now landed in a picturesque version of Edwardian London, gaily splashed with Technicolor and decked out with song and dance numbers and clever visual effect. And, having arrived, she made a star of the film's leading lady, earned its producer a fistful of Oscars, and won a place in the hearts of millions.
"The ways of filmmakers are strange," Travers wrote to me, a few years after the film's release. "It is as though they took a sausage, threw away the contents but kept the skin, and filled that skin with their own ideas far from the original substance. They try to 'improve' on what is, no matter how long that 'What is' has already been tried and tested. And — it must be admitted that among their own lines, they often succeed. The film 'Mary Poppins,' with all its glamour and splendors and the devoted energy of its cast, has been a tremendous success. But if we are comparing books and films, the sea change is also tremendous."
Although she gave the impression that she was deeply disappointed and distressed by that process of change, the truth is that she actually agreed to many aspects of the film's transition from page to screen that she would later denounce. Only toward the end of her life, and then only to a few, did she concede that the film was but another stage in that curious process by which literary characters occasionally migrated from the printed page to assume a mythic status.
Like Alice, Peter Pan, Mr. Toad, and Long John Silver, Mary Poppins now exists in the common imagination without requiring the support of an author: a final confirmation, perhaps, of Travers's oft-quoted comment: "I don't feel for a moment that I invented her. I feel visited by her."
In her 88th year, and mercurial to the last, Travers embarked on assisting with the creation of a sequel to the original Disney film and proved as determined and vigorous with her latest collaborator (me!) as she had been 20 years earlier. Exhausting though the process was (and despite the fact that the film never went into production), it revealed some of the characters that she most hoped would appear — many of which happily accompany Mary Poppins's latest arrival.
For, 70 years after the publication of the first "Mary Poppins" book, the legendary nanny comes to us once again but in a new incarnation, courtesy of impresario Cameron Mackintosh, who glimpsed the potential for Mary Poppins to make her debut on stage and, with another demonstration of persistent determination, embarked on a 25-year quest of his own to bring that dream to reality, finally doing so with the author's blessing and the collaboration of Thomas Schumacher, one of a new generation of Disney storytellers.
This Mary Poppins is both comfortingly familiar and refreshingly new: she brings with her a cast of characters we remember from the film but also introduces us to others who step straight out of the pages of the original books; she reminds us of words and music we have known and loved for a lifetime, but then sings new songs that are destined to become as much a part of our perception of Poppins as "Supercalifragilisticexpialidocious." Being Mary Poppins, she is not only the person we remember and expect to see, she is also someone encountered for the first time and with several unexpected surprises tucked away in her famous carpetbag.
From her childhood, Pamela Travers had been stagestruck. Juvenile readings of Shakespeare and starring roles in school theatricals led her, as a young woman, to join a traveling theatre company as an actress and dancer. Almost from the moment "Mary Poppins" first appeared, Travers wanted to see her take to the stage and she pursued that ambition throughout the rest of her life. In a letter left to her literary executors on her death, she wrote, "It has always been my wish that we should have a stage dramatic play or musical of Mary Poppins."
The latest Mary Poppins has granted that wish. At the first day's rehearsal, Mackintosh observed, "I'm sure Pamela Travers is here, today, in spirit!" He then wisely added, "And you can be sure she has plenty of notes for us already!"
What do each of these incarnations of Mary Poppins have in common? That they arrive out of the blue and stay for all too brief a time — until the wind changes or the chain breaks — whereupon they fly away again as Travers put it, "apparently for nowhere."
When the author reached the end of writing her third book, she decided to call it "Goodbye, Mary Poppins." "At the time," she told me, "I didn't think there was anything else to say, because you always feel like that at the end of any book."
Indeed, on its final pages, as Jane and Michael Banks watch the arc of a shooting star coursing its way across the night sky, there comes a sudden, saddening realization that the speck of brilliance vanishing into the darkness is, in reality, Mary Poppins. That, like all shooting stars, she was there, fleetingly and magically, but is gone.
Travers's publisher, who still had hopes for further volumes in the series, protested that "Goodbye, Mary Poppins" was far too final a title! So the third book became "Mary Poppins Opens the Door." "Later," Travers recalled, "I was glad that I hadn't said 'Goodbye, Mary Poppins,' because after a while I wrote 'Mary Poppins in the Park.'"
When she wrote that book, eight years later, she tossed aside, in a preliminary note, a "word of warning," explaining that the adventures described within its pages "should be understood to have happened during any of the three visits of Mary Poppins to the Banks Family."
The result, contrary to the author's intention, was to give the reassuring illusion that Mary Poppins is permanently present. As, of course, in a way, she is. For although the author told the readers that Mary Poppins "cannot forever arrive and depart," she was mistaken, because that is precisely what she does!
Every time someone takes up a copy of "Mary Poppins" and reads its opening words ("If you want to find Cherry Tree Lane all you have to do is ask the Policeman at the cross-roads…"), Mary Poppins is waiting to arrive, waiting for the east wind to throw against the door of Number 17.
Every time the opening titles of the film version of "Mary Poppins" roll and we see the River Thames and the landmarks of London laid out below us, she is there, waiting on a cloud, with her carpetbag and parrot-headed umbrella, ready to float into view.
And now, every time the theatre orchestra begins to play the overture to the stage musical of Mary Poppins and the houselights go down and the curtain goes up, she is waiting to arrive, waiting to make her entrance in a flutter of cherry blossoms, waiting to step into the lives of the Banks Family but also into the imaginations and memories of everyone watching the story unfold.
True, the moment of departure will eventually come and she will go away, leaving as mysteriously as she arrived. But through the magic theatere — and in a way that even the author never expected when she had Mary Poppins leave a note for the children with the words "Au revoir" — the practically perfect nanny will return again and again, performance after performance, as days transform themselves into weeks, months, and perhaps years, for as long as audiences are ready to welcome her and the special enchantment that she brings.
*
Brian Sibley is a writer and broadcaster who has written extensively about filmmaking and show business, and with Michael Lassell is currently preparing a book on the creation of the Mary Poppins stage musical.