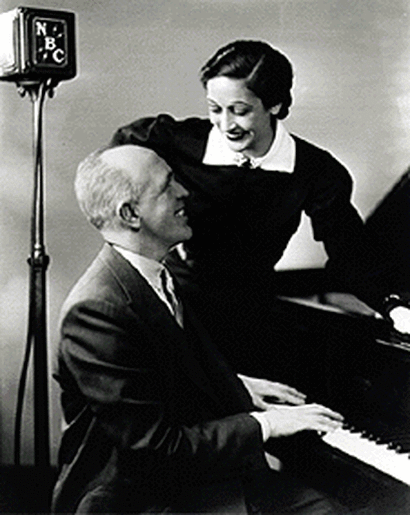 The women behind some of the great standards of musical theatre, movies and American pop music of the 1930s, '40s and beyond are spotlighted in the new PBS "American Masters" program, "Yours For a Song: The Women of Tin Pan Alley," airing 9 PM (ET) Aug. 18.
The special, produced by Thirteen/WNET, is hosted by Broadway diva Betty Buckley, introducing new generations to composer Kay Swift ("Can't We Be Friends?," "Can This Be Love," and the 1930 musical, Fine and Dandy), lyricist Dorothy Fields (whose 500-song catalog includes "On the Sunny Side of the Street," "The Way You Look Tonight," "Big Spender"), Ann Ronnell ("Willow Weep for Me" and "Who's Afraid of the Big Bad Wolf") and Dana Suesse ("You Oughta Be in Pictures").
Fields, who worked with composers Jimmy McHugh, Sigmund Romberg ("Close as Pages in a Book"), Jerome Kern, Arthur Schwartz (A Tree Grows in Brooklyn), Albert Hague (Redhead) and others, may be the most-known of the group.
Her six-decade career included co-writing the book to Annie Get Your Gun and, 20 years later, penning lyrics to musicals Sweet Charity (which includes the brave, very 1960s-flavored, "Where Am I Going?") and Seesaw ("It's Not Where You Start") with Cy Coleman. She died in 1974.
"Yours for a Song" includes archival footage, interviews, movie clips and fresh performances of the classics by today's major vocal talents, including Buckley. The special mentions such songs as "I'm in the Mood for Love," "I Feel a Song Coming on," "I'll Never Smile Again," "If They Could See Me Now," "Them There Eyes," and many others, written or co-written by women.
Broadway star Buckley hosts and performs Fields' "I Can't Give You Anything but Love" and "The Way You Look Tonight."
Michael Feinstein performs and is interviewed. Also seen are early television clips of Frank Sinatra, Ella Fitzgerald and Perry Como, singing hits by women who were never as well known as their contemporaries, Cole Porter, Irving Berlin and the Gershwins.
Check local listings for exact air time and date, which may vary at different PBS stations.
-- By Kenneth Jones