"There was no callback," says co-director and book writer Dick Scanlan (Thoroughly Modern Millie, Everyday Rapture) of casting Hannah Corneau as the lead in his latest musical Renascence. "We just knew it. I think that's only happened to me once before." When audiences watch Hannah Corneau inhabit jazz age poet Edna St. Vincent Millay (known to family and friends as Vincent), it's obvious why.
The musical chronicles the early life of poet, playwright, and feminist activist Millay. Though she eventually gained national renown and won the Pulitzer Prize for poetry in 1923, Renascence (named after one of her most famously acclaimed poems) abstractly chronicles Millay's early life when she first wrote "Renascence" (as an entry for the poetry contest by The Lyric Year) and her coming-of-age through her separation from family in rural Maine, her relationship with her editor, and her days at Vassar College. With music by Carmel Dean and lyrics from the poems of Millay, Corneau astounds as the figure who broke all the rules.
Starting as a 16-year-old Millay with unquestionable talent (and the expectations of her mother and two sisters on her shoulders), Corneau is equally convincing as the girl abandoned by her father and the vixen willing to toy with her editor. Her brashness will make you question if you like Millay, but her rawness will make you wonder why you need to. Millay was a woman far ahead of her time, and Corneau is a performer ahead of hers.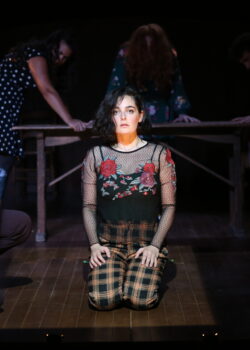 Name: Hannah Corneau
What you'll know her from now: Renascence at The Transport Group Off-Broadway
Her character: Edna St. Vincent Millay
Where did she come from?: A Syracuse University graduate, Corneau first broke big as Yitzhak on the national tour of Hedwig and the Angry Inch.
Breakout moment: From the downbeat of "Beanstalk," her first big solo, we see the fire in Corneau's eyes before she opens her mouth; but when she does, her belt slices the air, at once powerful and without effort.
What her co-director/writer and composer have to say about it: "She's so striking," says Dean. "Her range is extraordinary. There is nothing that she can't sing. As a person she's incredibly soulful and wise and grounded. [She] is just the epitome of Vincent in her voice, in her look, in her attitude." Scanlan adds, "It was this strange combination of: She's very hip, but there's something from another era about her. She both looks completely right now and also very early 19th century. She has a lot of power in her voice, but there's also a lot of warmth and vulnerability—and there's a lot of strength and femininity. That's very much Vincent Millay."
What separates this experience from others for the actor: "Renascence feels like an epic roller coaster, and I can't get off the ride until I tell her story," says Corneau. "Singing Carmel's score along with each poem feels like I'm channeling Vincent's spirit through me. It's a powerful journey every night. Edna St. Vincent Millay was such a revolutionary and prophetic artist. I strive to emulate the passion and artistry she did. I feel so lucky to be bringing her and her works back to life. She was a force and extremely ahead of her time, in regard to her sexuality, artistry and spiritual freedom. It is an immense honor to be portraying her. A gift of a character that doesn't come along very often. The musical journey that I embark on vocally, is the most challenging and fulfilling I have ever experienced."
Listen to Corneau sing from the show below:

Renascance plays at Off-Broadway's Abrons Arts Center (466 Grand Street at Pitt Street) in a limited run, with previews from October 5 a closing scheduled for November 17.