Tate later met with leading man Adam Pascal, who has been working with Chris Jahnke on a stage adaptation of Queensrÿche's 1988 "Operation: Mindcrime" album.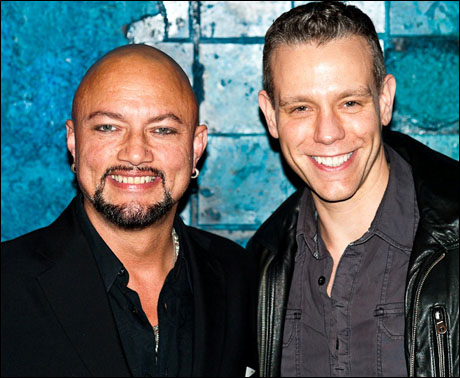 photo by Justin Patterson
Queensrÿche has been a mainstay of the metal scene for over three decades, having sold over 20 million albums worldwide.*
Memphis is based on a concept by the late George W. George (producer of the Tony-nominated Bedroom Farce and the film "My Dinner With Andre"). It has direction by Tony nominee Christopher Ashley (Xanadu) and choreography by Sergio Trujillo (Jersey Boys).
Songs in the production are "Underground," "The Music of My Soul," "Ain't Nothin' But a Kiss," "Everybody Wants to Be Black on a Saturday Night," "Make Me Stronger," "Colored Women," "Someday," "She's My Sister," "Radio," "Say a Prayer," "Big Love," "Love Will Stand When All Else Falls," "Stand Up," "Change Don't Come Easy," "Memphis Lives in Me" and "Steal Your Rock 'n' Roll."
Visit MemphistheMusical.