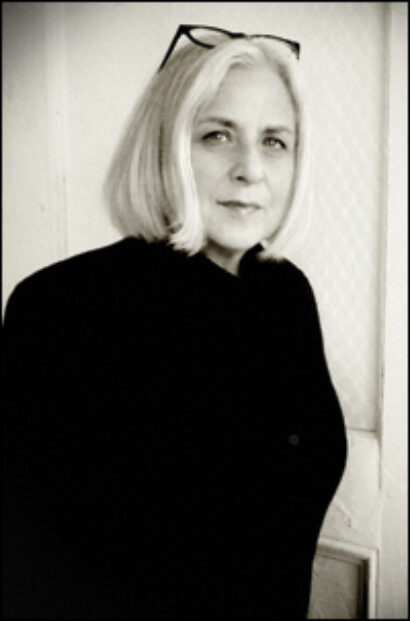 *
Most of the world sees Broadway through the eyes of Joan Marcus. Since the early 1990s, Marcus has been the preeminent photographer who shoots the production photos you see in papers, magazines and on websites.
"I may take hundreds of pictures for each show," says Marcus, "but what I look for is the ones that tell the story of the play."
You can see that in the jumping-gazelle photo that has become one of the classic images from The Lion King and in the defiant fists-in-the-air portrait of the original cast of Rent.
"I'm inclined to go with more moody pictures," she says, "but I understand that they can't always be used. Producers want pictures that look great in print, and that's what I try to supply." The next time you see a Broadway production photo, look at the tiny-print credit line that usually appears near one corner. Chances are good that you'll see "Photo by Joan Marcus." She has photographed well over 200 Broadway and many Off-Broadway shows, dating back to 1986's Lillian.
This past season, chances were one in two: she shot 21 shows, exactly half of the 42 Main Stem productions — everything from The Book of Mormon to The Motherf**ker With the Hat to the revival of Anything Goes. The others were shot by the likes of Carol Rosegg (who shares studio space with Marcus), Paul Kolnik and others. But no one handles as many shows as Marcus.
When she photographed the 2008 revival of Gypsy, she captured star Patti LuPone's wild energy in a classic arms-in-the-air shot during "Rose's Turn." But when she shot Bernadette Peters' 2003 revival of the same show, Marcus chose a quieter moment. "I loved her positioning and the way the light fell. Yes, she's in the spotlight, but 'Rose's Turn' hasn't come yet."
Back in the days when she used film, Marcus would take dozens of photos of a show and then look at endless contact sheets of tiny images through a loupe (a jeweler's eyepiece) to pick the best ones. Now that she has switched to digital photos, she takes hundreds of shots and sorts them on a computer.
Having an eye for unique moments in a show is key to Marcus' success. Sometimes a moment is all you get. She took what would become an iconic photo of Angels in America during a brief shoot at a run-through of the first of the two-part epic, Millennium Approaches. She was standing in the house and was able to get off just a handful of snaps in the show's final moments, when the Angel bursts through the ceiling of a man dying of AIDS.



photo by Krissie Fullerton
Marcus generally takes two kinds of photos: "production shots," capturing a moment as it's being performed, and "set-ups," which are done onstage or in her studio. She has more control over the latter, but it's no guarantee of perfection. Example: The images for Disney's
The Little Mermaid
were mostly set-ups. Marcus photographed star Sierra Boggess in her grotto for hours before she got the image. "It looks easy, but getting that tail in the right position was a challenge.... I shot [the] show many times [and no] other time did the tail go up like that."
For the 2004 revival of the jury-room drama Twelve Angry Men, she was faced with a set consisting of one long table. "It was so flat from the point of view of the audience," she says. "So I put a ladder in the wings and climbed it. It was a perspective that the audience never saw, but it had everyone in the picture. You can argue about this: Is it cheating or does it do its job of telling the story of the play?"
Marcus carries on in the tradition of Martha Swope, whose photos were ubiquitous from 1970 to 1994, and the team of Leo Friedman and Joseph Abeles (credited as Friedman-Abeles), who reigned from 1954 until 1970.
Marcus didn't set out to attain her current exalted position. She came to Broadway in 1986 via Washington, DC, where she was the house photographer at the Kennedy Center. Born in Pittsburgh, she went to George Washington University in DC to study anthropology. She started a business turning blue jeans into then-trendy jean skirts. But when her sewing machine fortuitously broke, she got a job printing other people's photos at the Kennedy Center to earn extra money. She found she was good at it, which led to more photo-printing jobs, which led to photography gigs.
In 1985, when her predecessor left, she was hired by the Center as its chief production photographer. Among the shows presented there was Lillian, a biography of playwright Lillian Hellman, which moved to Broadway. The producers liked her so much, they used her photos for the New York production as well, giving Marcus her Main Stem debut. More shows followed, including the Tony-winning M. Butterfly in 1988 and Bill Irwin's Largely New York in 1989 and soon New York producers were seeking her services directly.
It didn't hurt her career that she married one of Broadway's top press agents, Adrian Bryan-Brown of Boneau/Bryan-Brown. But such is her reputation that she doesn't shoot only Boneau/Bryan-Brown shows. It's a love story made for Broadway, and she's been happily snapping away ever since.
Marcus shares thoughts and recollections about a few of her more memorable photos: