This season of Hulu's whodunnit TV show Only Murders in the Building is one for the theatre nerds. Its central mystery is centered on actor Ben Gilroy (played by Paul Rudd) who is murdered in a theatre, with the season's B plot centering around the creation of a murder mystery musical called Death Rattle Dazzle!. It's been a veritable treasure trove of theatrical easter eggs, from the music by Benj Pasek and Justin Paul, to referencing Broadway Cares, to... well, anything that Andrea Martin does.
But there was one theatre cameo that made us at Playbill gasp in excitement.
It appeared in the opening of the latest episode—season three, episode eight—titled "Sitzprobe." The episode begins with a voice-over from the one-and-only Meryl Streep, who this season plays Loretta Durkin, an actor who is yearning for stardom. Loretta decides to walk down her theatrical memory lane and she does that in the way real theatre nerds do it: she takes out her Playbill binder from her bookshelf and flips through it! She also provides us with a spot-on definition of sitzprobe, "When the actors first perform with an orchestra and you learn if all your choices have produced something harmonious or horrific."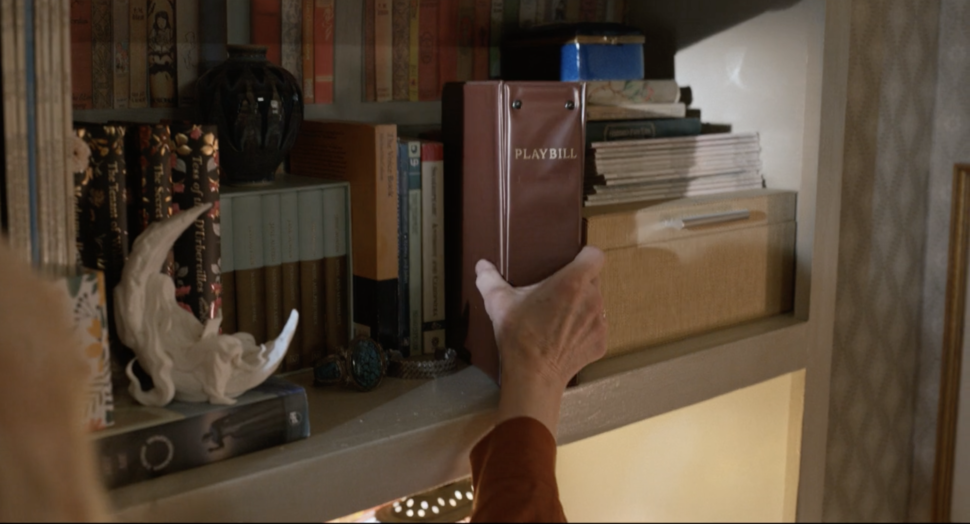 Here's a shot of Streep (as Loretta) holding the Playbill binder. You can tell it's a binder by its size and its signature extra-large spine, emblazoned with Playbill's logo—perfect for holding all of your theatrical memories. As Loretta flips through her binder, she thinks back on the choices that led her to this point: "Theatre is all about choices. What you share. What you hide. The same story, even the same lines can be delivered a million ways. Those choices change everything."
We also get a look inside Loretta's Playbill binder, and what is the first show in it? No Strings, the 1962 musical from Richard Rodgers and Samuel Taylor (which we saw a snippet of in the season's first episode, when real-life Broadway performer Rosharra Francis performed the show's opening number, "The Sweetest Sounds" on a Parisian-looking theatre set). And yes, that is the real Playbill cover for the production.
As Loretta tells us, No Strings was the show that made her want to be an actor: "When I saw my first play, I fell in love. My choice for my life was made." Actually, No Strings is a musical, Loretta, but we understand what you mean.
Hulu did not contact us about securing Playbill binders or Playbills so we were just surprised as you were at this cameo. We've also reached out to Hulu to see how they found that vintage Playbill. Was it eBay? Did they mock it up using the Playbill Vault as a reference? It's not a murder but it's a mystery that we are very interested in (and actually capable of) solving.
That No Strings Playbill also led us to another question. In prior episodes, we had assumed that the in-universe Playbill analogue was a publication called Shows & Stage. The inspiration for Shows & Stage was very clear.
But after seeing that No Strings Playbill, it seems that both Playbill and Shows & Stage exist in the same universe. How? Are they dueling theatre publications? Did the Birsh family in the OMITB universe decide to change the name?
Our theory: Free-wheeling theatre director Oliver Putnam (played by Martin Short) was surprised when he heard that he would have to pay a licensing fee to have Playbills printed for his play Death Rattle. He spent most of the show's budget on star Ben Gilroy's salary and the show's lighthouse set. So he decided to create his own off-brand program, Shows & Stage. Putnam will be hearing from our lawyers at Pearson Hardman.

Only Murders in the Building is currently available to stream on Hulu. See how many theatrical easter eggs you can spot this season. You can purchase your own Playbill binder at the official Playbill Store.