It is a year in which the United States was involved with a war that many protested against. Later in the year, president Lyndon Baines Johnson would announce he was not seeking reelection and both Martin Luther King, Jr. and Senator Robert F. Kennedy would be assassinated. On the television, a news program called "60 Minutes" would begin airing. It is 1968.
On Broadway, Judy Garland, Marlene Dietrich, Eddie Fisher and Buddy Hackett all play special engagements while musicals like Elmer Bernstein and Carolyn Leigh's How Now, Dow Jones and Jules Styne, Betty Comden and Adolph Green's Hallelujah, Baby! sing on the stage with the Off-Broadway musical Hair directed by Joe Papp on its way to the boards. Britain sends Tom Stoppard's Rosencrantz and Guildenstern Are Dead as well as a Michael Blakemore helmed production of a Peter Nichols drama about a couple dealing with their handicapped child.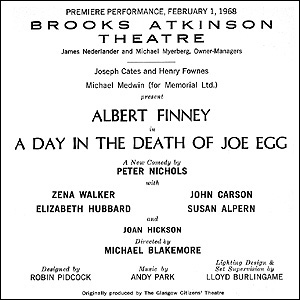 The title page in the Joe Egg Playbill.
Albert Finney
joins the Broadway cast of
A Day in the Death of Joe Egg
which features London originators Zena Walker and Joan Hickson. Broadway newcomer Blakemore helms the work by fellow Broadway newcomer Nichols, once again following his stagings at Scotland's Glasgow Citizens' Theatre and London's Comedy Theatre. Susan Alpern, John Carson and Elizabeth Hubbard also star in the production that opens at the Brooks Atkinson Theatre, Feb. 1.
Broadway newbies Peter Nichols' and Michael Blakemore's "Who's Who."
In the Playbill, among advertisements for cars (the Cadillac Fleetwood 75 Limousine with "a host of Cadillac refinements, such as concealed windshield wipers" and the "smooth, sure torsion-bar ride" of Chrysler's Imperial Crown), perfumes, cosmetics, cigarettes and plenty of alcohol, are full-pagers for original cast recordings of
How Now, Dow Jones
as well as nine Columbia Records releases ï¿1/2 "available on 4 track and 8-track stereo tape catridges."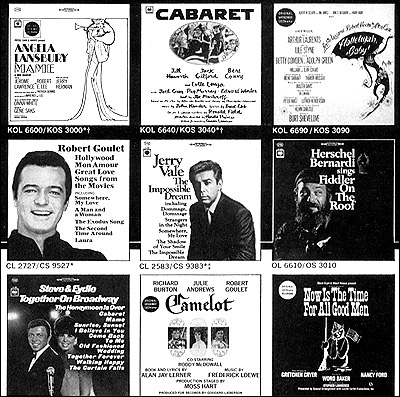 Part of an ad for several Columbia Records albums.
Editorial featured in the Playbill inculde a feature called "How to Win an Award" on actors and the many awards ("Tony, Oscar, Emmy and Obie"); a Leonard Lyons-penned article about esteemed British actresses in "There Is Nothing Like a Dame"; Playbill's dining guide and a "Theatre Scene" focus on Anna Sosenko's Seven Arts Collectors Gallery which boasts many theatrical momentos.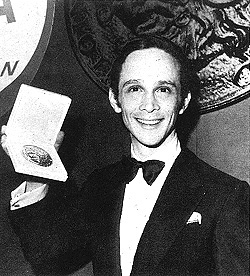 Actor Joel Gray and his Tony Award in the feature "How To Win An Award."
The show, which oft went by its abbreviated moniker
Joe Egg,
would garner director Blakemore his first of many Tony Award nominations ï¿1/2 culminating in a double win in 2000 for both musical (
Kiss Me, Kate
) and play (
Copenhagen
). The Tony Awards would also recognize British playwright Peter Nichols for his Broadway debut and actor Albert Finney with nominations. The only
Joe Egg
consorter to actually take home the award would be actress Zena Walker ï¿1/2 a fate shared by actress Stockard Channing who played the same role in the 1985 revival. The latter production also featured Jim Dale, Joanna Gleason and John Tillinger ï¿1/2 who performed the role he understudied in the original production.
Joe Egg
would finally receive its glory with the 1985 Tony Award for Best Revival (the award was dubbed Reproduction at the time).