Harry S. Truman still serves as United States President without a Vice-President after being elevated to the position when Franklin D. Roosevelt died. This year was groundbreaking on many fronts: The Hollywood "Black List" was created by The House on Un-American Activities and Jackie Robinson became the first African-American to join Major League Baseball and with the Brooklyn Dodgers, his team battled the New York Yankees in the first televised World Series. The microwave is invented and the surviving diary of a young German girl, Anneliese Marie Frank, whose family hid from Nazi persecution, was published. It is 1947.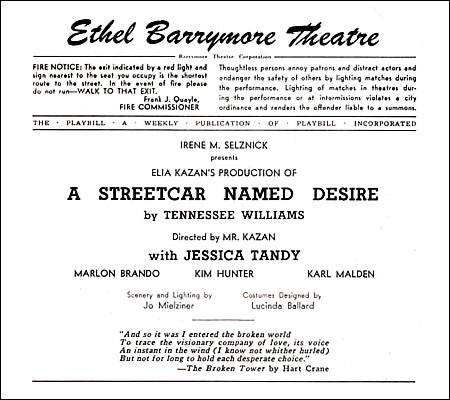 The title page in the A Streetcar Named Desire Playbill.
Earlier this year, the Broadway stage gave out its first Tony Awards (named for the actress Antoinette Perry) and the long-running
Life With Father
ended its more than seven-year run, etching 3,224 performances into the history books.
The Heiress
highlights the fall, along with the new Jules Styne musical
High Buttoned Shoes
and a run of
Medea
starring and directed by John Gielgud to follow when a budding young actor makes what will become his last and most memorable stage performance in a new play.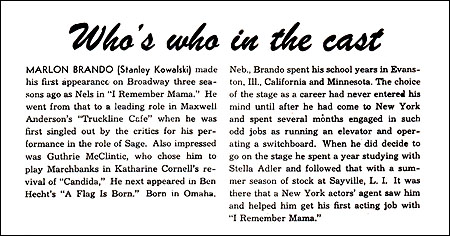 Marlon Brando's bio in "The Who's Who."
Marlon Brando stars opposite Jessica Tandy, Kim Hunter and Karl Malden (fresh from last season's Elia Kazan-directed
All My Sons
) in Tennessee Williams'
A Streetcar Named Desire
, which opens Dec. 3 at the Ethel Barrymore Theatre on Broadway. Kazan directs the New Orleans-set stage play, which finds a couple dealing with the unexpected visit from the wife's sister.
In the Playbill, among advertisements for cars (the "barrel-chested Fireball power" of Buick, "GM's Hydra-Matic Drive" of the new Oldsmobile), Little Lulu shilling Kleenex, women's fashion, Eastern Air Lines, perfume, cigarettes ("My Wild Irish Rose" star Alan Hale pushing Chesterfields) and plenty of alcohol (Dinah Shore endorsing Schaefer as "Finest beer I ever tasted!") is a full-page public service announcement featuring Bob Hope and Bing Crosby, who suggest U.S. savings bonds as a Christmas gift.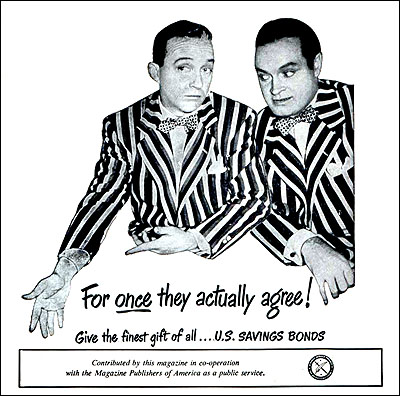 A portion of an ad for U.S. Savings Bonds with Bing Crosby and Bob Hope.
Editorial featured in the Playbill include the signature "Who's Who in the Cast," a Eugene Burr-penned depiction of a backer's audition, fashion guides, a "What's What" write-in question feature and an illustrated "Theatre Quiz" sponsored by Arrow Shirts & Ties.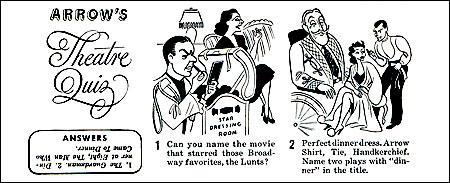 Part of the "Theatre Quiz" feature.
According to theatre historian and Playbill archivist Louis Botto, the young Brando acquired his role in a most peculiar fashion. "Tennessee Williams was staying in New England and Elia Kazan sent Brando up to him, hoping to get the part. Brando got there and [Williams'] bathroom wasn't working, so he fixed the plumbing and got the job because Williams was absolutely fascinated by him."
Williams' work would lose the Tony Award for play to Thomas Heggen and Joshua Logan's Mister Roberts, but would earn its lead actress Tandy her first of four honors and go on to earn the playwright the Pulitzer Prize for Drama. Brando, Hunter and Malden would reprise their roles with Vivien Leigh joining the cast for the 1951 Kazan-directed film (each but Brando would earn an Academy Award for their performance.)