Alaska is in the final stages of becoming a state at the hand of President Dwight D. Eisenhower. Sputnik and Bobby Fischer share headlines. The National Aeronautics and Space Administration (NASA) is established. Billboard magazine issues its first "Hot 100" singles chart (Ricky Nelson's is at #1 with "Poor Little Fool"). The New York Yankees just won the World Series 4 games to 3 over the Milwaukee Braves. The cost of a first class postage stamp jumped from 3¢ to 4¢. It's 1958.
Last season's Broadway hits The Music Man, West Side Story play among longer-running originals My Fair Lady and Bells Are Ringing. Anne Bancroft appears in her Broadway debut Two for the Seesaw as Tom Poston readies to star in Drink To Me Only and Elaine Stritch and Don Ameche rehearse for the upcoming Goldilocks. The new season is just underway when producer Robert Whitehead brings a new Eugene O'Neill drama to the stage.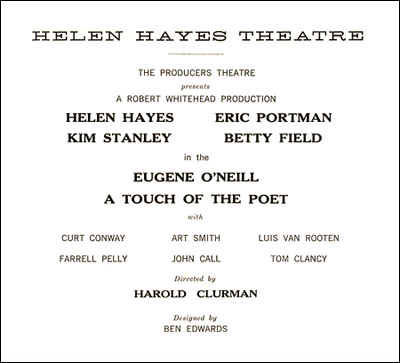 The title page in the A Touch of the Poet Playbill.
Helen Hayes
is among the cast of
A Touch of the Poet
, which opens at her namesake theatre Oct. 2.
Harold Clurman
directs Hayes with
Kim Stanley
,
Eric Portman
and
Betty Field
who also star in the work set just outside Boston in the dining room of a tavern.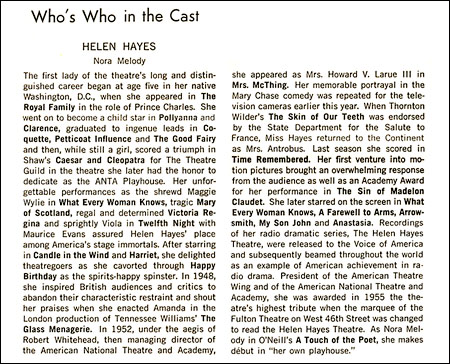 Helen Hayes' bio in the "Who's Who."
In the Playbill, among advertisements for cars ("Electric Windshield Wipers" on every '59 GM, Pontiac's exclusive "Wide-Track Wheels" or Oldsmobile's new "linear look"), women's fashion, perfumes, airlines, The Greater Yonkers Raceway (now with "trackside dining"), cigarettes and plenty of alcohol are full and half-pagers for original cast albums of
West Side Story, Jamaica
and
Say, Darling
among others.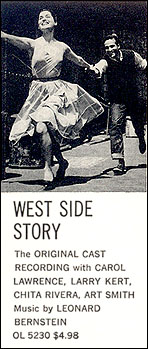 An portion of an ad for the West Side Story cast album.
Editorial featured in the Playbill included "Imagination in Montion" focus on GM Motorama's industrial car show, the signature "Who's Who in the Cast" and "Theatre Guide," and a Joe Masteroff-penned feature on "How To Become A Theatrical Producer."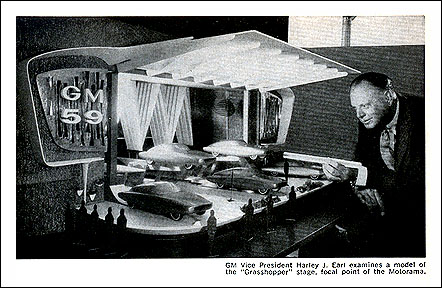 Part of the "Imagination in Montion" feature.
A Touch of the Poet
would be nominated for the season's Tony Awards in the Best Play and Best Actress (Stanley) category, but would not win either. The performer to win Best Actor that season, Jason Robards, Jr. (for
The Disenchanted
) would grow to be known for his work in O'Neill dramas and eventually play the work's lead character in a 1977 revival. (Though he would never win the Tony again.)
A Touch of the Poet
would be adapted for television in 1974 starring, Nancy Marchand, Roberta Maxwell and Fritz Weaver.
(Side note: The Helen Hayes Theatre at which this production originally appeared was demolished in 1982. The noted "First Lady of the American Theatre" would once again be immortalized in 1983 when the former Little Theatre was renamed for her.)