Newly sworn-in president Gerald R. Ford just pardoned his predecessor, Richard M. Nixon, who resigned following pressure to do so in the aftermath of the Watergate scandal. Patricia "Patty" Hearst was kidnapped earlier this year, then found wielding a rifle during a bank robbery. Oakland A's stars Reggie Jackson and Rollie Fingers ready for their World Series against the Los Angeles Dodgers. Olivia Newton John sings "I Honestly Love You" on the radio while "The Texas Chain Saw Massacre" plays at the movies. A first class postage stamp is 8¢. It is 1974.
On Broadway, the new season opened with revivals of Gypsy (starring Angela Lansbury) and Cat on a Hot Tin Roof (starring Elizabeth Ashley) and a new Jerry Herman musical Mack & Mabel (starring Bernadette Peters) while last season's Lorelei (with Carol Channing) and "Broadway's longest running musical" Grease continue. Then, a new comedy from a popular British playwright comes stateside following its 1973 London debut.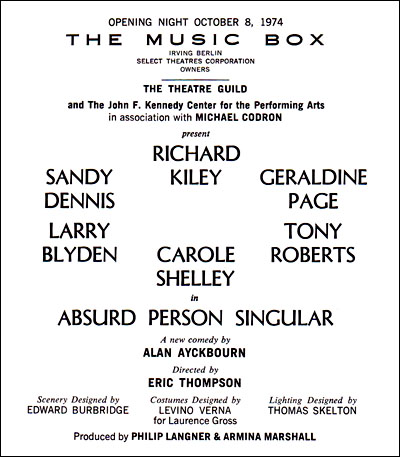 The title page in the Absurd Person Singular Playbill.
Alan Ayckbourn — whose bio in the "Who's Who" credits him as "the Neil Simon of England" — pens
Absurd Person Singular
about three English couples who encounter each other over three Christmas holidays. Richard Kiley, Sandy Dennis, Geraldine Page, Larry Blyden, Carole Shelley and Tony Roberts comprise the cast of the show which opens Oct. 8 at the Music Box Theatre.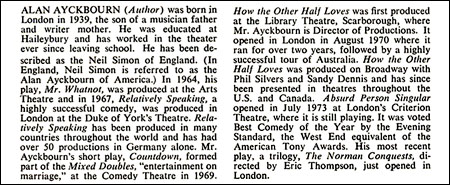 Alan Ayckbourn's bio in the "Who's Who."
In the Playbill, among advertisements for cars (Chevrolet's Nova complete with "an electric clock and much more"), airlines (Delta's "free steak and champagne" flights), cosmetics, New York eateries, perfumes, the "tuning fork movement" of Bulova's Accutron watch, cigarettes and plenty of alcohol is a full-pager for PBS' "In performance at Wolf Trap" series from the national park venue outside Washington, D.C.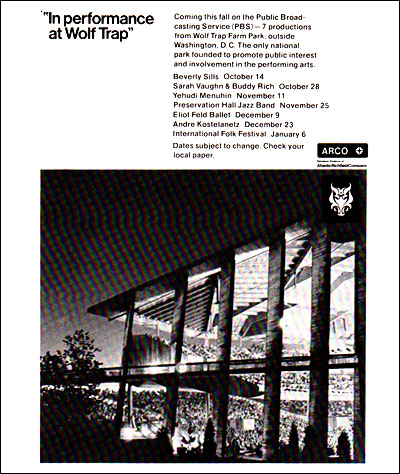 An ad for PBS "Wolf Trap" series.
Editorial featured in the Playbill includes a Chris Chase-penned article about her actress-to-writer journey, a "Staging Mayhem" focus on stage combat with B. H. Barry, the signature "Who's Who in the Cast" and a "Theatregoers' Scrapbook" highlighting a number of returning Broadway stars including Gwen Verdon (in
Chicago
), Deborah Kerr (
Seascape
), Ben Gazzara (
Hughie
) as well as
Mack & Mabel
stars Robert Preston and Bernadette Peters.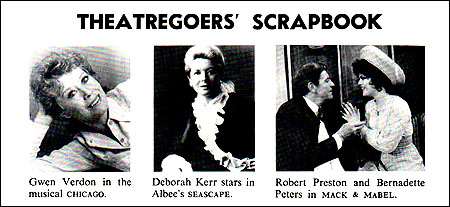 Part of the "Theatregoers' Scrapbook" photos.
Theatre historian and Playbill archivist Louis Botto recalled one of the actresses, at a luncheon with the cast, shared a warning for playwrights based on her experience in the show. "This actress told us it's very dangerous to have a cooking scene in a play," since the work takes place in three different kitchens. Upon questioning her reasoning, she quipped "Women in the orchestra up near the stage yell things like 'You're putting too much salt' or 'not enough eggs.'"
Though the 1973 Evening Standard Award-winning comedy would only earn Tony Award nominations for three of its ensemble (Blyden, Page and Shelley), the work would run more than a year for 591 performances before closing its final curtain March 6, 1976. Ayckbourn adapted his Absurd Person Singular for the small screen in 1985 featuring a cast that included Michael Gambon, Maureen Lipman and Geoffrey Palmer.