President Franklin D. Roosevelt initiates the second phase of his New Deal which includes Social Security. The land hitherto known as Persia adopts Iran as a new name. Aviator Amelia Earhart flies solo from Hawaii to California, the first person to accomplish this feat. A jury just found Bruno Richard Hauptmann guilty of "The Crime of the Century" — the kidnapping and murder of Charles Lindbergh's baby boy. A first class postage stamp costs 3¢. The year is 1935.
On Broadway, the season has been a controversial one: Lillian Gish stars as a "whore" in Within the Gates; Lillian Hellman's The Children's Hour deals with lesbianism; and Cole Porter's new musical Anything Goes, starring Ethel Merman, is "not suitable to the ears of bashful theatre-lovers," as per critic Percy Hammond. The new year brings Humphrey Bogart to the boards in The Petrified Forest and a new Group Theatre production.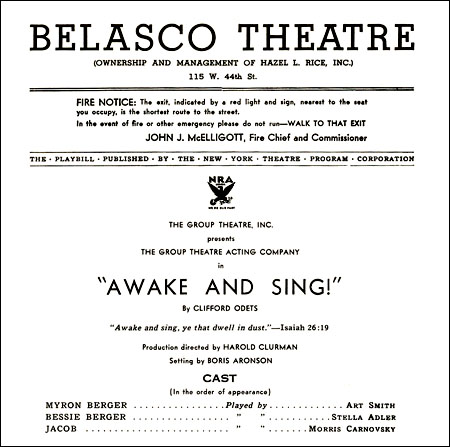 The title page in the Awake and Sing! Playbill.
Harold Clurman directs the new work
Awake and Sing!
, set in the Bronx — where playwright and Philadelphia transplant Clifford Odets now lives. Stella Adler, her brother Luther Adler and Sanford Meisner are among the cast in the work which opens Feb. 19 at the Belasco Theatre. Drama is not his only pursuit, reveals Odets in his bio.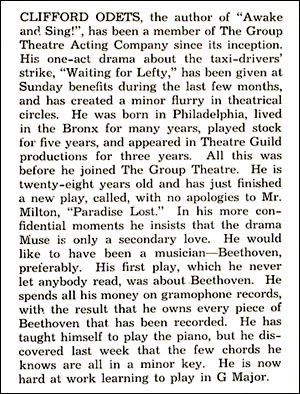 Clifford Odet's bio in the "Who's Who."
In the very spare Playbill, there are advertisements for cars (Chevrolet's Master De Luxe "with Turret-Top Body... at remarkably low prices"), DuBarry's powder lotion for women ("your dancing partners will thrill to the velvety softness of your skin"), cigarettes and alcohol. There is also a note about the cover art — which is actually of another show
The Merry Wives of Windsor.

*Note on the classic Playbill cover.
Editorial featured in the Playbill is limited to the signature "Who's Who in the Cast," a "Various Stages" article on the upcoming Richard Rodgers-Lorenz Hart-Ben Hecht-Charles MacArthur musical
Jumbo,
possible Group productions and other news as well as a fashion feature on "What the Woman Will Wear."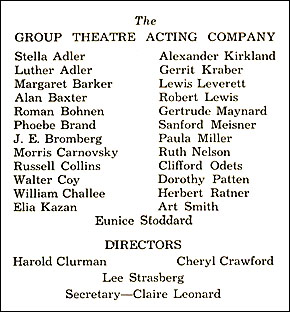 The Group Theatre company list in the Playbill.
Following his previous
Waiting For Lefty
, presented by The Group Theatre,
Awake and Sing!
cemented Odets' reputation as the troupe's most associated scribe. The Group would dismantle in 1941 when the lure of Hollywood and a lack of funding would prove too much of an adversary.