President Richard M. Nixon is embroiled in the Watergate scandal, the Supreme Court ruled that the death penalty is unconstitutional and 11 Israeli Olympic athletes are murdered in Munich by an Arab terrorist group. "The Price is Right" and "M*A*S*H" debut on television while Chuck Berry is at the top of the charts with "My Ding-A-Ling." You are back in 1972.
On Broadway a revival of Man of La Mancha, starring original actor Richard Kiley; That Championship Season; Pippin; and Jacques Brel Is Alive and Well and Living in Paris kick off the new season amid previously-running shows like Grease, Jesus Christ Superstar, Sleuth and Sugar. From London comes a new drama by Simon Gray that was directed by Harold Pinter.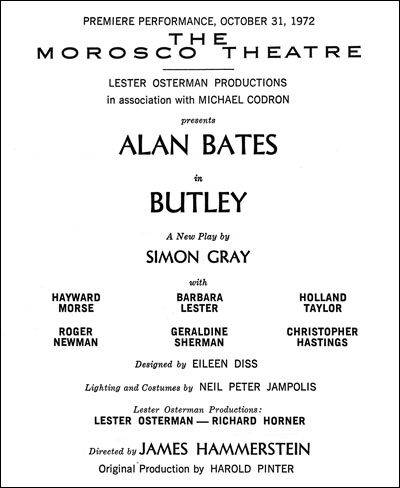 The title page in the Butley Playbill.
Alan Bates
— who starred as the title character in the London debut — headed stateside to lead the cast of the Broadway run of
Butley
, which opens Oct. 31 at the Morosco Theatre.
James Hammerstein
staged the work for the New York production, which also featured Hayward Morse, Christopher Hastings, Barbara Lester, Roger Newman, Geraldine Sherman and Holland Taylor.
In the Playbill, Catherine Deneuve peddles Chanel No. 5, Max Factor boasts its "Fresh from the farm face" line Geminesse, and Columbia Pictures coaxes theatre crowds to the movies with Robert Shaw, Anne Bancroft and Simon Ward in "Young Winston." Among others ads of airlines, women's fashion, cars (the "molded full foam seats" of Chevrolet's new Monte Carlo), local eateries (Benihana of Tokyo and Joes Pier 52), cigarettes and plenty of alcohol is a full-page spread for an all-star cast recording of Man of La Mancha with Jim Nabors, Marilyn Horne and more.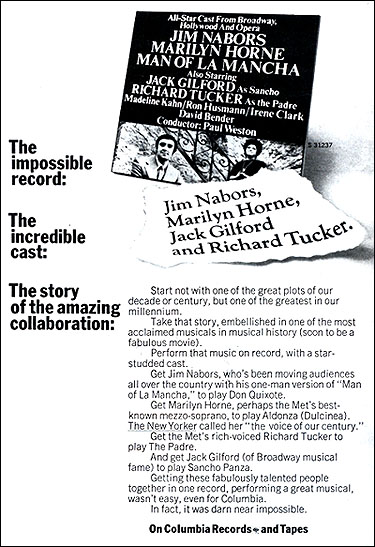 An ad for starry Man of La Mancha recording.
Editorial featured in the Playbill includes an excerpt from "Twice Over Lightly, New York Then and Now" featuring Anita Loos speaking about her co-author Helen Hayes, a "PlayBILL OF FARE" restaurant review section, the signature "Who's Who in the Cast," a Louis Botto-penned "Along the Gypsy Trail" feature focusing on professional performers ("who are almost never mentioned by the critics, are never nominated for a Tony Award and are not highly paid, by theatrical standards") and a quiz about "Politics, Broadway Style."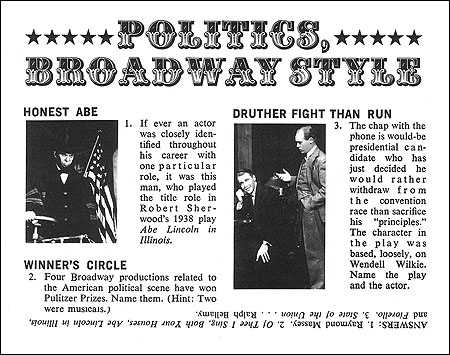 A portion of the "Politics, Broadway Style" quiz.
At the Tony Awards, though the play and featured actor Morse were bested (by
That Championship Season
and John Lithgow of
The Changing Room,
respectively) star Alan Bates garnered the prize for Best Actor in a Play. In 1974, original director Pinter helmed Gray's screenplay for the film, which again starred Bates with Jessica Tandy, Richard O'Callaghan, Susan Engel, Michael Byrne and Georgina Hale, among others.