President Richard M. Nixon just signed the law which will ban cigarette ads on television in the U.S. in the new year. American Motors introduces the Gremlin. The Beatles broke up, Apollo 13 aborted its mission to the moon following an onboard explosion and the first ever Earth Day is celebrated. You have landed in 1970.
On Broadway, musicals like Georgy, Purlie and Applause join earlier season entries Oh! Calcutta! and Coco. Actor James Coco stars in the new Neil Simon comedy Last of the Red Hot Lovers, while Blythe Danner stars in Butterflies Are Free, Stacy Keach headlines Arthur Kopit's Indians and Fritz Weaver appears in Child's Play. Then Michael Bennett — who choreographed Broadway's then-current Promises, Promises and Coco — adds another musical to his resume.

Michael Bennett's bio in the "Who's Who."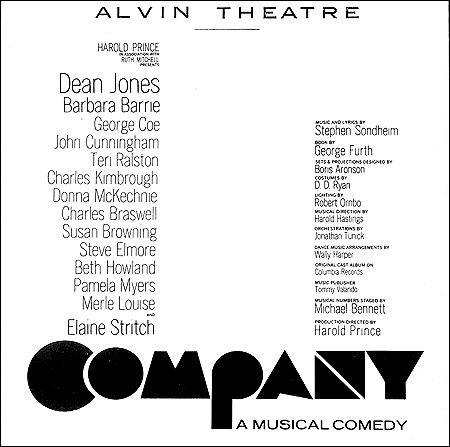 The title page in the Company Playbill.
Stephen Sondheim's
Company
originally opened on Broadway at the Alvin Theatre with a cast that featured Dean Jones, Barbara Barrie, Donna McKechnie and Elaine Stritch. The musical focuses on five married couples and the joys and pitfalls of committed relationships as seen through the eyes of their perpetual bachelor friend.
In the Playbill, among advertisements for cars ("4-coil spring suspension" of the Lincoln Continental or Pontiac's all-new LeMans Sport with "4-speed or Turbo Hyrda matic"), cosmetics, the Kenwood KR-7070 ("300-Watt FM/AM Stereo Receiver with Automatic/Remote Tuning"), airlines, the "very portable, very powerful" Binaca, cigarettes and plenty of alcohol is a full-pager for the original cast recording ("*available on records & tape") of the Alan Jay Lerner-André Previn musical Coco.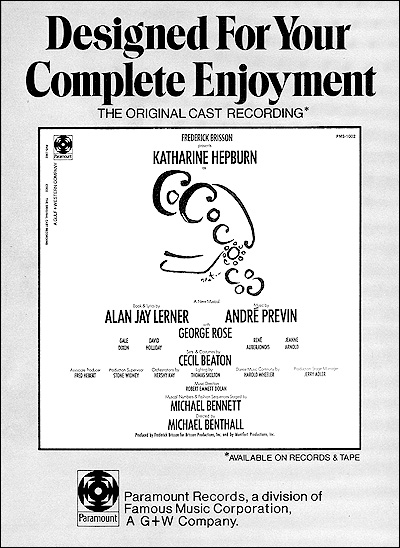 An ad for the Coco cast recording.
Editorial featured in the Playbill include Leonard Lyons' focus on the upcoming Tonys; a fictional account of "Shakespeare at Sardi's"; a James Lipton-penned feature called "A Vehicle of Venery" based on his top-selling book about collective nouns (such as "a pride of lions" or "a gaggle of geese") in which he offers terms for theatre-based groups (including "a pinch of producers," "a hack of smokers" and "a shrivel of critics.")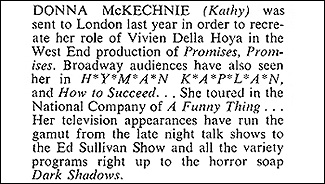 Donna McKechnie's bio in the "Who's Who."
According to original cast member Donna McKechnie, the "landmark musical" was moreso "landmark" to her because it was the first role she got without ever having to audition. "From the beginning it was a magical experience for me and even then I appreciated the genius of Stephen Sondheim. We all did," McKechnie recently told Playbill.com. "This was the first adult ensemble I worked with — there was no delineation of chorus kids and then the adults. We were all ensemble in a very sophisticated musical saying very wonderful things." The one thing the actress misses most from the original show: "The most magnificent dance arrangement I've ever heard was 'Tick Tock,' and they don't do it anymore. Just to listen to that used to just stir me."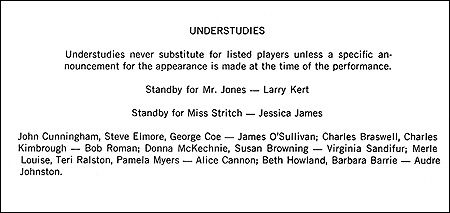 Larry Kert listed as standby in the Playbill.
Company
would be considered for the 1971 Tony Awards where it garnered a (then) record-breaking number of 14 nominations. Larry Kert (who replaced Jones in the lead shortly after opening was deemed eligible for a Tony) was nominated along with fellow actors Charles Kimbrough, Susan Browning, Elaine Stritch, Barbara Barrie, Pamela Myers, book writer George Furth, designers Robert Ornbo and Boris Aronson, choreographer Michael Bennett, director Harold Prince and creator Stephen Sondheim (who earned nods for score and lyrics) as well as the musical itself. The show would earn six Tony Awards: for Aronson's scenic design, Furth's book, Prince's direction, Sondheim's score and lyrics and the top prize as Best Musical. In 1993, the original cast reunited for a two-performance concert staging, and two years later the work was revived on Broadway with Boyd Gaines, Kate Burton, Veanne Cox, Charlotte d'Amboise, Jane Krakowski, LaChanze and Debra Monk.