A woman Ñ Shirley Chisholm, the first African-American Congresswoman Ñ announced her candidacy for President. Space orbiter Mariner 9 sent pictures from Mars. Paul McCartney debuted with his new band, Wings, while John Lennon co-hosted "The Mike Douglas Show." And the movie-musical "Cabaret" just hit theatres. Willkommen to 1972.
On The Great White Way, the season opened with a mixed bag of light vs. dramatic fare from You're a Good Man, Charlie Brown and an On the Town revival to The Trial of the Catonsville Nine and Jesus Christ Superstar. An actress named Stockard Channing made her Broadway debut in a musicalized Two Gentlemen of Verona starring Raul Julia, when Jim Jacobs and Warren Casey send their valentine to the 1950's to Broadway.
The title page in the Grease Playbill.
Grease
, a musical about two kids who fall in love over "Summer Nights" only to find themselves at the same high school, opens Feb. 14, 1972, on Broadway at the Eden Theatre. Barry Bostwick stars as the Rydell High rebel-with-a-heart Danny Zuko opposite Carole Demas as the sweet Sandy Dumbrowski. Tom Moore directs with musical numbers staged by Patricia Birch. Also in the cast are Timothy Meyers (as Danny's fellow T-Bird, Kenickie) and Adrienne Barbeau (as Pink Ladies leader Betty Rizzo). An actor named Jeff Conaway understudies the male roles.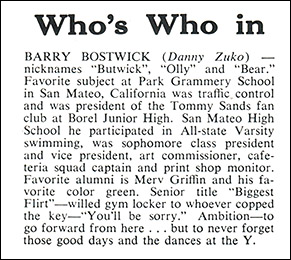 Barry Bostwick's bio in the "Who's Who."
In the Playbill, among advertisements for cars (like the "sporty aerodynamic styling" of Chevrolet's Vega Kammback), airlines (Northeast Airlines where drinks "are still just $1 in Coach"), perfumes, local eateries (Hawaii Kai, Hotel Algonquin and Mamma Leone's among others), cigarettes and plenty of alcohol, are full-pagers for the "two record" sets of Leonard Bernstein's
Mass
and the original Broadway cast recording of
Two Gentlemen of Verona
.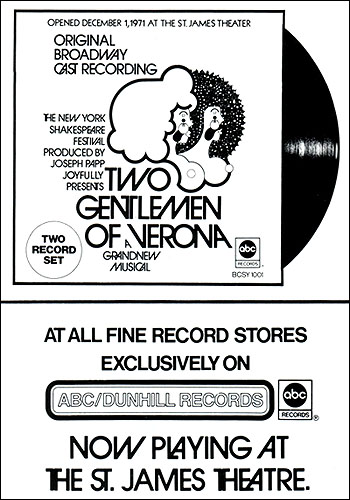 An ad for the Two Gentlemen of Verona recording.
Editorial featured in the Playbill include a "God on Broadway" focus about the Almighty's stage credits (as a character in shows), a "two poets look at the avant garde theatre" with words by Felicia Lamport and William Walden, the signature "Who's Who in the Cast" Ñ where star Bostwick lists his senior title was "Biggest Flirt" Ð and a Bernice Peck-penned "On a Personal Bias" which details "The Best Dressed List."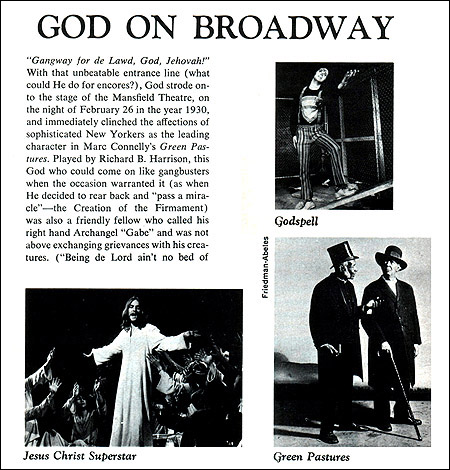 A portion of the "God on Broadway" feature.
Grease
would earn seven Tony Award nominations for actors Bostwick, Meyers and Barbeau, bookwriters Jacobs and Casey, choreographer Patricia Birch, costume designer Carrie F. Robbins and for Best Musical. The show would take home no awards; it was outshined by
A Funny Thing Happened on the Way to the Forum, Follies
and
Two Gentlemen of Verona
. In 1978, the musical would hit the big screen Ñ starring John Travolta and Olivia Newton-John in the leads and featuring Channing and Conaway in the cast Ñ and captivate audiences for years to come.