Dwight D. Eisenhower serves as Commander-in-Chief with Richard Nixon his Vice-President. Winston Churchill just resigned as Prime Minister of the United Kingdom. The Bill Haley and the Comets song "Rock Around The Clock" plays in the film "Blackboard Jungle," while Bill Hayes' "The Ballad of Davy Crockett" and Les Baxter's "Unchained Melody" top the charts. Also at the movies are "East of Eden" and "Marty." This is 1955.
On Broadway, new musicals like The Boy Friend with Julie Andrews, Peter Pan with Mary Martin and Fanny with Ezio Pinza began early in the season. The new year then brought new plays like William Inge's Bus Stop, Tennessee Williams' Cat on a Hot Tin Roof and a new drama by Jerome Lawrence and Robert E. Lee.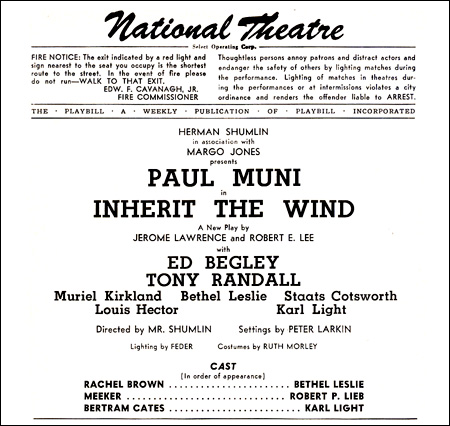 The title page in the Inherit the Wind Playbill.
Inherit the Wind,
a fictional work based on the 1925 Scopes "Monkey" trial, opened April 21 at Broadway's National Theatre. Herman Shumlin directed the three-act work with Paul Muni and Ed Begley as the legal leads (based on the real-life Clarence Darrow and William Jennings Bryan) battling over the right to teach evolution. Tony Randall was also featured in cast that totaled 48 members.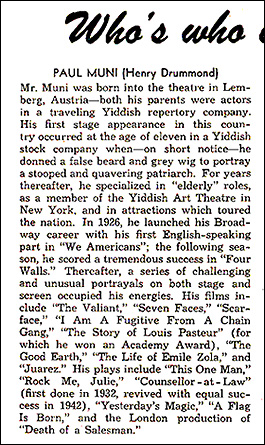 Paul Muni's bio in the "Who's Who."
In the Playbill, among advertisements for cars (Buick's Roadmaster with "the ease of Safety Power Steering" or the "sweep-around windshield" of the Dodge Custom Royal 4-Door Sedan), Dorothy Dandridge's stint at The Empire Room, Vitalis, Tums, cigarettes and plenty of alcohol is a half-pager for the new Columbia Records exclusive "world premiere of a back-alley opera"
archy and mehitabel,
starring Eddie Bracken and Carol Channing.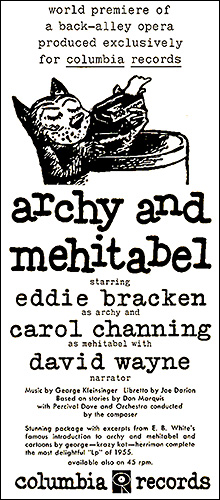 An ad for archy and mehitabel recording.
Editorial featured in the Playbill was limited to an article on the versatility of actors (i.e. folk singer Burl Ives in
Cat on a Hot Tin Roof
), a fashion focus "To the Ladies," "Your Intermission Interview" (the predecessor to Playbill's current "How Many Have You Seen?") and the signature "Who's Who in the Cast." (A note from theatre management says, "Ladies are requested to remove their hats.")

A note from management regarding hats.
According to theatre historian and Playbill archivist Louis Botto, above-the-title star "Paul Muni had to leave [the production] for an eye operation, and he was replaced by Melvyn Douglas. Muni then returned to the role three months later and Douglas went out on the tour."
The drama would earn Tony Awards for Muni (Actor) and Begley (Supporting Actor) as well as scenic designer Peter Larkin. Randall would revive the play (with his National Actors Theatre) on Broadway in 1996 with Charles Durning and George C. Scott in the leads. In 1960 the play was adapted for the Stanley Kramer film starring Spencer Tracy and Fredric March as well as Gene Kelly and Dick York.