Ronald Reagan is ending his first term as President of the United States. The debut of an African-American family comedy called "The Cosby Show" just began airing on television. The computer company Apple reveals the user-friendly Macintosh personal computer. In the coming weeks, Bob Geldof (of the British band Boomtown Rats) sees a BBC report on the famine in Ethiopia which will trigger the formation of Band Aid — a mix of UK bands and artists including U2, David Bowie, Elton John, Phil Collins, Bananarama, Peter Gabriel, Eurhythmics, Mick Jagger, Culture Club, Duran Duran and Wham! — who collaborate on the song "Do They Know It's Christmas?" It may not be what novelist George Orwell had expected, but it is 1984.
On Broadway, A Chorus Line and Cats are still running on the boards along with last season's Tony winners The Real Thing by Tom Stoppard and La Cage aux Folles by Harvey Fierstein and Jerry Herman. Actress Cynthia Nixon is pulling double duty playing in both The Real Thing and this season's Hurlyburly opposite William Hurt, Harvey Keitel, Judith Ivey, Ron Silver, Jerry Stiller and Sigourney Weaver. Comedienne-actress Whoopi Goldberg is starring in a self-titled one-woman show in previews at the Lyceum while Charles S. Dutton stars in a 1927 drama by Broadway newcomer August Wilson.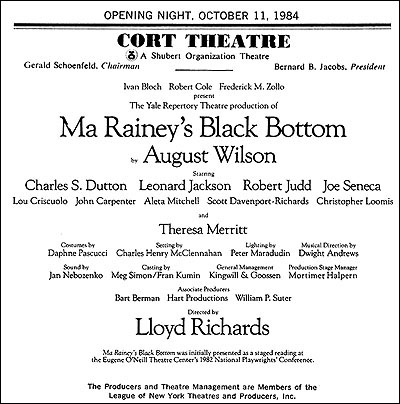 The title page in the Ma Rainey's Black Bottom Playbill.
Ma Rainey's Black Bottom
opens at Broadway's Cort Theatre Oct. 11, featuring the young Yale grad Dutton in his Broadway debut opposite
Theresa Merritt
in the title role. Lloyd Richards directs the production which also featured John Carpenter, Lou Criscuolo, Scott Davenport-Richards, Leonard Jackson, Robert Judd, Christopher Loomis, Aleta Mitchell and Joe Senaca.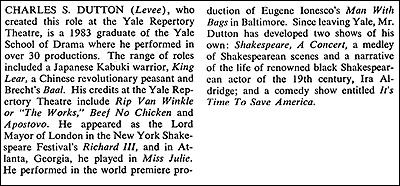 Charles S. Dutton's "Who's Who."
In the Playbill, among advertisements for the latest in audio equipment (Toshiba's "drops in a shirt pocket" Super Mini RP-30 personal stereo and Maxell's precision engineered tapes "that even after 500 plays still delivers high fidelity"), watches, furs, perfumes, cigarettes and plenty of alcohol, is a One Shubert Alley gift suggestion: a set of Al Hirschfeld glasses with his signature caricatures including Carol Channing, Sammy Davis, Jr. and Bob Hope.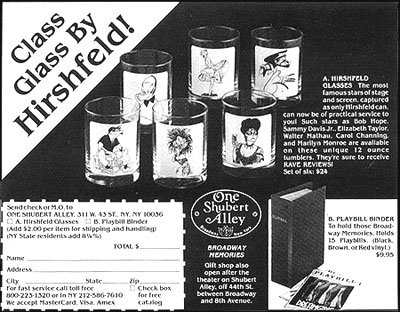 An ad for Al Hirshfeld glasses.
Editorial featured in the Playbill includes a piece on the Royal Shakespeare Company and its upcoming productions of
Cyrano de Bergerac
and
Much Ado About Nothing
— both starring Derek Jacobi, a preview of the new Broadway season, wine advisor Peter J. Morrell contributes "Wine of Choice" about winegrowing, "A View from the Audience" in which a theatregoer speaks of her encounter with
Death of a Salesman
star Dustin Hoffman, a huge fashion section and a signature "Celebrity Choice" in which Hoffman's
Salesman
co-star Louis Zorich endorses dining at the local eatery Spindletop. The Playbill also features two pages of scenes from the production of
Ma Rainey's Black Bottom
.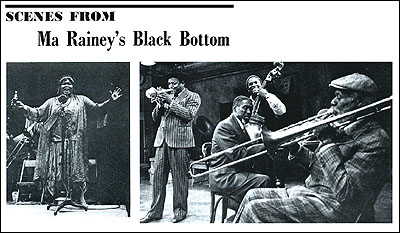 Parts of the "Scenes From" pages in the Ma Rainey's Black Bottom Playbill.
Ma Rainey's Black Bottom
would go on to be nominated for Best Play at the Tony Awards. The play would also merit nominations for its stars Theresa Merritt and Charles S. Dutton. Though the production would not take home any honors, it would pave the way for future Broadway runs of Wilson's
Fences, Joe Turner's Come and Gone, The Piano Lesson, Two Trains Running, Seven Guitars
and
King Hedley II
— all nominated for the Best Play Tony. His sophomore work,
Fences,
will not only garner Wilson the coveted Tony, but also win the Pulitzer Prize for Drama for 1987. In 1990,
The Piano Lesson
— starring Dutton — would also win the Pulitzer.