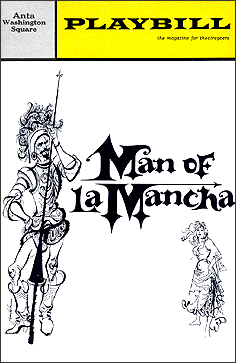 Playbill cover for Man of La Mancha in 1965.
(This is one in a series of Playbill On-Line features offering a periodic look back at Broadway and Playbill history, timed to accompany a new production or event of a show from theatre's past. A Broadway revival of
Man of La Mancha
starring Brian Stokes Mitchell opens Dec. 5 at the Martin Beck Theatre. Here's a glimpse at the 1965 Playbill of the original production, with some perspective on the period.)
The first United States combat troops arrive in Vietnam. Reverend Dr. Martin Luther King, Jr. and many others are arrested in Alabama following demonstrations opposing voter-registration rules. The Grammy Awards distinguish composer Jerry Herman's "Hello, Dolly!" as Song of the Year while music fans mourn the loss of composer and singer Nat "King" Cole. The Los Angeles Dodgers win their third World Series since moving from Brooklyn. And a blackout, one November evening, wipes out power for the entire northeastern United States. It is 1965. On Broadway, last season's Tony Award and Pulitzer Prize winner The Subject Was Roses by Frank D. Gilroy stills plays as does Tony-winning musical Fiddler on the Roof. A Detroit family by the name of Nederlander purchases the current movie house Palace Theatre (soon to be home to a new musical Sweet Charity.) A return engagement of Oliver! plays at the Martin Beck earlier in the year, while new shows like Burton Lane and Alan Jay Lerner's On a Clear Day You Can See Forever and Neil Simon's The Odd Couple starring Art Carney and Walter Matthau are "on the boards."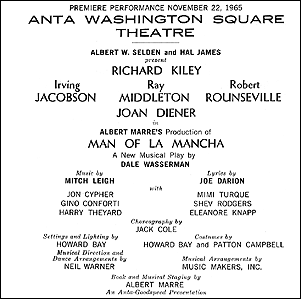 The title page in the Man of La Mancha Playbill.
Albert Marre directs a new musical
Man of La Mancha
written by
Dale Wasserman
and himself with lyrics by
Joe Darion
and music by
Mitch Leigh
. The Broadway production at ANTA Washington Square Theatre stars
Richard Kiley
as the fictional Don Quixote and his author Miguel de Cervantes y Saavedra — who gets his own billing in the Playbill.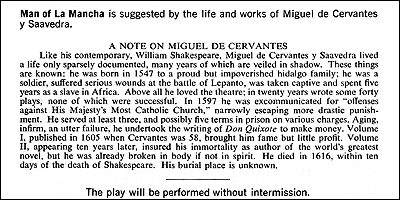 The special note on Miguel de Cervantes in the Playbill.
In the Playbill, among advertisements for cars (the Buick Riviera with "a new notch back seat that converts from bench to semi-bucket" and the Ford Thunderbird with "an overhead Safety Convenience Panel" and the optional "AM Radio/ Stereo-sonic Tape system"), perfumes, fashions (from the Abercrombie & Fitch "no-iron shirts" to Minerva Collection minks), cigarettes and plenty of alcohol, are full-pagers for original cast albums (of Zero Mostel in
Fiddler on the Roof
and
Barbra Streisand
in
Funny Girl
) as well as five Streisand records — on vinyl.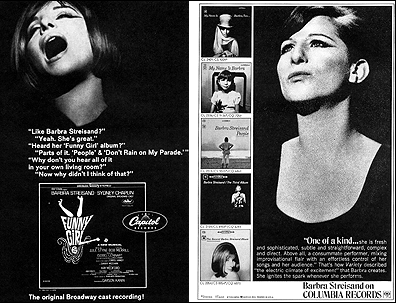 Ads for the cast album of Funny Girl and Barbra Streisand records.
Editorial featured in the Playbill include a feature on stage and screen actor Ed Begley (Sr., not Jr.), a Lehman Engel-penned article that takes us "Inside the Broadway Musical," the signature theatre quiz and a "Theatre Talk" compilation of quotes from theatre notables — including the gems "The only way some would-be actors can get into a cast is to break a leg" from Yul Brynner and "The trouble with Shakespeare is you can't ad lib it" by Jack Palance.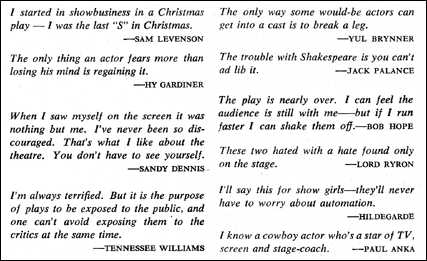 Selections from the "Theatre Talk" quotes feature.
According to theatre historian and Playbill archivist Louis Botto,
Man of La Mancha
was well accepted by theatre critics and audiences alike with one exception. "Walter Kerr always disliked plays that came from classic novels," Botto recalled. "He disliked
West Side Story
and
Man of La Mancha
and hated
Candide
. But the other critics liked it."
Botto added "Originally, it was written [in 1959] as a television play called 'I, Don Quixote' and Lee J. Cobb played Don Quixote. Then they told Dale Wasserman to turn it into a musical." The show's downtown location kept initial audiences from venturing to see the show. Botto explained "At first, it was not a box office hit because the theatre was really out of the way. But, word of mouth sold the show. José Ferrer succeeded Richard Kiley and also John Cullum."
Man of La Mancha lived "The Impossible Dream" taking home Tony Awards for actor Richard Kiley, director Albert Marre, the composer-lyricist team of Mitch Leigh and Joe Darion and for scenic designer Howard Bay as well as the year top prize Best Musical. Such notable actors as Raúl Julia, Peter O'Toole and Brian Stokes Mitchell — in the current Broadway revival — will tackle the title role in future versions of the musical.