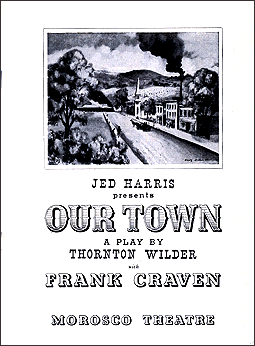 Playbill cover for Our Town in 1938.
(This is one in a series of Playbill On-Line features offering a periodic look back at Broadway and Playbill history, timed to accompany a new production or event. A Broadway revival of
Our Town
starring Paul Newman begins a limited run Nov. 22 at the Booth Theatre. Here's a glimpse at the 1938 Playbill of the original production, with some perspective on the period.)
It's 1938. In the United States, former two-term Senator and Governor of New York Franklin D. Roosevelt is serving his second term as President. Fair Labor Standards Act establishes a minimum wage for workers, set at 25 cents per hour. The price of a first class stamp is three cents. In Europe, the rising German Führer Adolf Hitler marches into Austria, declaring his long-desired Anschluss — the amalgamation of Austria with Germany. On Broadway, last season's Pulitzer Prize winner You Can't Take It With You by Moss Hart and George S. Kaufman still plays as does Clare Boothe's 40-woman cast of The Women. Adaptations of novels also flood the stage this season as Broadway productions of Madame Bovary and Of Mice and Men are based on the respective Gustave Flaubert and John Steinbeck novels. Earlier in the season, producer Jed Harris presented Henrik Ibsen's A Doll's House as adapted by Thornton Wilder at the Morosco Theatre.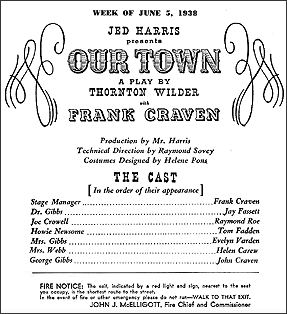 The title page in the Our Town Playbill.
That collaboration would prove fruitful as the Vienna, Austria-born producer Harris took on another project with Wilder. Following a one-week run at the Henry Miller Theatre earlier in the year,
Our Town
— written by Wilder, produced and directed by Harris — opens at the Morosco Theatre.
Frank Craven
— whose bio notes his return to the stage after several years — stars as the Stage Manager alongside his only son
John Craven
as George Gibbs in the play set in the New Hampshire township of Grover's Corners.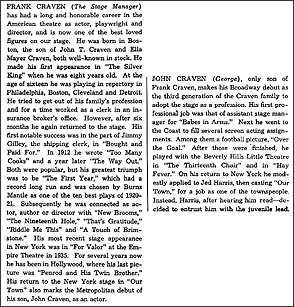 Craven vs. Craven: Frank and John's bios.
In the Playbill, among advertisements for cars (the "genuine knee-action" Chevrolet), women's fashions (from swimsuits to hosiery), cigarettes and alcohol, are an announcement for Rudy Vallee and Company appearing nightly at the Astor Roof of the Hotel Astor in Times Square ("Deluxe dinner from $2.00"), a "How Good is Your Bridge?" card-game lover feature as well as a full-pager for "New York's Leading Theatres and Attractions."
The Playbill "How Good is Your Bridge?" feature.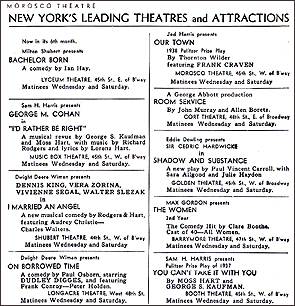 Shows also "On the boards" of Broadway in 1938.
According to theatre historian and Playbill archivist Louis Botto,
Our Town
almost didn't make it to Manhattan. "The original production had a very peculiar history. First of all, it played in Boston and Boston did not like it. They were not accustomed to seeing a play without scenery and a lot of theatregoers walked out on it," Botto recalls. "It was produced by the very eccentric, but brilliant, Jed Harris — who also directed it. Jed made a rule about the play: No playbills were to be distributed before the show; they should only be given out at the final curtain. His reason for that was that he did not want his actors bothered or disturbed by the rustling of pages."
Botto explained, "They were almost ready to close in Boston because it was not doing any business until Jed Harris was persuaded by [theatre critics] Alexander Woolcott and Brooks Atkinson. They both urged him to bring it into New York ahead of time and not close it out of town. So he brought it in to the Henry Miller Theatre and it opened. It only played there one week, but it got such brilliant reviews that he moved it to the Morosco Theatre and it won the Pulitzer Prize and it became a definite hit. The production was absolutely brilliant. I remember writing in my diary, 'This is the best play I've ever seen.'"
Our Town won the 1938 Pulitzer Prize for Drama, Broadway's top prize at the time — the Tony Awards would not be established for another nine years. Later in the original Broadway run, playwright Wilder will get to play his Stage Manager, a role taken on in subsequent Broadway revivals by such actors as Henry Fonda, Spalding Gray and Paul Newman — in the current production. Frank Craven will reprise his role for the 1940 film version opposite William Holden in the role originated by his son.