The new year began with John N. Mitchell, H. R. Haldeman and John D. Ehrlichman being found guilty of the Watergate cover-up. The Organization of the Petroleum Exporting Countries (OPEC) raised the price of crude oil by 10%. "The Godfather: Part II" and "Young Frankenstein" play on the big screen while "Baretta," "The Jeffersons" and "Barney Miller" debut on the small screen. The cost of a first-class postage stamp is 10¢. It is 1975.
The Great White Way is brimming with new musicals as the new year brings The Wiz and Shenandoah to the stage to play alongside earlier season entries like Gypsy and Mack and Mabel. But the Broadway boards also have a share of new plays including Alan Ayckbourn's Absurd Person Singular, Peter Shaffer's Equus and the Athol Fugard works Sizwe Banzi Is Dead and The Island — which run in repertory. A dozen years after first wetting his feet on Broadway and about the same number of plays later, Edward Albee pens and directs his latest.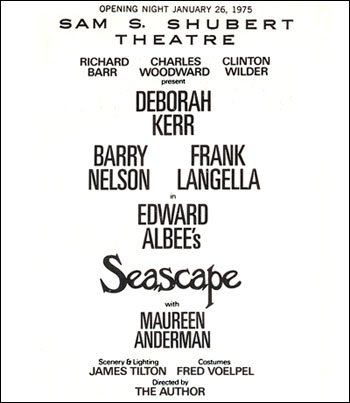 The title page in the Seascape Playbill.
Set on a bright sunny day near a sand dune, Albee's play
Seascape
— which concerns two couples (one human, the other lizard) — opens at the Sam S. Shubert Theatre on Jan. 26. The cast features
Deborah Kerr
,
Barry Nelson
,
Maureen Anderman
and a new up-and-comer on the Broadway boards,
Frank Langella
.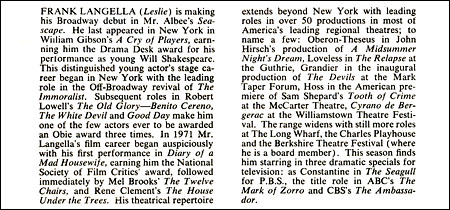 Frank Langella's bio in the "Who's Who."
In the Playbill, among advertisements for cars (like the 1975 Caprice Classic which "transports six adults smoothly"), cosmetics, Manufacturers Hanover, airlines, New York eateries (Ma Bells, Hawaii Kai and more), women's fashion, cigarettes and plenty of alcohol is a notice for NBC's "The Count of Monte Cristo" special starring Richard Chamberlain.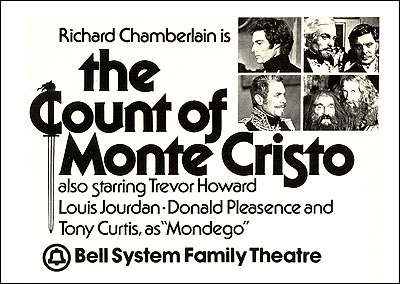 An ad for "The Count of Monte Cristo"
Editorial featured in the Playbill includes a Chris Chase-penned article about wishes for the new year in theatre, a "Little-Known Facts/ About Well-Known Folks" focus with trivia about Henry Fonda, Hal Prince, Jerry Stiller and more, the signature "Who's Who in the Cast," a "Theatregoers' Scrapbook" highlighting upcoming shows (like
Hughie/Duet, Private Lives, The Ritz, Good Time Charley
and
Same Time, Next Year
) and a "Test Your Theatre Memory" quiz looking back at 1965 theatre.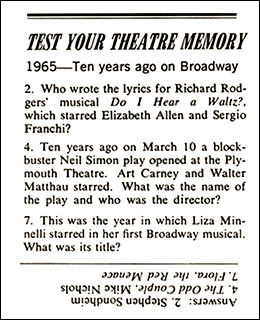 Part of the "Test Your Theatre Memory" feature.
Seascape
would be nominated at the 1975 Tony Awards for Best Play, Lighting Design (James Tilton) and Supporting or Featured Actor in a Play. Langella would earn his first Tony for his turn as the reptilian quadraped Leslie. Though the work would not take home the honor for Best Play, it would garner the coveted Pulitzer Prize for Drama — the scribe's second such award (of three).