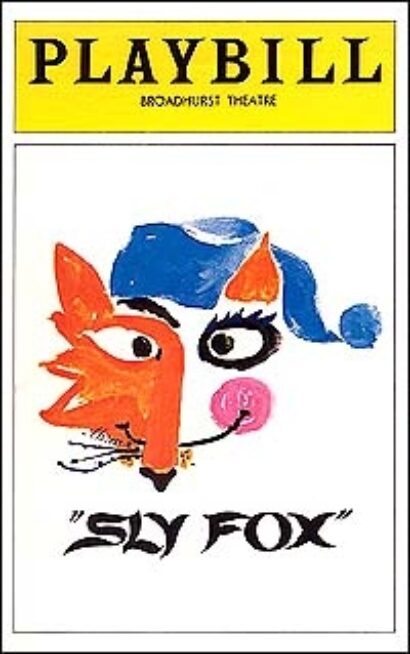 James Earl "Jimmy" Carter, Jr. was just elected the 39th President of the United States. Pete Rose and "The Big Red Machine" of the returning champion Cincinnati Reds took on the New York Yankees in the newly-renovated Yankees Stadium in the "Bronx Bombers"' first Fall Classic in 12 years. "Taxi Driver" and "Rocky" play at the movie theatres while ABBA's "Money Money Money" and Queen's "Somebody To Love" play on the radio. It's 1976.
The season on The Great White Way began with plenty of special events as performers like Diana Ross, Shirley MacLaine, Debbie Reynolds, Natalie Cole and Bing Crosby took to Broadway stages while Barry Manilow is prepping his own concert evening. New works include Neil Simon's California Suite, Ntozake Shange's For Colored Girls Who Have Considered Suicide / When the Rainbow Is Enuf, the Stephen Schwartz biblical musical Godspell and the Mike Nichols-directed Comedians starring John Lithgow, Milo O'Shea and Jonathan Pryce.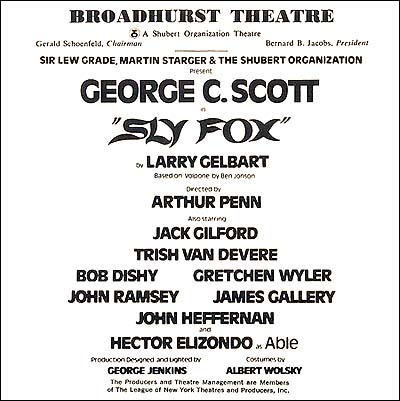 The title page in the Sly Fox Playbill.
Actor George C. Scott, who was Tony-nominated for last season's
Death of a Salesman,
returns to the stage in another leading role, this time
Sly Fox
by Larry Gelbart — who also returns to the stage after his success on television with "M*A*S*H." The comedy based on Ben Johson's
Volpone
also stars Bob Dishy, Jack Gilford, Hector Elizondo, Jeffrey Tambor and Scott's wife Trish Van Devere. Arthur Penn directs the work which opens Dec. 14 at the Broadhurst Theatre.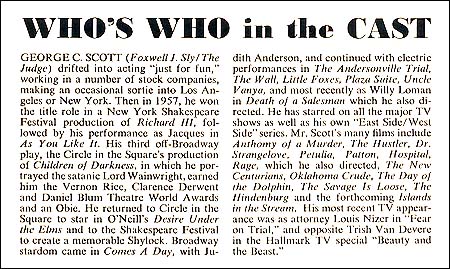 George C. Scott's "Who's Who."
In the Playbill, among advertisements for stereos (the "clarity and crispness...with each record you play" on Miida or the "Quartz Locked" receiver of Onkyo), airlines, perfumes, Sara Lee cakes, cigarettes and plenty of alcohol, are full-pagers for the Western Union Mailgram, Sanka Brand coffee, the Fur Vault at Alexander's department store and the PBS presentation of Julie Harris in Broadway's
The Belle of Amherst
.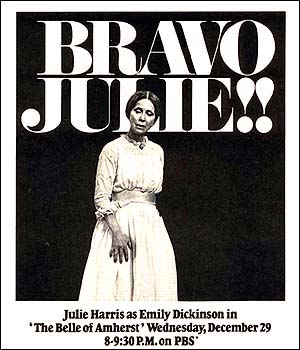 Part of a PBS ad for Julie Harris in The Belle of Amherst.
Editorial featured in the Playbill include a "How Actors Keep Fit" (including Gwen Verdon, Raul Julia and Doug Henning), an interview with choreographer Patricia Birch, a feature on the role of the "Understudy," "Prospects for a Happy New Year" and other poems by
Finian's Rainbow
lyricist E.Y. Harburg and the signature "Theatre Quiz."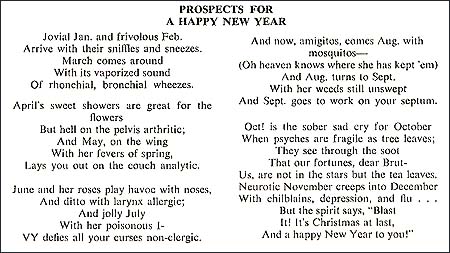 Part of the E.Y. Harburg poems feature.
Featured actor Bob Dishy garnered the show's only Tony Award nomination, though Jonathan Pryce would take home the prize.
Sly Fox
would go on to perform 495 performances before ending Feb. 19, 1978.
The Music Man
and
I Do! I Do!
Tony winner Robert Preston would go on to replace George C. Scott in the title role. Dishy will get another chance to shine as he reprises his role for the current Broadway revival.