President Lyndon B. Johnson just signed a bill creating the United States Department of Transportation. The Supreme Court decision on the case Miranda v. Arizona changed the arrest process. The Beach Boys release the album "Pet Sounds." "The Dick Van Dyke Show" ends its run on television as "Star Trek" begins. You have journeyed back to 1966.
On Broadway, Ethel Merman started the season in a revival of Annie Get Your Gun, while Hume Cronyn, Jessica Tandy and Marian Seldes starred in Edward Albee's A Delicate Balance. The previous year's The Odd Couple, Man of La Mancha and last season's new musicals Sweet Charity and Mame currently play on the boards. The songwriting team behind the still-running Fiddler on the Roof plant their new musical, The Apple Tree, on Broadway.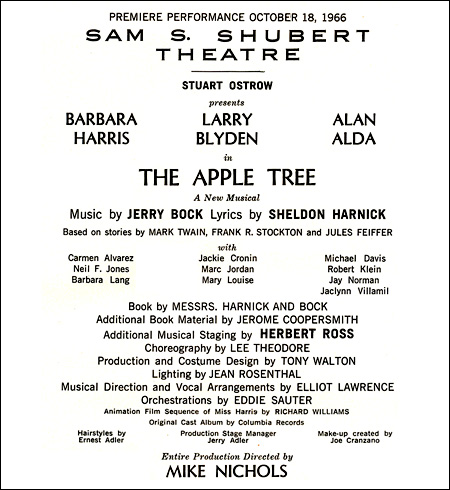 The title page in the The Apple Tree Playbill.
The Apple Tree
, featuring music by Jerry Bock and lyrics by Sheldon Harnick, originally opened at the Shubert Theatre Oct. 18. Barbara Harris, Larry Blyden and Alan Alda starred in all three acts of the musical, which uses stories from Mark Twain, Frank R. Stockton and Jules Feiffer. Mike Nichols directed — marking his first musical venture.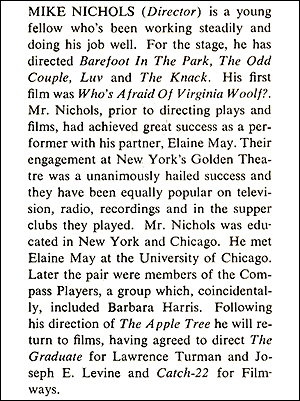 Mike Nichols' bio in the "Who's Who."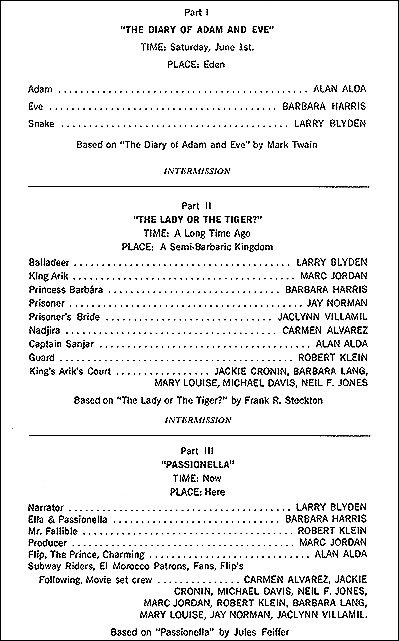 The character breakdown for The Apple Tree.
In the 1966 Playbill, among advertisements for cars (the "swinging new look" of the Oldsmobile Toronado or the Lincoln Continental with "a four-speaker Stereo-Sonic Tape System"), ladies hosiery, perfumes, cigarettes and plenty of alcohol are full pagers for cast albums of Bock and Harnick's
Fiddler on the Roof
and the forthcoming release of
The Apple Tree.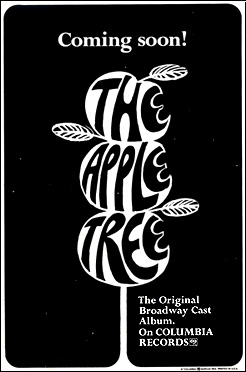 An ad for The Apple Tree cast recording.
Editorial featured in the Playbill includes "A first night is not for the audience" feature on opening-night crowds, a focus on Broadway wigmaker Bob Kelly, the signature "Who's Who in the Cast" and a "Beating Broadway's Drums" article on show press agent Dick Maney.
The musical earned seven Tony Award nominations for stars Harris and Alda, choreographer Lee Theodore, composer and lyricist Bock and Harnick, costume designer Tony Walton, director Nichols and for Best Musical itself. Harris would take home the only honor for the production. A musical from another famous team, John Kander and Fred Ebb's Cabaret, would overshadow the musical in every other category — with I Do! I Do! star Robert Preston beating out Alda.