President Lyndon B. Johnson serves as Commander-in-Chief in the second year of his elected term — having assumed the position in 1963 following the death of John F. Kennedy. Black-nationalist leader Malcolm X was just shot to death at a Harlem rally. "The Sound of Music" plays on the big screen while The Temptations "My Girl" and The Beatles' "Eight Days a Week" play on the radio. A first class postage stamp costs 5¢. We're back in 1965.
On Broadway, Zero Mostel and Sammy Davis star in new musicals Fiddler on the Roof and Golden Boy, respectively, while John Gielgud appears in Edward Albee's Tiny Alice and Jason Robards delivers a dramatic turn in Hughie. Playwright Neil Simon and up-and-coming director Mike Nichols — whose last collaboration, Barefoot in the Park, is still on the boards — introduce their latest.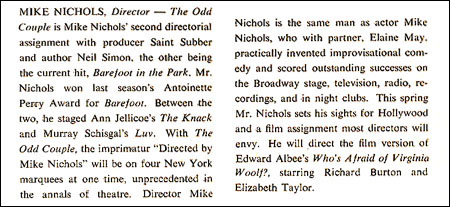 Mike Nichols's bio in the "Who's Who."
Art Carney and Walter Matthau are the big stars of the new comedy
The Odd Couple
about two lovelorn men — one neat, one not — who suddenly find themselves roommates. The cast of the work, which opens March 10 at the Plymouth Theatre, also features Nathaniel Frey, Paul Dooley, Carole Shelley, Monica Evans, Sidney Armus and John Fielder.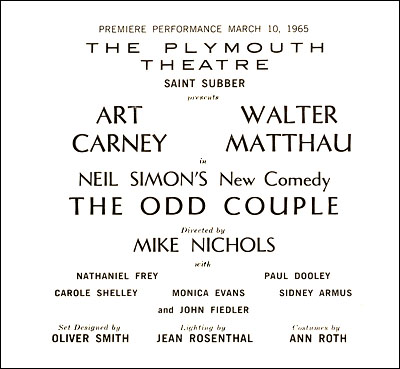 The title page of The Odd Couple Playbill.
In the Playbill, among advertisements for cars (the Oldsmobile Ninety-Eight with "Morrocceen fabrics, walnut-grained paneling," Ford's Thunderbird Special Landau with "'burled walnut' vinyl accents on doors and instrument panel" or Chrysler's Imperial-Vintage (featuring "inlays of rare claro walnut" inside), perfumes, cruises, cosmetics, airlines (TWA, Pan Am or Iberia), cigarettes and plenty of alcohol are full pagers for original Broadway cast recordings of
Goldern Boy, Luv
and
Fiddler on the Roof.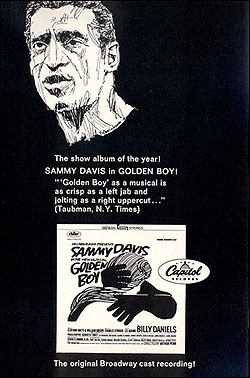 An ad for the cast album of Golden Boy
Editorial featured in the Playbill include a Harold Clurman-penned "French Dramatists of Our Day," a "Playwright as Psychoanalyst" focus on the colliding worlds of drama and science," the signature "Who's Who in the Cast" and "Theatre Quiz" as well as an Al Hirschfeld "unLikely Casting" caricature of Barbra Streisand as Saint Joan and Steve Lawrence as The Dauphin in the George Bernard Shaw classic (accompanied by the actor's reactions: Streisand "sends word that she views this casting as not unlikely at all" while Lawrence quipped he would "be glad to play anything with Barbra — even jacks.")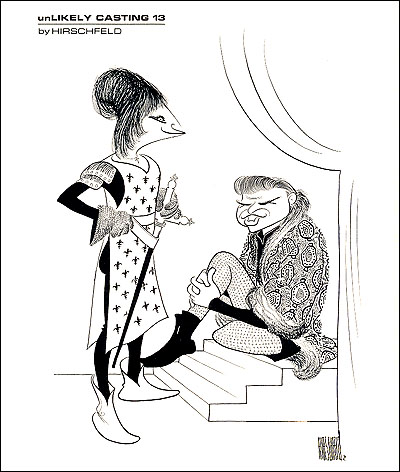 Part of Al Hirschfeld's "unLikely Casting."
Original cast member Carole Shelley — who made her Broadway debut in the work as Gwendolyn Pidgeon — recalled the experience for her and fellow Londoner and Broadway newcomer Monica Evans (Cecily Pidgeon). "We had no idea really how grand it all was going to be. We had heard of Neil Simon, we had met Mike Nichols, we had seen Walter Matthau on film [in "Charade"], but we did not know an Art Carney if we saw him. The irony was, he was the big star." She recalled "The day after it opened on Broadway, [there were] mounted policemen holding back the crowd all the way up to the then Astor Hotel [now the One Astor Plaza office tower] and around [onto] Broadway, it was pretty mind-blowing." [A revival of another play Shelley appeared in,
Absurd Person Singular,
recently opened on Broadway.]
The Odd Couple would lose out for the Best Play Tony Award that season to Frank Gilroy's The Subject Was Roses (which also earned the Pulitzer Prize for Drama), but playwright Simon would took home an honor for the work as Best Author (no longer a category). Tony wins also went to director Nichols (also honored for Luv), scenic designer Oliver Smith and actor Matthau — who would star opposite Jack Lemmon and original co-stars Shelley, Evans and Fielder in the 1968 film. The Broadway run would last 966 performances before ending (then at the Eugene O'Neill Theatre) July 2, 1967. The characters Felix Ungar and Oscar Madison would later endure in a television version which ran 1970-75 and in 1985 would become Olive Madison and Florence Ungar in a female Broadway version starring Rita Moreno and Sally Struthers.