President John Fitzgerald Kennedy learns of the Soviet Union's construction of missile launching sites in Cuba. Johnny Carson just took over hosting duties on "The Tonight Show," Marilyn Monroe passed away two months ago and earlier this year "West Side Story" won the Academy Award for Best Picture. The cost of a postage stamp will run you 4¢. You're back in 1962.
On Broadway, the new season opened last month with Ronald Millar's play The Affair followed by the end of the long-running (6 1/2 years) musical My Fair Lady and the opening of the new Leslie Bricusse-Anthony Newley musical Stop the World - I Want to Get Off. A young playwright, known for his short play The Zoo Story, makes his Broadway debut with his first full-length work.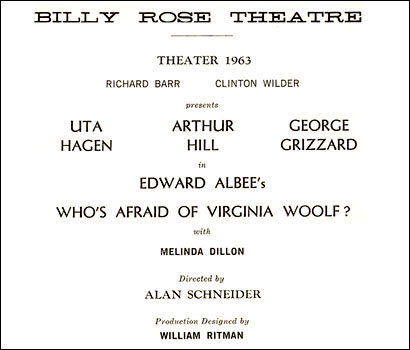 The title page in the Who's Afraid of Virginia Woolf? Playbill.
Actors Uta Hagen, Arthur Hill, George Grizzard and Melinda Dillon star as two couples in Edward Albee's
Who's Afraid of Virginia Woolf?
which opens Oct. 13 at the Billy Rose Theatre on Broadway. Alan Schneider directs the new work which finds a young professor and his wife as guests in the house of a colleague George and his wife Martha for evening of drinking and more than stirring conversation.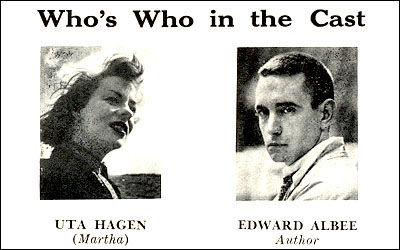 Uta Hagen and Edward Albee's headshots from the "Who's Who."
In the Playbill, advertisements for cars ("Luxurious leather-trimmed bucket seats" of the Oldsmobile Starfire or the Buick Riviera's "costly look of international sports cars"), perfumes, cruises, women's fashions, cigarettes and plenty of alcohol are layed out among full-pagers for the original cast recordings of Richard Rodgers'
No Strings
and multiple Columbia Records albums.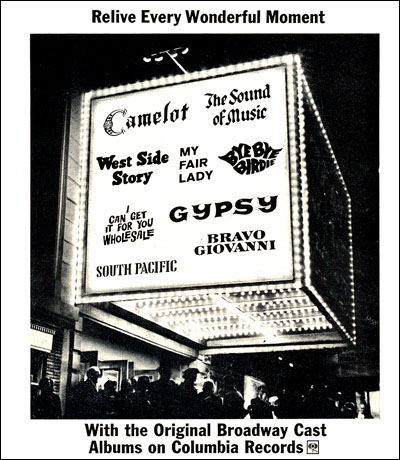 An ad for Columbia Records cast albums.
Editorial featured in the Playbill include a "Be An Angel" article on financial investing in Broadway shows, the signature "Who's Who in the Cast," a Robert S. Kane-penned "Traveltalk" feature on the American-Asian exchange, the traditional Dining Guide and a photo-focus on the upcoming production of the Irving Berlin musical
Mr. President.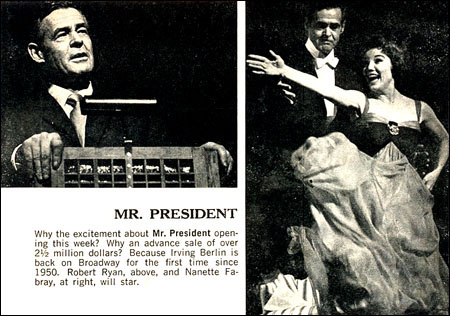 Part of the Mr. President feature.
According to theatre historian and Playbill archivist Louis Botto, the work "sent shockwaves through Times Square." Some critics lauded the more than three-hour work while others were wary of its portrayal of marriage. "Some writers claim that it was written not for two married couples, but four homosexuals."
The groundbreaking play — which would later become the 1966 Mike Nichols directed film starring Elizabeth Taylor and Richard Burton as the combative couple — would go on to outshine any other play the rest of the season, winning Tony Awards for its stars Hagen and Hill, director Schneider, producers Richard Barr and Clinton Wilder (a since-defunct category) and as Best Play.