*
The perennially chipper and boyish actor John Davidson, who played "The Boy" in the 1964 "Hallmark Hall of Fame" TV production of The Fantasticks, has returned to the long-running little musical. Now 70, believe it or not, Davidson has taken on the role of Henry Albertson, the "Old Actor," in the Off-Broadway production at the Jerry Orbach Theatre in midtown's Snapple Theatre Center. (He played the role June 1-16 and takes the part again July 30-Sept. 2.)
Davidson won a 1965-66 Theatre World Award playing Curly in a City Center revival of Oklahoma! His diverse credits include Disney movies "The Happiest Millionaire" (1967), "The One and Only, Genuine, Original Family Band" (1968) and, oddly, "Edward Scissorhands" with Johnny Depp, in which Davidson played the TV host. Davidson also competed for long stints on TV game shows, notably "Hollywood Squares," and has released a dozen albums of country and pop songs.
Davidson was last seen on Broadway in 1996 playing the father in Rodgers and Hammerstein's State Fair.
The Old Actor is one of the more mysterious characters in The Fantasticks. He's one of two broken-down old performers El Gallo hires to help him stage his "Abduction" of The Girl, Luisa, to help end the fake feud between the two neighboring families that has been engineered by the two fathers as a scheme to trick the children into falling in love. He and his Indian partner Mortimer, "The Man Who Dies," seem to be the last survivors of a defunct theatrical troupe. The Old Actor reappears as the mysterious Ludovigo, to tempt The Boy, Matt as he sets out to experience the real world. "See me — in light!," implores the ragged superannuated thespian, and Davidson is asking audiences to do the same.
You have a special connection with The Fantasticks.
John Davidson: Yes. Forty-eight years ago I played The Boy in the "Hallmark Hall of Fame" TV adaptation of the show, which had Ricardo Montalban as El Gallo, Susan Watson as The Girl and the two fathers played by Bert Lahr and Stanley Holloway. Ironically, they eliminated the role of the Old Actor and The Indian and kind of combined them with the fathers. I know there are a lot of things that [lyricist/librettist] Tom Jones didn't like about the TV adaptation. It lost a lot of the fantasy. For instance, there was a real wall between the two houses, instead of just a stick, the way it was done on Sullivan Street [Off-Broadway's Sullivan Street Playhouse].
Lyricist-librettist Tom Jones still spends a fair amount of time around the production. Did you have chance to discuss the part with him? Did he give you any special insight into the character? He did, after all, originate the role (under the stage name Thomas Bruce).
JD: Tom actually directed me when I took over the role [in June]. He asked me if I thought Henry had ever really been a great actor, or if he never was great. I said I thought Henry had never been that good. But Tom said, "You're wrong. I like to think he was once indeed a great actor who had just gotten old, and probably hasn't had a job in a long time." That was something to think about.
Tom came in and directed me, and he helped me an awful lot. I think I was getting into the trap of self-pity a little bit, and he helped me get away from that. It reminded me of when I played Curly in the 1965 production of Oklahoma! at the City Center. Susan Watson was in that, too, playing Laurey. Richard Rodgers came in and directed us personally. It was a huge thrill to be able to get it from the horse's mouth. He was so meticulous. In "Surrey With the Fringe on Top" he told me I was slurring "chicks and ducks and geese better scurry." It's supposed to have the crisp rhythm that matches the clip-clop of the horse pulling the surrey. I was very impressed at how much he cared about every detail. Tom Jones is the same way.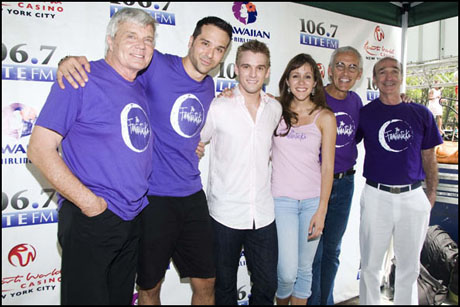 photo by Monica Simoes
What's it like making your entrance in The Fantasticks "from out this box," a big prop box beside the stage?
JD: I hate that damn box. It's smaller than it was at Sullivan Street. It's made for a smaller Henry than I, and I'm scrinched in there with the Indian, and we have to get in and out three times during the show. Waiting for our cues is an interesting problem, but when I come up, I have to be ready to be Henry.
Still, that first moment of being Henry is my favorite moment in the show. The biggest thrill of appearing in this production is the thrill of being under lights again — the joy that every actor feels when he get his with that spotlight. Standing on that box in the spotlight and saying, "Sir, the players have arrived!" is still a thrill. I'm 70 now and just to have a job back in the theatre in New York is a thrill. To paraphrase Henry, there are no small theatres — only small actors. I also do love playing the fop in Act Two. Putting on the makeup and bamboozling this young kid. I imagine him as a bright-eyed young John Davidson — naive and not street wise, the way I was when I came to New York in late 1963. I see a lot of me in him.
You grew up in White Plains, NY, and went to the same high school as Rent composer Jonathan Larson. Is there something especially theatrical about that school?
JD: Not for me. In White Plains I wasn't theatrical at all. I was a model and I used to take the train into New York three days a week to do travelogue work. It wasn't until I went to college that I met the theatre people and began to admire them because they were learning a trade that was guaranteed to make money! [Laughs.]
You've traveled all over the U.S. performing in regional and road productions of classic musicals. Do you have a favorite role?
JD: I loved playing Harold Hill in The Music Man,, but there is no question that my favorite of all time is Don Quixote in Man of La Mancha [which he performed at the Surflight Theatre in Barnegat, NJ, June 19-July 8, with Heather Provost as Aldonza]. The challenges of playing Don Quixote is making it real. He's obsessed with changing the world.
You've had a chance to work with some incredible older actors over the years, Bob Hope, Bert Lahr, et al. Did you model your Old Actor on any of them?
JD: Working [on The Fantasticks and the 1964 Broadway musical Foxy] with Bert Lahr [the vaudeville and Broadway comedian best known as the Lion in "The Wizard of Oz"] was an amazing experience. I would watch him from the side of the stage constantly. He was a really improvisational actor and never gave the same performance twice. He was a major star and always so funny on stage, but I never saw him happy offstage. He was always brooding. I'm like that too sometimes. People think of happy-go-lucky John Davidson on the talk show "Hollywood Squares," but I'm a worrier too. He [Lahr] never seemed to be happy with his own performance, but he was always very supportive of me. A lot of old actors tend to direct other actors in scenes and he never did that. The closest we ever came to that was in one scene where I was supposed to hit him, and he taught me how to throw a stage punch. He knew what he needed, but he didn't try to direct. But to answer your question, no, I'm not really basing my Old Actor on any one performer. I just play someone who has a lack of being able to see clearly or move easily, but someone who needs the job and is just trying to manage to go on and kind of do his best. It's like me. I'm 70 and I've never worked harder in my life.
(Robert Viagas is editor of "The Playbill Broadway Yearbook" series and founder of the news section of Playbill.com. He is author or editor of 16 books including "The Amazing Story of The Fantasticks." His latest book is "Scales To Scalpels: Doctors Who Practice the Healing Arts of Music and Medicine." Write to him at rviagas@playbill.com.)