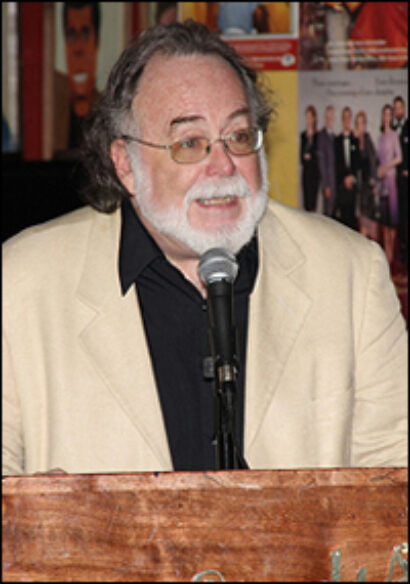 *
Playwright Mark St. Germain knows how to put words in the mouths of famous people. In Camping With Henry and Tom, one of his best-known plays, he animated the historical figures Henry Ford, Tom Edison and Warren G. Harding. His long-running Off-Broadway play Freud's Last Session features a conversation between Sigmund Freud and C.S. Lewis. Now he's back at it with Dr. Ruth, All the Way, a biographical play about the famous sex expert, which is playing a world-premiere engagement at Barrington Stage Company's second stage (the same place where Freud began; the writer is an associate artist there and the venue is newly called the St. Germain Stage), with Debra Jo Rupp ("That 70's Show") as Dr. Ruth Westheimer. Next up for the playwright: a confab between Hemingway and Fitzgerald. Playbill.com talked with the man who may be America's premier biographical playwright.
For your new play, did you interview Dr. Ruth?
Mark St. Germain: Oh, yes. The idea really came from her coming to see the play Freud's Last Session. She went several times, got friendly with the actors, particularly Martin Rayner. He started to learn more about her and got fascinated. He said, "You really have to meet her." When I read her autobiography, there was so much about her I had no idea about. I asked her if she would be interested in allowing a one-person play to be done. We've actually worked closely on it.
Does she live nearby?
MSG: She lives in Washington Heights. She's lived there forever.
Is she really interested in Freud? Is that why she came to your play so often?
MSG: I think so. I think that's what drew her there. She's been six times and done some talk-backs with us. How often did you interview her?
MSG: We spent a lot of time together, actually. She's involved in so much. She's out all the time, going to functions. I've gone along with her sometimes. It's turned into a friendship.
Did she attend rehearsals?
MSG: No. She said at the beginning that wasn't going to interfere with something she didn't know anything about. One thing she did do is she asked me to read the script to her.
She asked you to read the play to her?
MSG: You sound incredulous, and so was I.
Usually people want to read the script, but not want to have it read to them.
MSG: I asked, "Can we please get an actress?" She said, "I want you to read it." I sat across the table from her and stammered through it. She listened to it. The comments she gave were only factual. She enjoyed it. She didn't in any way interfere with the process of doing this play.
So the play has Dr. Ruth, played by Debra Jo Rupp, speaking to the audience?
MSG: Yes. Dr. Ruth loves the theatre. She goes constantly. She has gone to The Phantom of the Opera I don't know how many times. She even asked herself, "Why have I gone so many times?" She said in a conversation, "I guess I think if I don't go to see it, I'm afraid it will go away." So, the play is from the perspective of her moving out of the apartment she's lived in all of her third marriage, with the theatre coming to her instead of her going to the theatre.
Is there of any talk of making a film out of Freud's Last Session?
MSG: There is talk. I'm actually going to deal with that after this production is over. Right now, it's a little overwhelming.
Are there hopes that Dr. Ruth will come to New York?
MSG: Yeah, I really hope so. What was so nice about about Freud is the Barrington production was just brought right into to New York. With this, technically, it would be a little more difficult.
You're on a biographical streak here, aren't you? But you've done that in past plays.
MSG: I have in the past. The next one is biographical as well.
What is it?
MSG: It's a commission from Contemporary American Theatre Festival. It'll be about the last meeting that F. Scott Fitzgerald and Ernest Hemingway had.
I know the two writers met up often during their Paris years. What was their last meeting like?
MSG: They had a very complicated relationship.
They were what we would call "frenemies" today.
MSG: Exactly. This would be slightly before Fitzgerald's death. Hemingway did come to Hollywood, but only to show a documentary he did. And he despised Hollywood. So I'm sure he ripped Fitzgerald in half for wasting his talent there. But Zelda was in an institution by then, and his daughter Scottie was in school, so Fitzgerald needed money.
Does it have a title?
MSG: Scott and Hem in the Garden of Allah.
You have a theatre named after you at Barrington, up in Pittsfield, MA, now. How did that happen?
MSG: That's a good question. Number one, I should be dead. It was really a very big surprise. The Blatts — Sydelle and Lee Blatt — who have been big supporters of the theatre, were generous, and made terms on how they would give this new theatre building to Barrington Stage. They wanted the Stage 2 named for me. I still can't believe it.