"Free will or destiny? What is my belief?" Jake Gyllenhall pondered at the opening-night party for Constellations, the new Broadway play by Nick Payne that bowed Jan. 13 at the Samuel J. Friedman Theatre. "I think that is the best discussion. The age-old discussion is free will and destiny."
"Stars" were abuzz (both the celebrities and the spherical objects in the night sky) as the curtain came down around 8:30 PM at Manhattan Theatre Club's Friedman. After all, the new hour-long play leaves its audiences with questions about chance, choice, free will, destiny and the concept of the multiverse — an infinite realm of being or hypothetical set of possible universes that comprise all of existence.
Roland, a beekeeper played by Academy Award nominee Gyllenhaal, and Marianne, a quantum physicist embodied by Ruth Wilson (the two-time Olivier Award winner who recently took home a Golden Globe and happened to be celebrating her 33rd birthday on the same night as her Broadway debut) meet. And meet again. And again. The possibilities of their future are played out over and over again in the multiverse, where new actions cause different reactions and varying circumstances provide alternative outcomes.
David Ives' Sure Thing (from All in the Timing, his collection of one-act plays) meets Tom Kitt and Brian Yorkey's If/Then in Constellations. Choice determines outcome, and events are replayed in front of theatregoer's eyes, leaving audiences thinking, "What if?" In Constellations, however, playwright Nick Payne tacks on the concept of multiple universes — where fate, itself, can change depending on where the constellations lie. Gyllenhaal continued, "I think that the idea theoretical physicists have about multi universes is fascinating, conceptually. In terms of mapping the universe, I think it's interesting. In terms of the choices we make and why we make them and where we end up in our lives, I think it's the question. It's really the only question, and I love being able to be up there every night asking it. There are not many plays that allow you that, and this one does — not only every night, almost every minute."
Director Michael Longhurst, who makes his Broadway debut alongside the whole team — Gyllenhaal, Wilson and Payne — said, "I think we've all got a 'What could have been-What might have been-What should have been' instinct. That's just human, isn't it, because we examine our choices…? Whether the multiverse is true or not doesn't really affect me. I can't access those worlds. I've only got this moment that I'm living in now, and I think what the play makes you do is celebrate that moment. The act of loving [and] the act of losing someone is huge, and that's the most precious thing. I think the play is a celebration of that."
Celebrations were plentiful at Urbo, the new (and extremely chic) Times Square joint that recently took up shop at the corner of 42nd Street and 8th Avenue — where the Constellations gang toasted to opening night. Wilson, the evening's star, was celebrating quite a lot.
"What time is it?" she asked at 10:18 PM, before giving her Playbill.com interview. "I'm just seeing what time it is, so I've got time to drink!"
Wilson was last to the pressroom, seeing as how she had to get glammed for her birthday/opening-night/post-Golden Globe-win party. And, she admitted to being a bit nervous, seeing as how all of her Showtime show-people from "The Affair" took up a whole row in the theatre. However, she appeared to be completely at ease, as if she found a new home in New York City.
"I've got some friends here, but not that many," she told Playbill, explaining that she's become rather close to her Constellations co-star over the last month or so. After her Golden Globe win, she explained that she "had to go and do press just like this, but then I eventually found [Jake Gyllenhaal] in the shadows… We were dancing — bare feet — with his sister… His sister is lovely. His whole family has been amazing to me. They've really welcomed me in because I'm here on my own in New York… They've been amazing. They're a brilliant family."
Although the two didn't get too personal with press at the party, it's been rumored for a month that they are more than just co-stars. Headlines in the Daily Mail, Page Six, E Online and more reveal that the two have been "Cozying Up" to one another both on and off the stage, and on opening night, they couldn't speak highly enough of each other. "We didn't know each other beforehand. I met her when we read together for this show, and she is just extraordinary," Gyllenhaal explained with a smile. "She does not suffer fools and is a real beast on the stage and can handle me, and I can handle her. I sometimes think maybe we can't, and that's always the best part, when you're like, 'Wait, can I handle this?' She's challenging me constantly, and I just think she's amazing. I love working with her… In terms of being up there with her and seeing the choices that she makes… I really, honestly, couldn't think of a better partner. It's just great fun, which in terms of work, is what you wish for."
As for Wilson, she said, "He knew from the outset, when he was offered the job, when he decided to do the job, he needed to find someone who he could have that banter with but also that deep trust with… You have to jump from one thing to the other, and you have to be so trusting of each other to go somewhere. If I throw something new at him, he's going to take it and run and throw it back. It's the game of tennis, and it's really quick and fluid, so it's essential that we had that trust. It's essential that we understood each other — that we got on — and he's been amazing at that and demanded truth. He demands truth all the time. It's funny because coming from being in 'The Affair,' and coming up here, I [thought], 'I just want to be free and a bit of a goofball on stage.' I go for truth all the time, but I have never met anyone who has really asked more truth from me, which is interesting. It's been a fascinating process, and I love that in a way. He keeps challenging me every day! I'm like, 'Wait! Let it go!' But he's like, 'You want to make it better and deeper and more sublime,' and that's brilliant."
Director Longhurst admitted, "It's not easy casting a quantum physicist in a rom-com, and you need someone who is formidably bright and playful and fun, and Ruth is all of those things. I went to University with Ruth, and we [worked on] a student play 12 years ago. We were trying to find someone with great chemistry with Jake, and when they read together, it was very clear that was the case. It was thrilling that they could go on that journey together."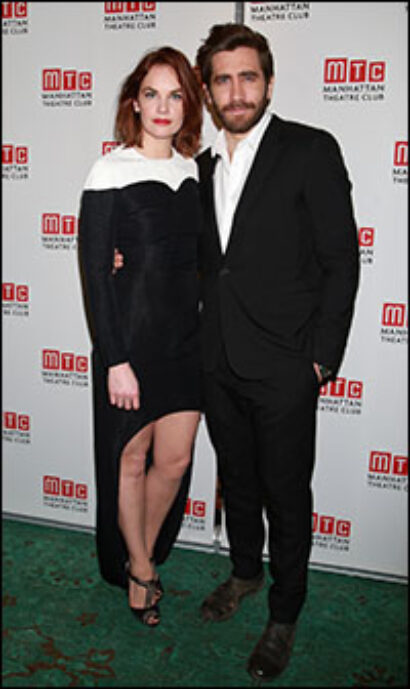 The journey through the multiverse could be complicated. Roland and Marianne continually act, react and rewind as their relationship and their story unfolds. At times, the audience sees their future, backtracks to their past and are jolted to random moments in time.
"We did it mathematically at first," Gyllenhaal explained. "We broke each scene up numerically, and then each universe in each scene numerically, so it was mathematical and scientific. And then we would do stuff where we would make intentions very clear throughout the universes… We'd make very broad choices…so we knew where we were, and as we've gone along and as we've honed it in, we've tuned it down. All of them were at ten at a certain point, and now they all have different dials. Every night we change it, but really it's become more real, and as the transitions — which happen all the time — become more in your bones and more unconscious, I think it allows for more space…"
Playwright Payne said, "It's very complicated. I think when I wrote this show a few years ago, I was maybe a bit more romantic and optimistic than I am now, but in a way, I don't really believe in free will, particularly. I think everything is going to happen, and it's already been laid out…but I find that quite soothing. I'm quite happy operating under the illusion that I feel like I have choice and agency, [but] I don't. I feel quite relaxed about that. It really calms me because it doesn't matter what I do — it was always going to be that way — so I feel quite relaxed."
According to Payne's standards, it was serendipitous that the team — who previously collaborated with Longhurst and Gyllenhaal on the American premiere of If There Is I Haven't Found It Yet — would make their Broadway debuts together.
Director Longhurst is "elated," he said, "that the work everyone has put into this — the full creative team, the actors, MTC, the Royal Court — to get us here, and to watch [Ruth and Jake] grow in dexterity and subtlety and playfulness on stage. They are owning and mastering the play, and I'm pleased that they have reached a pinnacle of doing that at this moment." As for Gyllenhaal's big Broadway moment, "It's a real honor to not only think of the people who have graced that stage, but just the figurative idea of Broadway in general. I'm sure you've heard that a million times, but it's true. Clichés are clichés for a reason."
And, in the realm of Constellations, everything happens for a reason — even if that reason is unexplainable.
(Playbill.com staff writer Michael Gioia's work appears in the news, feature and video sections of Playbill.com as well as in the pages of Playbill magazine. Follow him on Twitter at @PlaybillMichael.)