From Broadway newcomers to familiar faces in monumental moments, here are performers who stole the spotlight this season.
*
Saul Williams in Holler If Ya Hear Me
Slam poet, actor, singer and musician Saul Williams made his Broadway debut as John, the character at the center of the Tupac Shakur-scored musical Holler If Ya Hear Me. "I'm such a Tupac fan beyond his music, but of his spirit, too," said Williams, who effortlessly shifted between performer and rapper in Holler. "To me, Tupac is the Rambo of, I wouldn't just say hip-hop, but of American poetry. And I think that in terms of what [Jean-Michel] Basquiat may represent as the visual artist of the hip-hop world or aesthetic, I think that Tupac is the sonic equivalent of that." A poet himself, Williams seemed the perfect choice to convey Tupac's music to Broadway audiences.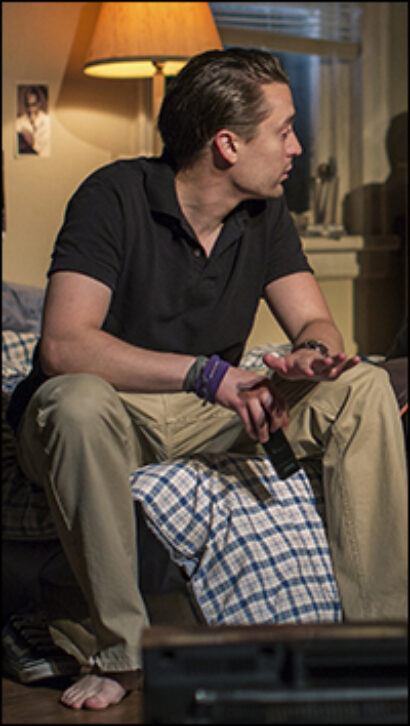 Kieran Culkin in This Is Our Youth
Kieran Culkin so brilliantly depicted the helpless Dennis in Kenneth Lonergan's bittersweet and moving comedy. Watching him, audiences felt so acutely the awkward threshold of adulthood that we all must pass through: that sense of having not yet found ourselves or the confidence to be who we really aspire to be. His performance was subtle yet impacting and despite his dysfunctional nature, we empathized with him.
Alex Sharp in The Curious Incident of the Dog in the Night-Time
Months before making his acclaimed Broadway debut, Alex Sharp was studying at New York's prestigious Juilliard School. He got his audition for Christopher John Francis Boone, the socially off, mathematical savant at the center of the story, through a friend and was cast in the starring role soon thereafter. In his first interview for print, he told Playbill, "To be on Broadway — it's sort of otherworldly. I don't really know because I have never done it, so I have no idea what it's going to be like, but I'm super excited. Broadway seems like this foreign land of dreams." Since making his debut, Sharp has been praised for his performance, which has both extreme physical and mental demands, and been spotted all around town — hosting high school competitions and on the red carpet at various press events. Thus far, he's received Outer Critics Circle, Drama League and Drama Desk nominations for his work.
Micah Stock in It's Only a Play
Micah Stock ran away with the show in It's Only a Play — an ambitious task for the only newcomer in a show chock full of celebrities! He plays coat-check boy Gus in the Terrence McNally comedy, headlined by Nathan Lane and Matthew Broderick, and makes a splash within the first ten minutes — in which he solely interacts with Lane and keeps jokes coming one after the other. How does he do it? "You're supposed to paint outside the lines, and the director is the editor," he said in the Playbill magazine feature on our favorite scene stealers. "I got a note once — the director was going through a note session [and] goes, 'Micah, I just have written: 'No.' So whatever that means to you." But, in It's Only a Play, he's found the perfect balance — every reviewer seemed to remember Stock's performance without it being too over the top.
Alysha Umphress in On the Town
Alysha Umphress' show-stopping performance as Hildy in On the Town was a season highlight. The chemistry between her and co-star Armstrong Johnson (as Chip) was sizzling — especially when she sweeps him up in her taxi to take him home — but not as hot as her singing "I Can Cook, Too." Her deep, soulful voice echoes such jazz greats as Ella Fitzgerald and Dinah Washington who inspired her most recent album, "I've Been Played: Alysha Umphress Swings Jeff Blumenkrantz."
Rachel Tucker in The Last Ship
Rachel Tucker, who has been seen in the U.K. in We Will Rock You, Farragut North and Wicked, made her Broadway debut earlier this season in the short-lived Sting musical The Last Ship. The Belfast native played Meg Dawson, a barmaid in northeast England who must choose between two loves, and she thoroughly impressed with her smoky, lush alto, her down-to-earth charms and her heartfelt performance.
Erin Davie and Emily Padgett in Side Show
Erin Davie and Emily Padgett took on the roles of a lifetime in the short-lived 2014 Broadway revival of Side Show. Overhauled and deepened since its 1997 premiere, fans were eager to welcome Violet and Daisy Hilton back to Broadway. A rave review from the New York Times said that "the voices of Ms. Davie and Ms. Padgett unite in exquisite, heart-rending harmony," while the Hollywood Reporter added, "Davie and Padgett simply couldn't be better... Their performances are both symbiotic and beautifully individualized."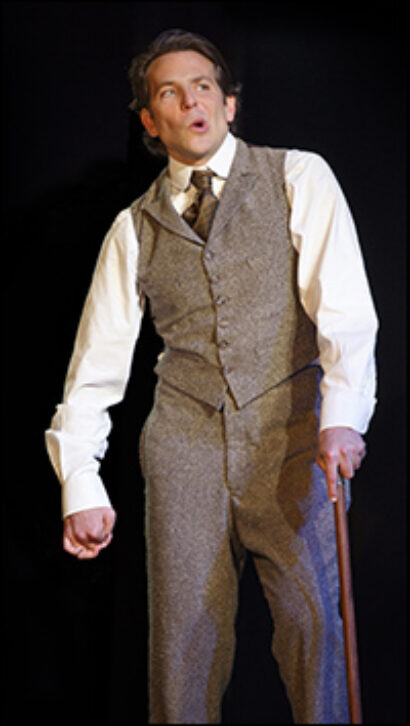 Bradley Cooper in The Elephant Man
Oscar nominee Bradley Cooper scored big in Broadway's The Elephant Man. The actor played John Merrick and offered one of the most transformative performances of the season. Within the first few minutes of the show, Cooper molded his body into the disfigured Merrick, and audiences soon forgot about the artist behind the "elephant man." Cooper said of the transformation, "I go away and he goes in. There's not one thing similar about us, so my brain goes, 'Oh, that's Merrick in here now.'"
Theatregoers had the opportunity to fall in love — again and again and again, all in the course of 75 minutes — with Ruth Wilson when she made her Broadway debut alongside Jake Gyllenhaal in Constellations. A two-time Olivier Award winner, Wilson conveyed the passion and vitality of her character, a physicist who falls in love with the beekeeper Roland. The play, which explored the different ways conversations and encounters could progress due to the slightest difference, showcased Wilson's many talents, including the actress' chemistry with Gyllenhaal was nothing short of combustible.
Larry David in Fish in the Dark
In his Broadway acting and playwriting debut, Fish in the Dark, Larry David delivers what his fans had hoped: laugh after laugh after laugh. The uncommonly tall and slim actor has crafted a tale that brings together comedic elements — family squabbles, adolescent adults and overbearing parents — that please even the most ardent fans of his two megahits, "Seinfeld" and "Curb Your Enthusiasm."
The Porters in On the Twentieth Century
Phillip Attmore, Rick Faugno, Drew King and Richard Riaz Yoder are the tap-dancing, show-stopping porters in the Broadway revival of On the Twentieth Century. When leading lady Kristin Chenoweth isn't dazzling audiences, these guys are serving up old-school Broadway charisma with their series of slick dance interludes choreographed by Tony Award winner Warren Carlyle.
How does Steven Boyer so effortlessly play both person and puppet simultaneously in Hand to God? "While Jason's talking, Tyrone is listening and reacting, and while Tyrone is talking — convincing Jason — Jason is doing the same. One character has to be making the argument while the other is taking it in and considering," he told Playbill magazine. "Every thought that you see pass over Jason's face, Tyrone has to be equally as active, and you have to see the puppet thinking, which is strange because the puppet's face doesn't actually move." In his star-making turn as Jason and Tyrone, which he has been playing since Hand to God's early workshops, audiences forget that the puppet on his hand is not real. The devil puppet takes over Boyer's voice, mannerisms and body language as soon as it opens its furry mouth!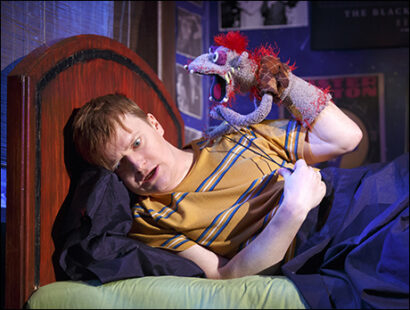 Corey Cott in Gigi
Although Corey Cott rose to "fansie" fame during his time in Broadway's Newsies, he's got a role all of his own (the handsome Gaston Lachaille) in the Main Stem revival of Gigi — a part that fits seamlessly into his legit wheelhouse. He proves to be a dashing leading man and soars in his second-act ballad "Gigi." Plus, he delivers as much star quality as his leading lady, "High School Musical" actress Vanessa Hudgens, and their chemistry is spot on.
Appearing in Wolf Hall, the two-part British history drama adapted from Hillary Mantel's historical novels, Nathaniel Parker portray Henry VIII, the King of England famed for his obsession with a male heir and his many wives. While Henry VIII is reviled by many for his methods of disposing of one wife when he decided to take another, Parker, who won an Olivier Award for his performance in London, managed to depict the King's internal turmoil as he fought against politics, religion and tradition in order to do what he thought was right for England.
Robert Fairchild in An American in Paris
It's strange to talk of Robert Fairchild as a "breakout" performer on Broadway. After all, the guy who is melting hearts as American artist Jerry Mulligan in An American in Paris is already not just a star but a veritable quasar in the world of dance, as a principal at New York City Ballet. But Fairchild is displaying the same graceful, masculine charisma in his dialogue scenes, love scenes and his songs as he does in the musical's bounty of ballets to the orchestral music of George Gershwin. He pays tribute to the style of Gene Kelly, the Broadway dancer who starred in the classic original (1951) film version, on which this musical is based. But at the same time, Fairchild's square chin, massive shoulders and intrinsic sweetness makes you forget Kelly and dissolve into his conflicts in the classic love story. And what more can you ask of a Broadway leading man?
Leanne Cope in An American in Paris
Leanne Cope may be making her Broadway debut in An American in Paris, but she's no stranger to the stage — or to stardom. The saucer-eyed, long-limbed gamine has already been First Artist of the Royal Ballet in London, and already created half a dozen roles for that company. But she is now re-creating the role of Lise Dassin in An American in Paris, stepping into the toe shoes of Leslie Caron as the young ballerina who beguiles and inspires the artist leading man (played by fellow dancer Robert Fairchild) and his two rivals in the classic story. She proves to be a potent triple-threat in the musical. We knew she could dance, but now we know she can act and even break hearts with her singing of Gershwin classics. Small wonder she's starting on Broadway near the top, joining the ranks of Zizi Jeanmaire, Natalia Makarova, Tamara Geva, Gelsey Kirkland, Vera Zorina, and other ballerinas who crossed over to Broadway stardom.
Lisa Howard in It Shoulda Been You
Playing Jenny, the eternally patient maid of honor and sister to the bride in the musical comedy It Shoulda Been You, Lisa Howard delightfully surprised many audience members by not only stealing the show but taking the last bow at curtain call. Starring alongside Broadway veterans and Tony winners Tyne Daly and Harriet Harris, Howard's performance as the plus-size, picked-on Jenny showcases her strong acting and singing skills (especially in the show-stopping number "Jenny's Blues"). "That's what you dream of and envision, I think, when you decide that you want to do this," Howard told Playbill.com about her career as an actress. "I knew I was never your typical chorus girl, so doing a role like this was the goal. I did envision it. I'm just glad I'm having this opportunity."
As the ill-fated Tuptim in Lincoln Center Theater's gorgeous revival of The King and I, Ashley Park demonstrates a beautiful soprano that simply soars on Rodgers and Hammerstein's "We Kiss in a Shadow." She also brings heartbreak and passion to the role of the young slave girl who loves not the King but the doomed Lun Tha (Conrad Ricamora).
It's nearly impossible to take your eyes off Sydney Lucas, who at only 11 years old, delivers a nuanced performance full of conflict, astonishment and self-awareness as Small Alison in the new Broadway musical Fun Home. She walked away with some of the strongest reviews of the 2014-15 Broadway season after becoming the youngest actress to win an OBIE Award for the 2013 Off-Broadway premiere of Fun Home. It's not surprising Lucas counts Meryl Streep among her inspirations. "I completely admire everything that Meryl Streep does (but who doesn't?) and want to be just like her some day (I mean now!)." Read the full Cue & A with Lucas here.
Michelle Veintimilla and John Riddle in The Visit
Michelle Veintimilla and John Riddle are haunting scene stealers in Kander and Ebb's The Visit. Embodying Young Claire and Young Anton, the two shadow Chita Rivera and Roger Rees as the veteran actors recount love, loss and betrayal. Veintimilla and Riddle make impressive Broadway debuts. The smooth-voiced Riddle will leave the romantic ballad "You, You, You" swirling through your head, while Veintimilla's pas de deux with Rivera (which the New York Times called "the most affecting of all") will leave even the most revenge-hungry among us a little teary-eyed.