*
When you think of "contemporary musical theatre writers," who comes to mind? Jason Robert Brown, the Tony Award-winning composer of Parade, The Last 5 Years, Songs For a New World and 13? The late Jonathan Larson, whose Tony and Pulitzer-winning rock opera Rent changed the face of contemporary theatre? Lin-Manuel Miranda, whose varied Latin styles won him a Tony for In the Heights? Amanda Green, the lyricist of Bring It On, High Fidelity and the coming Hands on a Hardbody? How about Tom Kitt and Brian Yorkey, whose Next to Normal told the tale of mental illness with pulsing rock? Playbill is about to change your view of what's "new."
Much like Brown, Kitt, Yorkey, Green, Larson and the other Broadway composers who fall on the wide spectrum of contemporary music theatre, there is a rising community of non-Broadway songwriters who use pop and rock to tell provocative, boundary-pushing stories. And, like those who came before, their songs are starting to be sung by up-and-coming voices in the Broadway community.
Although the newcomers' songs have not been heard on Broadway, there is evidence of their work everywhere. Their music is brought to life at New York City nightclubs such as Joe's Pub, (le) Poisson Rouge and Birdland, developmental spots like Ars Nova, on songwriter websites and internet platforms like YouTube. Their work is being developed in New York and around the country, their music is materializing on iTunes and fans are demanding their sheet music.
Playbill.com reached out to a handful of songwriters or songwriting teams — those yet to debut their work on Broadway — whose music is slowly making its mark on American Musical Theatre. In this multi-part series, meet the songwriters you should know, who dish on their musical influences, projects in development and share a few of their favorite tracks. (We've also linked to some YouTube clips as well.)
Composer-lyricist Ryan Scott Oliver, a 2009 Jonathan Larson Grant recipient and a 2008 Rodgers Award winner, describes his sound as "dark, twisted, intricate and fun," which is especially evident in his recently released "musical exhibition" 35mm. Oliver explained, "If Quentin Tarantino and Tim Burton had a baby, and that baby wrote music, I would hope that what I write would sound similar to that baby's music." 35mm, a work inspired by the photography of Matthew Murphy, was seen earlier this year at Brooklyn's Galapagos Art Space. It tells stories of a blood-thirsty Prom Queen nominee ("The Ballad of Sara Berry"); a nightwalker's love affair with her vampire-like admirer ("Twisted Teeth," performed here by Spring Awakening veterans Emma Hunton and Matt Doyle); and a trip to "Crazytown" (performed here by Alex Brightman, Jay Armstrong Johnson, Natalie Weiss and Lindsay Mendez), a mystically risqué place inspired by the lands of Wonderland, Oz, Narnia and Neverland.
His other works include the award-winning Mrs. Sharp, based on the uncomfortably true story of the 1991 teacher-student sex scandal and murder trial surrounding Pamela Smart (Check out "What I Wouldn't Do For You" performed by Brightman); Darling, which follows teenager Ursula Morgan, who leaves town with a boy on the run and is swept into the seedy underground (check out "Lost Boy" also performed by Brightman); and Jasper in Deadland, in which 16-year-old Jasper travels into the afterlife to retrieve his best friend. Currently in Chicago, Oliver is at work on The Frog Prince, Cont., a project commissioned by the Emerald City Theatre, plus a completely new work commissioned by Broadway Across America that he is "so passionate about [he] can hardly stand it," entitled We Foxes.
"As a kid, I was really struck by early and mid-20th century opera and choral literature," said Oliver, whose tracks are often backed by haunting orchestrations. "[Benjamin] Britten's Midsummer [and] Peter Grimes; [Gian Carlo] Menotti's The Medium, Amahl and the Night Visitors [and] A Hand of Bridge (with composer Samuel Barber); [Leonard] Bernstein's Trouble in Tahiti and Chichester Psalms; and [Carl] Orff's Carmina Burana really set a stage for me as a musical dramatist." He said that his style is represented best by "Leave, Luanne," a seven-minute song from 35mm that tells the story about a woman who must find the courage to leave her abusive partner.
Listen to "Leave, Luanne," performed by Johnson, from 35mm:
Listen to "The Ballad of Sara Berry," performed by Mendez, on the 35mm album:
"The Ballad of Sara Berry"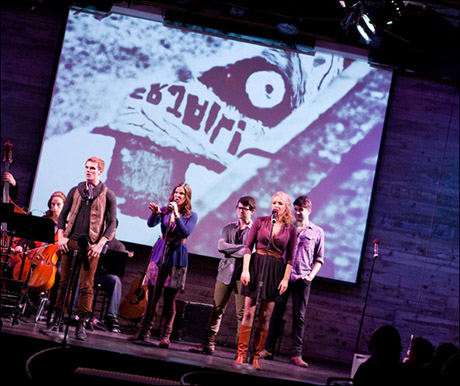 photo by Kevin Thomas Garcia
"My peers inspire [me]," said singer-songwriter Drew Gasparini, an alum of the BMI Lehman Engel Musical Theatre workshop and recipient of the 2006 John Lennon Songwriters Award. "I really love Adam Gwon, Ryan Scott Oliver and anyone who's doing what we are all trying to do — push the art form forward." The art form that Gasparini refers to lives somewhere in between the world of musical theatre and pop/rock — furthering a story with contemporary song. He added that as a songwriter he "strives for progression in the writing" — characters who grow, an arc that goes from A to Z. A perfect example is "Dear Lucy/Dear Tom," two letters performed in song by Spring Awakening's Emma Hunton and Wicked's F. Michael Haynie, from his musical Circles — four separate stories about four separate couples, each with an obstacle to overcome — which he conceived at the age of 19 and is currently in the midst of rewriting.
His other works include Above My Pay Grade, a corporate musical commissioned by Pfizer and Holt Learning; The Up Down ("Disaster," a song from the musical performed here by Hair's Mykal Kilgore, is one of Gasparini's favorites); and Crazy, Just Like Me, which received the 2011 Best of Fest at NYMF Award and will play New Jersey' American Theater Group in early 2013 before a planned Off-Broadway engagement. In development are Turn of the Screw, a twist on the classic Henry James thriller novel of the same name that features a book by Michael Kimmel; and a "rock, serial killer, love story" entitled Make Me Bad, in which he is working with book writer Alex Brightman (Wicked). Here, Dogfight's Lindsay Mendez sings a dark power ballad entitled "Circus" from Make Me Bad. Gasparini is also working on an album, produced by Daniel Benge of The Benge Group, that will feature a collection of his songs.
"Music theatre, to me, has always been appealing because of the evolution of it," he says. "Though some like to complain about how 'new theatre' isn't theatre anymore, I like to say, 'Yes, it is!' Musical theatre is about story, character-driven plots and music. As long as those are incorporated, I think the sky is the limit."
Listen to the title song from Crazy, Just Like Me, another one of Gasparini's favorite songs:
Listen to a demo from the serial killer musical Make Me Bad entitled "I Just Can't Stop":
Jonathan Reid Gealt's debut album "Thirteen Stories Down," released in December 2010, takes the listener through 13 short stories about the ups and downs of love (two of his favorites, "I Am Yours" and "Loveable," performed here by Priscilla Queen of the Desert actress Alysha Umphress), friendship ("My Best Friend," featuring the songwriter alongside Ragtime's Quentin Earl Darrington), self discovery ("Expectations of a Man" and "No Reason at All," performed here by singer-songwriter Katie Thompson) and lessons learned ("Quiet" and "Lessons Learned").
"I'd like to think I can change my sound enough to fit the character and story I'm writing for," Gealt says about the style of his songs. "But overall I probably fit best in the contemporary musical theatre vein with pop and soulful influences." Aside from his musical theatre influences such as Adam Guettel, Jason Robert Brown, Stephen Sondheim, Lynn Ahrens and Stephen Flaherty, the composer also credits Billy Joel, Stevie Wonder and old-school Mariah Carey for the formation of his sound.
Currently, Gealt — a member of the BMI Lehman Engel Musical Theatre Workshop — is developing a musical adaptation of Lyndsay Faye's novel "Dust and Shadow," which pits Sherlock Holmes against Jack the Ripper in 19-century London, with Kasey Marino (book) and Dustin Sullivan (lyrics), scheduled to have a reading in November 2012; working on a second album entitled "Here For You," which will be released as a benefit project for Broadway Impact; adapting Forward, his full-length song cycle, into a screenplay; and developing an original screenplay under the working title of "An Unwanted Vacation."
Listen to "I Am Yours," performed by Ghost's Caissie Levy on the album "Thirteen Stories Down":
Listen to "Quiet," also from "Thirteen Stories Down," performed by Natalie Weiss:
Michael Kooman and Christopher Dimond, recipients of the 2010 Jonathan Larson Grant and the first recipients of the Lorenz Hart Award, allow character and story to dictate the music, lyrics and style of their work. Their 2011 album "Out of Our Heads" includes acoustic sounds in songs such as "Drift," performed here by Tony nominee Jeremy Jordan, and "Out of My Head," songs about getting wrapped up in love; sweeping strings in "Walking Without You" and "Lucy's Laugh"; and light theatrical storytelling in "Random Black Girl," performed here by Tony nominee Patina Miller, and "The Temp and the Receptionist."
"Our strongest influences are probably a strange blend of Kander and Ebb and Alan Menken and Howard Ashman," said the duo, whose works include Dani Girl, the unexpectedly humorous story of a 9-year-old girl battling leukemia, which has been produced internationally (watch "My Hair," performed by Natalie Weiss); Junior Claus, a family-friendly Christmas piece that will play Orlando this holiday season; and Homemade Fusion, a song cycle that features popular songs from their album and more (watch Newsies' Kara Lindsay perform "Sherman and Madeline," a humorous song about a girl wanting much more from her straitlaced boyfriend).
In development are The Noteworthy Life of Howard Barnes, which tells the story of a man who wakes up to discover that his life has become a musical; Orphie & the Book of Heroes, which is slated to premiere at the Kennedy Center; and Golden Gate, which was commissioned and developed by the Williamstown Theatre Festival. "We plan to continue to write musicals that tell stories we're passionate about," said Kooman and Dimond. "Ideally, we would love to continue to push the boundaries of the form, to help to fully realize the infinite range of stories that can be told through musicals."
Listen to "Out of My Head," performed by Weiss, from the "Out of Our Heads" album:
Listen to one of Dimond's favorites "Lost in the Waves," performed by Anderson Davis (Les Misérables), from "Out of Our Heads":
Composer Scott Alan burst onto the theatre scene in 2007 with his debut album "Dreaming Wide Awake," which opens with "I'm a Star," an anthem fit for every strong-willed actor determined to make his or her "big break" that is typically performed by ladies with infinite vocal abilities. Since "Dreaming Wide Awake," Alan has released a follow-up album "Keys," featuring a slew of Broadway and West End singers; "What I Wanna Be When I Grow Up," which includes one of his favorite tunes, "Anything Worth Holding On To"; and "Live," which was recorded in front of a live audience this year at Birdland and includes all of the composer's fan-favorites.
"I grew up a huge fan of both Les Misérables and Miss Saigon, so I credit [composers] Claude-Michel Schönberg and Alain Boublil," said Alan, who describes his sound as a cross between contemporary musical theatre and adult contemporary pop. "I also credit my cousin, composer Ricky Ian Gordon, for introducing me to songwriter Joni Mitchell. She, and he, really taught me the strength in being in honest within your work." Alan is known for the brutal honesty portrayed in songs like "Now" (performed here by Tony nominee Jonathan Groff), "Kiss the Air" (performed here by Natalie Weiss) and "Home" (an emotional performance from Wicked's Shoshana Bean).
Speaking of Home, the Alan-Christy Hall musical aiming for a future life on Broadway, Alan said that producers have not announced further plans for the production, which had industry readings in September 2011. "Home was — is — my baby," commented the composer, whose other musical Detour played a sold-out engagement in Los Angeles. The intimate musical Home, previously titled Piece, follows 40-year-old Katherine who returns to her Texas home when she hears rumors that her alcoholic mother is dying from cancer.
Listen to Weiss' performance of "I'm a Star" that was recorded for Alan's "Live" album:
Listen to "Anything Worth Holding On To" performed by Crystal Monee Hall on the "What I Wanna Be When I Grow Up" album:
"Anything Worth Holding on To"
Composer-lyricist and music director Will Van Dyke has kept himself busy by working behind the scenes on productions such as Broadway's The Addams Family (keyboard), Off-Broadway's Rent (music director) and, currently, the Broadway-bound production of Kinky Boots (associate music director). However, it does not deter him from composing his original material as well as co-writing songs with Broadway actor Matt Doyle (Spring Awakening, War Horse) on Doyle's solo EPs "Daylight" and "Constant." Van Dyke's 2010 album "Chasing the Day" features music that he says is a fusion of "[his] influences growing up: rock, folk and classical." "Marie and Me," a tune sung in concert and on the album by Wicked's Alex Brightman, opens Van Dyke's 12-track CD with a light and folky acoustic feel from the sounds of cello strings and takes off into a driving pop-rock ballad. Supplementing the contemporary pop on "Chasing the Day" are honest and vulnerable ballads such as "If You Only Knew" (performed here by Godspell's Celisse Henderson) and "Come Home" (performed here at a New Voices concert by Jason Gotay, who currently stars in Broadway's Bring It On: The Musical).
"Alanis Morissette was one of my biggest modern influences growing up," said Van Dyke, "and to this day I think her music is so wonderfully honest, which is something I strive for in telling a story through music." In 2007, he collaborated with lyricist Josh Halloway on the musical Pages, about a celebrated novelist who lives in the world of his stories at the expense of his personal life, which was given life at CAP21. (Check out "Storybook Life," performed by Doyle, about the man who dreams up a perfect, yet fictional and scripted, life). Currently, the composer is working with lyricist Halloway on a new musical entitled The Gospel According to Steve; and with Peter and the Starcatcher's Rick Elice on Magnificent Climb, about the fate of two mountain climbers, who are climbing Everest 75 years apart.
"There is a song from Magnificent Climb called 'You, The Mountain, and Me,' which embodies everything I've learned about love and life in my adult life," said Van Dyke about one of his favorite tunes. "I'm just proud of that one."
Listen to "The Legend of Wonderboy," a favorite of Van Dyke's from his solo album "Chasing the Day":
"The Legend of Wonderboy"
Listen to a demo of "You, The Mountain, and Me" from Magnificent Climb:
"You, The Mountain, And Me"
Expect Playbill's Contemporary Musical Theatre Songwriters You Should Know, Part Two, in the near future.
(Playbill.com staff writer Michael Gioia's work appears in the news, feature and video sections of Playbill.com. Tweet him new music and composer suggestions at @PlaybillMichael.)
*
Visit PlaybillStore.com to view other theatre-related recordings for sale.