*
I have to preface this list of my Top Ten Gay Plays, in honor of Gay Pride, with an emphatic disclaimer that this list is not just subjective, but also extremely limited by which plays I've actually seen. You may note a particularly egregious lack of plays by women or people of color. For these shortcomings, I apologize.
This brings me to the question: what is a gay play? According to playwright Robert Patrick, a gay play "is a play that sleeps with plays of the same sex." For the purposes of this list, I will discuss plays that focus on gay characters, leaving out plays with gay subtext or gay camp value or gay context, and, of course, many great plays by many great gay writers. I trust somehow they'll get by somehow without me.
10. Beautiful Thing
By Jonathan Harvey
Although the British coming-of-age/coming out drama played New York (in a terrific import of Gary Griffin's Chicago production at the Cherry Lane), Beautiful Thing is probably best remembered stateside for its excellent 1996 film adaptation, which made memorable use of many Mamas & Papas hits, as well as Cass Elliot's solo recordings. In particular, I remember "Make Your Own Kind of Music," which so affectingly underscored a montage of the adolescent boys falling in love. There's no major dramatic edge to make Beautiful Thing stand out as a great work of the stage, but it's a simply told story of universal themes that just happens to concern two gay boys, and it was one of the first pieces of theatre (and subsequently film) to achieve that so elegantly.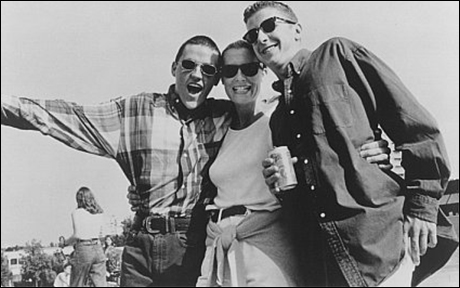 Sony Pictures Classics
9. Love! Valour! Compassion!
By Terrence McNally
Terrence McNally's 1995 Tony Award-winning hit delighted audiences on and Off-Broadway with its intimate look inside a group of middle-aged gay friends spending a series of summer holiday weekends together in a country house upstate. Nathan Lane dazzled and ultimately moved with his scene-stealing, punchline-exploding portrayal of Buzz, a larger-than-life show queen kept just this side of caricature and cliché by Lane's layered work. John Glover also excelled, winning a Tony for playing gay twin brothers as different as night and day. The entire excellent ensemble cast, directed by Joe Mantello, skillfully filled out the range of personalities in McNally's play, which sought to reveal gay men as diverse and complicated as any human group.
8. Jeffrey
By Paul Rudnick
It's difficult to appreciate in 2013 just what a welcome tonic, what a needed relief, Paul Rudnick's landmark comedy about AIDS offered in 1993. First of all, AIDS today poses a different kind of threat, more insidious and easily ignored, with the success of "cocktail" medications widespread in the First World, so we are no longer culturally mired in the tragedy of the epidemic on a day-to-day basis as so many theatregoers were in 1993.
Furthermore, as the disease was only then hitting its first decade in 1993, few had dared to find the funny in its stories, and certainly none so deftly as Paul Rudnick. Jeffrey was a trendsetter and we've since learned to laugh at most things and done away with a good deal of the political correctness of 20 years ago. Rudnick has since become something of a pundit on a national level and his work back in Jeffrey offers a fine example of his warm wit, coloring in the humanity in any and every situation, and of course, his trademark knack for a punchline.
7. Hedwig and the Angry Inch
Music & Lyrics by Stephen Trask
Book by John Cameron Mitchell
Hedwig and the Angry Inch is a difficult-to-describe phenomenon. Some might not consider it a gay play, or even a play at all. It's presented environmentally, like performance art, as a performance in a low-rent engagement by the "internationally ignored song stylist" Hedwig. But it is a play because the character of Hedwig is a richly drawn creation (also hard to describe — an East German ex-pat post-botched-operative transgender glam rock/cabaret singer) and her concert patter is scripted to tell a story, which, together with the songs she sings, packs a wallop. As out-there and unique as Hedwig's situation may be, the themes of liberation and self-actualization are universal, and great humanity is uncovered in Hedwig's tale. The songs combine character, humour and heart with legitimate rock edge; anyone who listens to "The Origin of Love" can easily see why Hedwig and the Angry Inch ran two years Off-Broadway and was so successfully made into a movie. I'm very excited for the recently announced Broadway premiere, starring Neil Patrick Harris.
6. Torch Song Trilogy
By Harvey Fierstein
In the early 1980s, Torch Song Trilogy was a groundbreaker in several respects. First of all, it was mainstream success, running 1,222 performances on Broadway, one of the most significant LGBT cultural achievements of its time. Secondly, the play's protagonist, Arnold, (played seemingly autobiographically by Fierstein himself), was a big, flaming queen. Yet Arnold was not the butt of the joke, nor was he a tragic figure to be pitied. For all the adversity he faced finding the love and acceptance he craved from a man, from his family, from show business and society at large, Arnold was the hero. He forged a family unit for himself, and eventually brought together the people in his life who were not able to be there for him when he first needed them, but are ultimately drawn to his strength and generosity of character. The 1989 film was not a hit, but it offers a compelling version of the piece and Fierstein's definitive, defining performance.
5. Bent
By Martin Sherman
In a strange way, Bent, Martin Sherman's acclaimed Tony-nominated 1979 play about the persecution of homosexuals in Nazi Germany, has done more to normalize gay people in the eyes of mainstream society at large than many works which portray LGBT individuals specifically as normal people within society at large. Perhaps suffering, as homosexuals did under Nazi oppression, is the great equalizer. I suppose the plight of the characters in Bent have the safe remove of being at the hands of the Nazis, the ultimate boogey men, and therefore no reflection of any bigotry on the audience's own part. Maybe it's that, and maybe it's also Sherman's incisive, nuanced writing that explains Bent's continuing to resurface in a series of high-profile revivals all around the world, as well as the successful 1997 film.
4. Falsettos
Music & Lyrics by William Finn
Book by William Finn & James Lapine
Originally produced Off-Broadway at Playwrights Horizons as two separate one acts, March of the Falsettos and Falsettoland, a decade apart (and something of a sequel to the 1979's In Trousers), Falsettos finally opened on Broadway in 1992 where it won the Tony Awards for Best Book and Best Score, but lost Best Musical to the "new" Gershwin tuner Crazy for You. Act One (March of the Falsettos) deals with a married man coming out of the closet and beginning a relationship with another man and how this all affects his wife and their son. Act Two (Falsettoland) juxtaposes the son's Bar Mitzvah with his father's boyfriend becoming an early victim of AIDS.
Falsettos was groundbreaking, not only in its frank and realistic portrayal of AIDS and modern gay life, but also in its utterly original style of musical storytelling — conversational and idiosyncratic and at times, lyrical and deeply moving. Falsettos seemed to pave the way for a new kind of quirky, human-scale musical theatre — sadly one which has failed to materialize in the years since.
3. The Boys in the Band
By Mart Crowley
Mart Crowley's watershed 1968 Off-Broadway The Boys in the Band has gotten some flack over the years for its depiction of a group of a gay men at a Manhattan birthday party. It was a source of great curiosity for straight audiences (or perhaps questioning ones…) to get this fly-on-the-wall experience of a modern gay lifestyle they'd never gotten close to before. Members of the gay community had more complicated reactions to the piece. The characters in The Boys in the Band are a marginalized minority and deal with a lot of self-loathing and bitterness. It's easy to see why that turned people off. I can remember catching the movie version (featuring almost the entire original cast) on TV in my pre-adolescent years and being riveted and horrified.
In recent years, there has been a surge of new appreciation for The Boys in The Band (don't miss Crayton Robey's excellent documentary "Making The Boys"); perhaps our distance from the time of the play and all the strides LGBT people have made toward enjoying an equal place in society, have enabled us to appreciate this extremely well-written and entertaining time capsule on its own terms.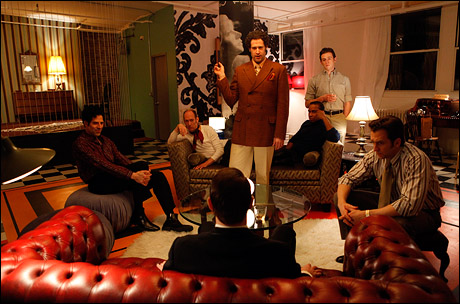 photo by Carol Rosegg
2. The Normal Heart
By Larry Kramer
Larry Kramer has made a name on his anger with his notorious tirades dating back to at least the beginning of the AIDS epidemic, and he is particularly legendary for his work with ACT UP. His triumphant play, The Normal Heart (the longest-running production at the Public Theater) channels that anger so necessarily for its characters, and so necessarily for the audience — both in the historical turning point when the play first opened and in future productions when we have sought and will continue to seek to understand that moment in time and its repercussions. The anger becomes not an unsightly blight, but the electric current that charges the entire world of the play. The anger is so palpable it forces into view all the sadness and hope that are intrinsic to human existence and claims The Normal Heart a spot not just on the best gay plays list, but alongside the greatest plays of all time.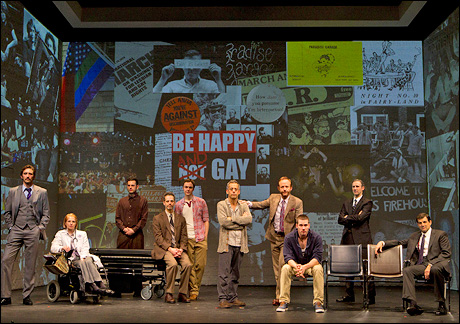 photo by Joan Marcus
1. Angels in America
By Tony Kushner
The impact of Angels in America on the theatre is so enormous and game-changing that it's hard to imagine the state of things before it came along. Immediately upon the first half's (Millennium Approaches) opening on Broadway and winning the Pulitzer Prize in 1993, Angels established itself as the new benchmark in dramatic writing. Had there ever been a play that so shrewdly dissected American culture, politics, religion, morality, and sex, so right in the moment, and yet so in perspective of a wide scope of history? Angels in America didn't have to work to fuse these themes; it exploded them in the fastest seven hours I know I've ever spent doing anything. Never before or since have I been so enthralled, entertained, delighted, disturbed, moved, shocked, enlightened and inspired. Yes, Angels in America, is a gay play; you just might not notice in the midst of it being an everything play. That's part of its accomplishment.
(Ben Rimalower is the author and star of the critically acclaimed Patti Issues, which continues to run off Off-Broadway. Read Playbill.com's coverage of the solo show here. Visit him at benrimalower.com and follow @benrimalower on Twitter.)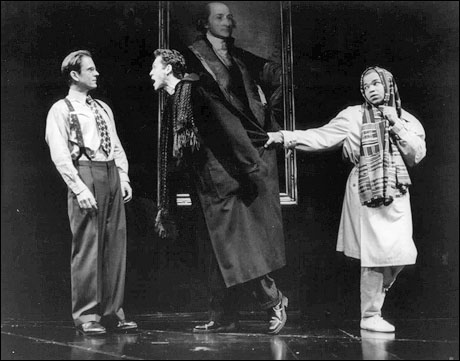 photo by Joan Marcus