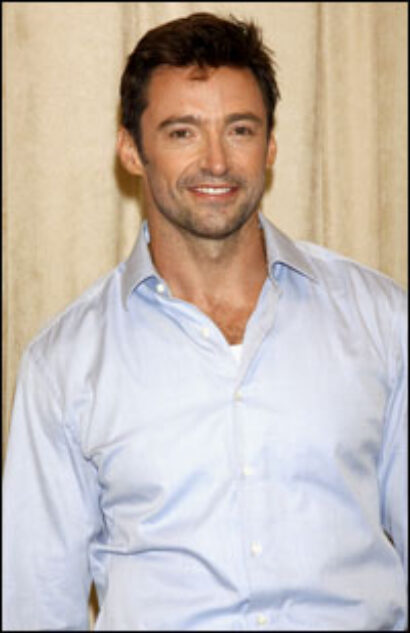 Tony Award winner Hugh Jackman, the heartthrob showboat who is theatre's own King Midas, will return to Broadway during the 2013-2014 season in the new musical by Aaron Sorkin and Stephen Schwartz — the songwriter who has never won a Tony but earns a hefty paycheck every week, thanks to Wicked — on a new musical called Houdini. Jackman will play the famed illusionist and escape artist. Yes, Adoring Theatregoing Ladies of a Certain Age (and others), this is your chance to see Jackman wrapped in chains!
Scott Sanders and David Rockwell are the super-lucky producers who will soon be buying their second and third homes. Rockwell will also do the set designs. According to a statement from Sorkin (creator of TV's "The West Wing" and author of Broadway's The Farnsworth Invention and A Few Good Men), "Rather than being a biography, Houdini — told in a contemporary tone — tells the story of an epic battle that took place between the world's greatest illusionist and a trio of women, known as 'Spiritualists,' who convinced millions of people, including the editors of Scientific American and The New York Times, that they could communicate with the dead."



photo by Jeremy Daniel
As often seems to be the case with such ripped-from-history shows, the man who is playing the historical character turns out
to have been obsessed with that same character for years!
"I have been deeply fascinated by the life of Harry Houdini since I was young," said Jackman, "and in many ways I've been preparing for this role my whole life."
Jackman recently ended the run of his one-man show, Hugh Jackman: Back on Broadway, in which he reasserted his insane drawing power. During his final nine-performance holiday week, Jackman's show grossed $2,063,259, a Shubert Organization house record. The singing actor also broke a Broadway Cares/Equity Fights AIDS fundraising record. During his limited run, Jackman raised $1,789,580 for the organization, the most ever brought in by a one-person show.
***



photo by Joan Marcus
Lysistrata Jones
and
Relatively Speaking
probably wish Jackman was in their casts. Both shows announced this week that they would be closing.
Jones, the new satiric Broadway musical that took the 411 B.C. Greek comedy in question to modern-day basketball courts, will close Jan. 8.
Relatively Speaking — which featured one-act comedies by star writers Ethan Coen, Elaine May and Woody Allen, sported plenty of star performers, and even had a star director (John Turturro), but got poor reviews upon opening — will play its final performance at the Brooks Atkinson Theatre Jan. 29.
***
The Guthrie Theater in Minneapolis has an interested upcoming production in the form of Conor McPherson's stage adaptation of Daphne du Maurier's short story "The Birds," which will begin performances in the Dowling Studio Feb. 25.
"The Birds" is, of course, best known to the public as a crazy-creepy suspense thriller by Alfred Hitchcock, in which the flocks of the skies turn on the human denizens of a small coastal California town. Directed by Henry Wishcamper, the cast will feature J.C. Cutler and Angela Timberman as Nat and Diane, respectively, two strangers who form a bond to survive their harrowing experience. They will be joined by Summer Hagen as Julia, a mysterious young woman who brings discord to the desperate situation, and Stephen Yoakam as the cryptic, watchful neighbor Tierney.