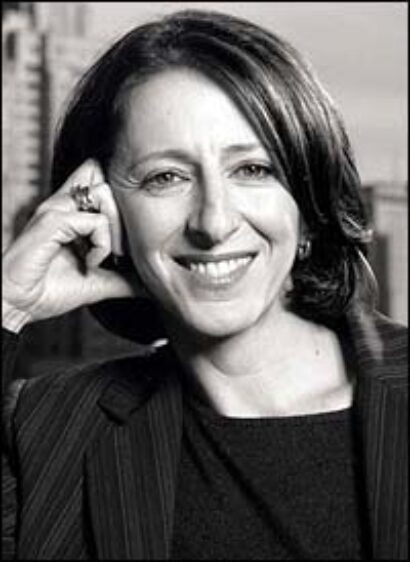 One year she may design abstractly, as with Off-Broadway's The Castle and tick, tick…BOOM!, which encouraged audiences to use their imaginations. Another season, she works in a more realistic realm — the beauty parlor setting of Broadway's Steel Magnolias, a prop-filled suburban home for hair dryers, coffee cups, couches, vinyl chairs and arts-and-crafts creations.
Somewhere in between is her battered yet whimsical scenic design for Broadway's Tony Award-winning Avenue Q, which offers weathered facades of outer-borough dwellings that sprout colorful interiors worthy of pop-up children's books.
The smash Avenue Q will be recreated in Las Vegas later this summer. Also outside of New York City, Louizos will (for the second year) be represented by her most traditional, commercial and ambitious scenic work yet: Three different sitdown productions of the Irving Berlin musical, White Christmas.
A former actress, Louizos spoke to Playbill.com about getting into design, researching new worlds, and the pleasures and challenges of the largely unreported (or underappreciated) work of creating a canvas on which actors make their mark.
Playbill.com: I love the details and surprise in your work on Broadway this year, like the magnolia trees and the hint of sky you see above the set of Steel Magnolias — and the stencil trim on the wall of Truvy's beauty parlor. It looked like she did it herself.
Anna Louizos: That was the idea, yeah. Playbill.com: Is working on details the fun part of the set designer's job?
AL: Details tell you something about the characters in the play. You can do something generic for the big picture, but then make it specific to the characters in the play. It's important to think about their history, their stories — you capture a particular time on stage that embodies a lot of their history.
Playbill.com: Is the layering of details something you do with the director, or do you come into a meeting with a design that's packed with as much detail as possible?
AL: I think it's a combination. It just so happens that Jason Moore directed both [Steel Magnolias and Avenue Q]. Jason and I talked a lot about, in Magnolias, how important it was that [the beauty shop] was not a "slick" place. The place was about Truvy. It's an extension of her house, her husband built the beauty parlor from the carport. We went down to Louisiana and drove around the neighborhood where [playwright] Bob Harling's mom used to get her hair done. We wanted to get a real sense of the place.
Playbill.com: Did you go to the actual beauty parlor that was the play's setting's inspiration?
AL: We didn't go inside because the woman had long retired. But we went into lots of other beauty parlors in Natchitoches, Louisiana. The thing that spoke to us was that there was a haphazard décor about them. We talked a lot about what we thought Truvy's taste would be like; we decided she was someone who read a lot of the magazines and found things in magazines that she liked and would say, "Ooh, I wanna try that," so she would try one decorative element to her beauty parlor. And two months later she'd see something else and say, "I wanna put that in there, too." So there's a collection of ideas to her place.
Playbill.com: I noticed the blow dryers that dress the set seem like they are not blow dryers from today (the play is set in the 1980s).
AL: Oh, yeah, we tried to get authentic stuff.
Playbill.com: Those are 20-year-old blow dryers!
AL: [Laughs.] Right. And the chairs: We found great vinyl upholstery from a guy who has a warehouse full of vintage hair salon furniture.
Playbill.com: Research is a big part of the job.
AL: I think it's really important to do your homework as a designer. You're really creating a time capsule — our responsibility is to pinpoint specifically the texture and color and details that make this place seem authentic. It's slightly different with Avenue Q because we have puppets on stage along with people. It was not just trying to capture the sense of a marginal neighborhood, but also the challenge was to make the world work for both the puppet scale and the people scale. So in that case I had to shrink things down but still maintain the right proportion of windows and doors so actors could still pass through the doors.
Playbill.com: Watching Avenue Q, I wondered if the pop-out parts of the set are mechanized and computerized, backstage.
AL: It's all old-fashioned, manual — very low-tech.
Playbill.com: In terms of research for Avenue Q, what did you do?
AL: I used to live in the East Village. That was my neighborhood. It was very near and dear to my heart. I knew the feeling I was trying to capture: I was one of those struggling people. When Jason and I were talking about how to tell the story, we boiled it down to having three buildings on stage early on. Then it just became a matter of capturing certain styles of buildings that spoke to me about this kind of neighborhood.
Playbill.com: The Playbill.com offices are in Queens, and the facades in the show look like outer-Queens to me.
AL: That was the idea. Certainly those clapboard buildings don't exist in the East Village. We decided it was an outer borough. The dilapidated quality of it was like the East Village in the late '70s, when I first came here. I walked all around, took lots of pictures. Tons. Brooklyn, Queens, Lower East Side. Over the years I've always taken pictures of New York, because I love the city and I'm a real fan of neighborhoods. Buildings. Details. We wanted the puppets to stand out away from the set, so that's why everything is toned down — all the textures are very real, even the street and sidewalk are very textured.
Playbill.com: You wanted gray around them so they would "pop," visually.
AL: Yes, exactly.
Playbill.com: The idea of three doors on stage is very ancient Roman…
AL: It's like the classic Roman farce, where you have the three buildings. It just kind of happened that way.
Playbill.com: With Avenue Q you have another set filled with details: a steel security gate over windows, peeling paint on cornices and aluminum siding over brickwork…
AL: And the locksmiths' stickers on the door. [Laughs.]
Playbill.com: It's not cute. You left the whimsy for the company.
AL: Yeah, but then of course when you see the interiors there's a little bit of a surprise — it's suddenly on a smaller scale and you can't help think it's kind of "cute."
Playbill.com: In Kate Monster's apartment, there's a swinging pendulum on the wall clock.
AL: When we do it in Vegas, we're going to have spinning fan, too. In Kate's apartment [on Broadway], the fan doesn't spin, but in Vegas we're gonna make it spin.
Playbill.com: Are those movement details things you realize later in the process, or does it happen early on the page?
AL: When we saw the interiors, Jason said, "Wouldn't it be cool of the clock could tick, if we could see something…" I had the props people find us a clock that showed the movement of the pendulum.
Playbill.com: Isn't there also a forlorn tree growing stage right of the Avenue Q apartment buildings?
AL: Yes, there's a pathetic little weed tree, the kind that grow in the courtyards of every building. They're called Ailanthus. They're weeds.
Playbill.com: I also love that the street light on the set is that awful, cold 1970s kind with the elbowed arm, not the classic nouveau style of the early 20th-century…
AL: And it's smaller in scale as well; the shop had to custom build that. There's also an old Webber grill on the fire escape, did you see that?
Playbill.com: And the roofs of the buildings on stage are slanted. Is that theatrical or to suggest…
AL: A warp — like the building has settled. We laughed a lot during this. We had a lot of fun. We went through so many model versions of the set. Early on, we thought the buildings would turn around and open up and move around. I have a box full of models. We were weren't sure how we were going to play the interior scenes with human beings and puppets. Through many conversations and many versions of 3-D models we finally decided we were going to simplify it and just have the actors play in front of these "windows." I thought the idea of pop-up picture books was really appropriate.
Playbill.com: Will the set be larger in Vegas?
AL: No, because the puppets are staying the same size. We're going to enhance a few things: more fog for the dream sequence, the beds are gonna fly out slightly differently for the Rod and Nicky fantasy number, we're gonna have a "star drop" for that number, as well. We'll also punch up the bar area for the bar scene. A few more bells and whistles, but we all realized this show works the way it is and we don't wanna fuss with that.
Playbill.com: On a panel discussion sponsored by the American Theatre Wing, you gave away a secret that I have since come to find is common in theatre designer circles...
AL: That we help finance our own sets [by] paying for assistants and materials.
Playbill.com: Does it happen a lot?
AL: It does. It's really hard.
Playbill.com: Are producers aware of it? Are artistic directors aware, or do they just give you a budget and expect you to work with it?
AL: They just say, "That's what you've got." I don't think people are aware of the process that you go through to create a set. It's a lot more complicated than people think. Often if it's a large set or multi-set play you need assistants to help you. That's where you run into problems, because they never provide enough assistant money for you. That's when you end up spending your own money — you want to keep people on to help you. It's usually with the little Off-Broadway plays. I did so many Off-Broadway shows where there's no money and you go out at night and look in the dumpsters for furniture.
Playbill.com: I know a regional costume designer who has had to dip into her own pocket to make the costume scheme look complete.
AL: I guess we do that because we love what we do.
Playbill.com: The musical, White Christmas, which you designed for a San Francisco run last year, is poised to become a multi-city industry this fall.
AL: That is a big thrill. That was a wonderful experience. Biggest thing I've ever done: multi-set, moving scenery, things fly in, things travel on — and we did it in the most truncated amount of time I've ever had to do it in. And it was magical. Everything fell into place. They are building two more versions of the set: It'll be in L.A., Boston and San Francisco [during the 2005 holidays].
Playbill.com: Did you always want to design for the theatre?
AL: I always was fascinated by design but I went to acting school, as an undergrad. I wanted to be on stage. NYU. I'm from California originally. I transferred to NYU my junior year and finished in the acting program — undergrad drama. When I graduated, I thought: There are so many other things that are just as interesting and acting is so hard. [Laughs.] I was always interested in drawing and painting. I was more interested in the whole picture. As an actor you're just one little person on stage. As a designer you can shape the world you're seeing. I applied to design school, took a drafting and model-making class, learned some skills and I assisted several designers for five years. After five years of assisting I went back to NYU to the graduate design program and spent three years in the program. I felt like I knew what I wanted to do at that point.