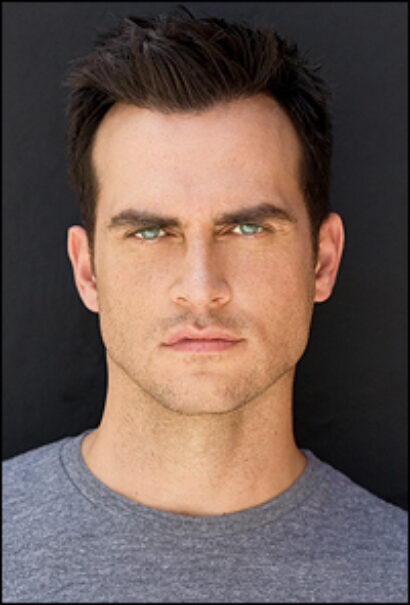 *
Whether he's roller-skating in Xanadu or hip-shaking in All Shook Up, Cheyenne Jackson is one fella we're always happy to see.
After focusing on his film and solo music career for more than a year, the Broadway heartthrob returns to his roots in the New York City Center Encores! production of Frank Loesser's 1956 musical The Most Happy Fella, which plays the historic venue April 2-6.
Jackson stars as Joe, a restless ranch hand caught in the middle of an unlikely romance between Rosabella, a young waitress (Laura Benanti), and Tony, an aging Italian grape farmer (Shuler Hensley), in Napa Valley.
Last onstage, albeit briefly, in The Performers, the "30 Rock" and "Glee" alum told Playbill.com about finding happiness in Los Angeles — and why it would take a lot more than a big train to bring him back to Broadway. The Most Happy Fella is your third show with New York City Center Encores! after Damn Yankees and Finian's Rainbow. What keeps you coming back for more?
Cheyenne Jackson: I love the people and I love the pieces they do. I also love the quick pace, because I do get bored in a long run. It's difficult for me to concentrate on something for a year or even six months. I also really wanted to work with our director, Casey Nicholaw. He and I were actually in the ensemble of Thoroughly Modern Millie together, so this is awesome. Casey works at a breakneck speed, and I love it.
You enjoy the notoriously short and intense Encores! rehearsal schedule?
CJ: Oh, yeah. You don't have a lot of time to ruminate, so you have to make quick acting choices, commit to them, and move it along. I've heard some of the first-timers say, "Oh, my God, it's too much!" I say, "Just get on and enjoy the ride."
Your Finian's Rainbow transferred to Broadway, as have Encores! hits like Chicago and Patti LuPone's Gypsy. Do you always go into an Encores! show with hopes of a transfer, or is that a completely unhealthy approach?
CJ: Both of those things are true. [Laughs] I imagine that Encores! always hopes to transfer something if it explodes, and I'd be lying if I said that the cast doesn't think about the possibility of the show being a hit and then getting to be on Broadway. But Damn Yankees didn't end up transferring, so you never know.
The Most Happy Fella was last seen on Broadway in 1992. Is it ripe for another revival?
CJ: Absolutely. People may have heard some of the music, but I always say it's the greatest show that no one really knows. It's glorious. The show is difficult to mount because it's so long — it used to be three acts — but it's also so accessible. It's about how love doesn't always look like you think it's going to.
Photo by Joan Marcus
How familiar were you with the show before this?CJ
: I actually played Joe about 15 years ago, when I was in my early 20s, in Seattle. I don't really remember it, but that's probably because we had cut a lot. I was also so young. I had just started doing professional theatre, I didn't know what I was doing, I didn't have a hold of the character, and I couldn't sing it the way it should be sung. So I'm just pretending this is the first time I've done it.
Tell me a bit about Joe, the ranch hand.
CJ: This is one of those shows where you don't get a lot of exposition to explain who someone is before they start singing, but that's a challenge of these older musicals. I come in, I have five lines, and then I'm singing my big "I want" song, like every protagonist has in every musical. Joe can't commit to anything or anyone, whether it's a job, a woman, or whatever. He's a restless dreamer, and that manifests in a bunch of different ways. He's impulsive, he's charming, and he's also a little bit sleazy. I'm going to try to imbue him with all of that in five lines and then sing.
The show is often described as more of an opera than a traditional musical. How do you see it?
CJ: It is very operatic because it's mostly sung through and it's legitimate singing. It's definitely not pop or typical musical theatre. If everybody's on it and has done their homework, which they have here, it's thrilling. It has a classical sensibility like The Light in the Piazza, but they don't make 'em like this anymore. It's very challenging. I definitely had to work hard in the months prior to make sure I could do this score justice. What really makes this show work is if it's cast correctly, and our cast is brilliant.
Laura Benanti stars as Rosabella, your character's love interest.
CJ: Laura Benanti is my favorite of all the sopranos. We're really good friends, we've done a million concerts and benefits, but we've never worked together like this before.
From the looks of the silly Instagram videos you've been posting, you two are having a blast.
CJ: Well, the show has some really dramatic plot turns, so sometimes you just have to keep it light and bust out some '80s dance moves. [Laughs] We've both been through similar things in our personal lives, and we've been there for each other through all those things, so we're so excited we get to do this show together. After selling out Carnegie Hall and the Kennedy Center, you're bringing your solo show, Music of the Mad Men Era, to the Los Angeles Philharmonic's Walt Disney Concert Hall April 26. Did you anticipate that the show would become so popular?
CJ: I thought it was just going to be a one-off, but yeah, it's turned into this wonderful gift. That will be my first concert in L.A., so I'm really excited. Jane Lynch is coming to play with me, and Rebecca Romijn is going to do a sexy little number with me too. I also have another show, Shaken Not Stirred, in which I sing music from the movies, that I'm taking to San Francisco in July. Traveling around to different performing arts centers is a new part of my life. As an artist, I want to express myself in so many different ways, as long as they keep me interested and inspired.
Photo by Carol Rosegg
Last year you released your debut album, "I'm Blue, Skies," which spawned a number of singles and music videos. As you return to the stage, how has your experience as a solo pop artist impacted you as a performer?CJ
: It's all in the same world, really, but the main thing it's helped me do is really dig into the lyrics of a song. I've always thought about what I'm singing and where a character's words are coming from, but writing my own lyrics and knowing where they come from does give you a different perspective. It's been an amazing experience, and I'm already writing my second album.
Between promoting your record, touring with your solo concerts, and shooting films like the upcoming "Six Dance Lessons in Six Weeks," you've been very busy.
CJ: And I'm loving it. If you give me 10 things to do, I'm much better than if you give me one thing to do. A lot of downtime isn't so great for me. I love to work no matter what genre it is. In fact, I just did a cool, crazy guest spot on an upcoming CSI spin-off with Patricia Arquette, and I love that it's so random and different from singing "Joey, Joey, Joey" at Encores!
Your last legitimate stage appearance was as Mandrew, an adult film star, in Broadway's The Performers. When it closed in November 2012, it had only played seven regular performances. What went wrong?
CJ: First of all, it was a hard sell, and we knew that. Even though it's a comedy, it was a play about porn. It's the kind of show that needs word of mouth, and for that you need to run longer than seven shows. All of my smart comedy friends — Rachel Dratch, Ana Gasteyer — were like, "Holy crap, this is funny! I was laughing so hard my stomach hurt!" I knew it was starting to roll, but then hurricane Sandy came and wiped out everything. We didn't have a good presale, because a show like that has to build, so they had to close us. It was really hard because I loved that character. We'd worked for so long to make these characters not seem like cartoons — I mean, just trying to do a scene about your wife being pregnant and dodging the dildos she's throwing at you while still maintaining a sense of realism.
Did that experience sour you on theatre for a while?
CJ: I've had more than a year to process it, and I'm obviously over it, because you have to be. It's part of showbiz. I read my friend Patti LuPone's memoir, and she writes about how she's had way more flops than hits, but you don't think of that when you think of Patti. Yes, it was frustrating, and it did hurt, but I knew I'd come back to the stage. It was just a matter of timing and finding the right project.
Theatre seems to have taken a backseat to your other projects and passions.
CJ: I was offered a lot of Broadway shows in the past year, but I told my agent that wanted to do more film, and that's what happened. I was approached about doing On the Twentieth Century, which is coming up with Kristin Chenoweth and Peter Gallagher, and I would have loved to be a part of that, but right now my life is in L.A. My family and my fiancé are out there. Until there's something specifically written for me or there's a project I just can't pass up, I'm going to have to keep New York theatre limited to stuff like Encores! and other short spurts.
It's still hard to believe you've relocated to Los Angeles.
CJ: I know. I never thought it would happen. My mom and dad still lived in Idaho, but they moved to Laguna after both my grandparents died last year. My sister lives near Fresno, and my brother and his family moved to San Bernardino. My family was always sort of spread out, but now all the kids are in the same state for the first time. Honestly, in getting sober over the last couple years, revaluating relationships and friendships, I realized that what's really important is my family and the people I love. I'll always come back to New York, but I have to admit that it's nice to wake up in L.A. and have it be 70 degrees instead of 28.
What's it like being back in New York as a visitor?
CJ: It's super-weird. It's very strange to be staying in a hotel in my city of 13, 14 years. But New York is the most exciting place on Earth, so I've been bopping around and enjoying the city as a tourist, in a strange way. I've even hung out in Times Square, which I used to avoid like the plague.
Seeing any Broadway shows?
CJ: Yeah, I checked out Aladdin, which was also directed by Casey Nicholaw. Casey's fantastic, but I wasn't expecting the show to be so spectacular. I was like, Aladdin? Really? I'm not 10 years old... But I was standing up after "Friend Like Me," clapping for three minutes like everyone else in the audience. It's everything you want it to be.
You announced your engagement to Jason Landau in February. Are you the most happy fella?
CJ: I will answer that by singing what Tony sings in the show: "That's-a me!"