*
A familiar face has returned to the Durangian-Chekhovian wars. After more than a year spent "worrying about the future, missing the past" and channeling his inner Anton, David Hyde Pierce is back with Christopher Durang's Tony Award-winning comedy Vanya and Sonia and Masha and Spike, this time as a director. Pierce, who was with the play from its inception, is helming the Los Angeles premiere production at the Mark Taper Forum, opening Feb. 9.
The company is familiar. Returning from the Broadway cast are Kristine Nielsen, Shalita Grant (like Pierce, both Tony nominees) and Liesel Allen Yeager, who join Mark Blum, Christine Ebersole and David Hull.
The Tony-winning Hyde Pierce (Curtains, Spamalot), who has been increasing his directing output of late, spoke with Playbill.com shortly before the company came west.
How did this opportunity come about? David Hyde Pierce: What happened was our beloved director Nicholas Martin, who had directed the show in its original production, first at the McCarter Theater in Princeton and then the Mitzi Newhouse in Lincoln Center and finally on Broadway, was going to direct the production in L.A. I was not going to be involved because I wasn't really available, and then Nicky had stuff come up so he just very abruptly had to withdraw, and he asked me to take over. He knew that I had been directing the last few years and also he knew that I love the show very much, and of course I knew it from being in it. So, I guess those were some of the reasons that he and, I think, Chris as well felt like I might be a good candidate rather than going to a director who wasn't familiar especially with this production. Design-wise, it's our production from Broadway. The set is the same, the lighting and costume designers are new, but half of our cast is the same. It's meant to be fundamentally what we did, what we created over the last year and brought to Broadway.
You have said in previous interviews that you're not really interested in repeating what you've done before. How is this assignment not repetitive?
DHP: That's a very good point. It's one of the reasons why I probably wasn't going to act in the play originally when it was coming west. I had other commitments as well which kept me from doing it, but after having done it for a year, frankly, I thought I needed a break from it. But directing it is a whole different animal and especially the challenge of directing a piece that you've been in, directing it in a way to reflect the way it was originally done, and yet to accommodate half the cast being new people — that was a challenge that made it very interesting to me. The other thing was to help out Nicky and Chris, both of whom I'm very close with and both of whom I owe a lot to. I didn't take any time at all to say yes.
The credit line says "Directed by David Hyde Pierce based on the Broadway direction of Nicholas Martin." If you're working off someone else's blueprint, are you able to put your own stamp on the piece?
DHP: First of all, I love our production, and the thing about coming in to direct this is we are at a very a multi-faceted experience with Vanya because we started it in Princeton on a proscenium stage. We brought it to Lincoln Center which is a thrust stage very much like the Mark Taper Forum, and then we brought it to Broadway back to a proscenium stage. We also started out with Sigourney Weaver playing the role of Masha and then finished up on Broadway with Julie White. So although it was always fundamentally the same production, even within that context, we all experienced how it can change, how different it can be and still be our show. When I accepted the job, I didn't have any thought of putting my own stamp on it. It's the production I believe in.
Through the course of rehearsals, things change because we have Christine Ebersole, Mark Blum and David Hull playing three key roles, and they are all wonderful actors with their own instincts. Some of the staging has changed. Some of the interpretations of the roles have changed. The costumes will be different because Nicky had chosen a new costume designer who had come on board. I got the opportunity and privilege to work with her and collaborate with her on the development of the costumes. So I guess without any intention, for better or for worse, I am making my own contribution to it, but all in the spirit of the show that we originally did.
How about the role of Vanya? Has it been at all challenging letting Mark Blum make his own discoveries with the role you created?
DHP: Mark Blum is not only a fantastic actor, but he's perfect casting for Vanya, and I can say that because I had nothing to do with that casting. For me, the balancing act is to allow Mark to discover the role for himself and also to provide guidance where I can. Mainly my guidance is less about the character and more about sort of the overarching structure of the play. One of the things that we learned having done it for a year is sometimes there's a perfectly good choice that an actor can make in the first scene, but it may not pay off if you go all the way through the end of the play. I think I take advantage of all of our experiences in the play and allow people to discover their own way but also not have people waste their time going down blind alleys that we already explored.
Having said that, many times in this rehearsal the new cast have tried something different and my first impulse would have been to say, "Ohhhh no, don't do that," but then either I let them do it or they fought for it and we discovered something completely new and equally wonderful in a totally different direction, and that's been a real learning experience for me. I would also say the thing that really has made this a joy for me is that Kristine Nielsen and Shalita Grant and Liesel Yeager have been totally open to completely new interpretations of moments, blocking changing, ending up at different places on stage, losing tried and true comic bits which they had before and finding new ones with the new people. That's been very gratifying and has made my job very easy, because everyone has been open to whatever happens in rehearsal.
Did you take them apple picking prior to the start of rehearsal for bonding purposes?
DHP: (laughs) No, we didn't have any of that although a bunch of us are going to see A Gentleman's Guide to Love and Murder in a couple of days, the new musical produced by Joey Parnes, who brought Vanya to Broadway, so we're having little events like that. The whole rehearsal process is a bonding experience. Essentially the thing we had that was so great at the start of the original production was summer camp in Princeton, NJ, where we were all away from home and just had each other and had a great time. That's what we're all about to do. We're about to go out to L.A. and be away from home and be ensconced together, and that's going to be a big part of the bonding. But it's already started. I knew Mark Blum and I knew Christine Ebersole from before, so it's sort of like old home week.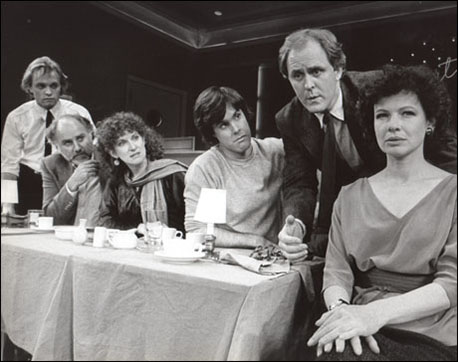 photo by Martha Swope
Your Broadway debut was in Durang's Beyond Therapy. Do you have any recollections of Durang from that experience? Has he changed much in his process?
DHP: I can't talk very effectively about how he's changed in the rehearsal room because my first experience with him was my first job back in 1982 with Beyond Therapy. I didn't have anything to compare it with, so I don't have vivid memories of anything but sort of, "Oh my God. I can't believe I'm in this room with these people." Over the years, I've come to know Chris as a friend. I will say this about his writing — and I'm not the only person to say this — I think this play is his consummation of all the things he's written before.
I went back and read basically everything Chris ever wrote. A lot of things he wrote I was unable to see, partially because I was out in L.A. doing "Frasier" during those 11 years, and you see the roots and the seeds of everything that's in Vanya in his earlier plays. But something happened in this play, consciously or unconsciously, where his sense of humor, his sense of character, the kind of depth of character that happens in Chekhov's plays but that we're not necessarily used to seeing in comedies, always seem to come together in this play along, with his very keens sensitivity to the times and to what's going on in the world and in our minds. So I think that's one of the reasons all of us who are connected to the play have a great emotional attachment to it. It's not just our history with Chris. It's that we feel like this is his most mature and wonderful piece.
Durang's work reads very funny. Do actors fall into the trap of thinking that because it's written funny that they don't have to work as hard?
photo by Joseph Marzullo/WENN
DHP: I think in a weird way the opposite may happen. When people go wrong with Chris's work, it's when they work too hard. It's when they say, "Oh, this is funny," so they try to make it funny there is such a very fine line between doing enough and doing too much. In Chris's work, there's a real music that actors have to have an ear for in the way his sentences flow and are put together, and I think we've all found that anyone who has been in a rehearsal room knows part of the way of getting you to do the right amount is doing too much. You have to constantly push the envelope. As a director, I can see when nothing's happening and I can see when too much is happening. When the actors zero in on just the right intention and emotion, then the lines just come out, and that's what we're aiming for.
Can you discuss your own journey into directing?
DHP: People have said I should direct for a long time, back when I was on "Frasier," one of our camerawomen would frequently say to me, "Don't you want to direct? You look at the process like a director." I never wanted to. I liked acting and I liked being on stage and I liked getting the response. Then what happened was my partner Brian had written a musical (It Shoulda Been You) and Casey Nicholaw was slated to direct it. Then Casey was offered The Book of Mormon and, for some strange reason, he decided to do it. The musical at the time didn't have any stars or anything like that and Casey was a very successful director and we were sort of left hanging. I was familiar with the material because of Brian and I knew it and I loved the material. I said, "Run this by the producers. I'm not a director, but I'm a name, and so if that is useful, I actually would be interested in directing this." And so I went ahead and did it, and it ended up being very successful. Tyne Daly and Harriet Harris were in it, and we did it out of town in New Jersey and it was a big hit, and we're planning to bring it to Broadway next fall.
The thing I didn't realize because it was my first time directing is that directing a brand new musical is completely insane for a first-time director, but fortunately sometimes a first time director doesn't realize that, so I just went ahead and did it. Now looking back on it, I think that was insane.
That was that, and then I've been very happily acting in theatre and so directing wasn't something I was totally moving into and I'm not someone who wants to direct just to direct. The second time it happened was at the Williamstown Theatre Festival, which is a place where I've worked many times. The artistic director had seen the musical I directed and asked if I would direct. I said I would love to, but I don't know what I would direct. I said the only idea I ever had was to do The Importance of Being Earnest with gangsters. It had to do with the language of Oscar Wilde's play and how it was identical to the Damon Runyon of Guys and Dolls. So Jenny Gerstein said "Oh that sounds interesting." and Williamstown is a great place to do something odd like that. So I did that and that also succeeded way beyond my wildest dreams and Tyne Daly was also in that playing sort of a Ma Barker Lady Bracknell. So I found that the voices that had been in my head all the years I had been acting were actually a director's voice, and by directing I got to actually articulate what I had been thinking. So I love it. I love every aspect of it. I love being involved in the design. I love the chance to work with actors. it's very humbling just sitting there and seeing when they discover things on their own. That's also been a pleasure.